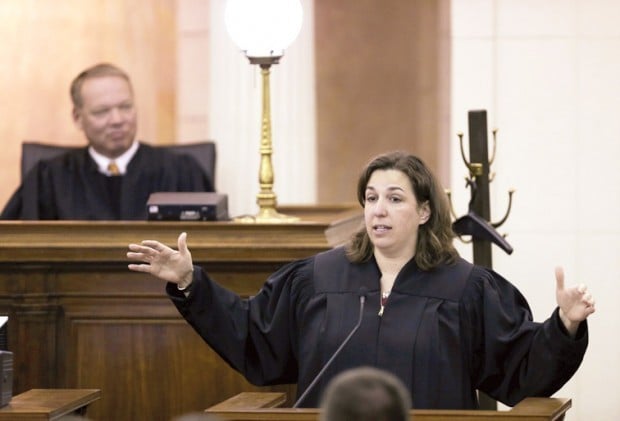 DES MOINES (AP) — Former prosecutor Stephanie Rose, a 1991 graduate of Mason City High School, was sworn in Tuesday as the nation's youngest federal judge and the first female federal judge in Iowa's Southern District.
"There are really dreams that you don't really dare to dream except in the reaches of your subconscious heart. And this is mine,'' the at-times tearful 39-year-old former U.S. attorney for Iowa's Northern District told an audience of more than 400, including U.S. Attorney General Eric Holder, during a ceremony at the federal courthouse in Des Moines.
Rose, of Center Point, had been U.S. attorney since 2009, after working in the office as an assistant prosecutor since graduating from University of Iowa law school in 1996.
She was nominated by President Barack Obama in February to fill the vacancy created by Robert Pratt, who stepped down as the district's chief judge to take on a more limited role. Despite contentious campaigns for president and control of the Senate, Rose's confirmation moved rather quickly.
She was confirmed by the Senate in September.
Much as others who spoke at the ceremony did, Holder attributed Rose's swift confirmation in the year's toxic political environment to her "reputation as a tireless public servant and tireless advocate of the rule of law.''
Although it was not mentioned Tuesday, Rose received some attention during her confirmation hearing for her role in prosecutions stemming from a 2008 raid by federal immigration officials on Agriprocessors Inc. in Postville.
Critics alleged hundreds of workers at the kosher meatpacking plant, many in the country illegally, were rushed through the court process. Rose said during testimony before the Judiciary Committee that she had no authority in the charging decisions made in the case.
Despite that, the Senate's vote to confirm her was overwhelming: 89-1.