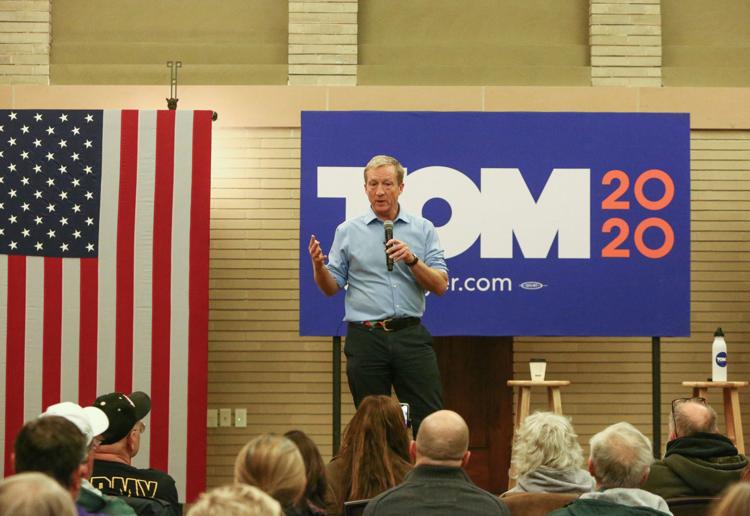 On Saturday, Tom Steyer, a billionaire and 2020 Democratic candidate for president, stopped at the Charles H. MacNider Museum in Mason City to talk with folks about his term limits plans, his prioritization of climate change and what he wants to do to fix the healthcare system.
Afterward, Steyer spent some time chatting with the Globe Gazette about what he's learning from Iowans, how he differentiates himself and how he passes the time when he's on the bus. 
So you're on another swing through Iowa, what are you hearing from residents? What's coming up the most? People always bring up climate to see what I'm going to do. People always want to talk about healthcare. We very frequently talk about the place of unions in society and the need for labor to rejuvenate. It's funny what people will bring up. People have even brought up the fiscal deficit.
How do your plans on climate differ from your fellow candidates? I'm the only candidate who will say that climate is his or her number one priority. I've worked to stop fossil fuel plans with other activists. I've pushed clean energy laws and propositions, successfully. I would declare climate a national emergency on day one and it could be done in a way that creates millions and millions of new jobs. 
You've talked about people in politics and in media acknowledging that climate change is a problem but then not making it a top issue. Why do you think that disconnect exists? I don't know. Part of this is generational, I think. My kids know that if we don't arrest this crisis, it's going to dominate us in a bad way. If you're following the news in Australia or the Amazon, you can see almost daily evidence of a crisis that we have to control or we're taking risks with the health and safety of Americans. With all the evidence at hand, it seems I live in two separate worlds. 
You have free articles remaining.
Another issue you've talked about a lot is term limits for Congress. If you did that, isn't there a risk of further weakening the legislative branch while bolstering the executive?- I know that's it a concern and a legitimate concern. But, for me, seeing a failed government, I know we need to do this. The question is can we set the term limits long enough so that we get the expertise but it doesn't turn into a permanent job.
You've been around politics for awhile but not involved quite in the same way you are now. What are some of the most important things you've learned since getting into the race? People in politics use a lot of academic jargon: GDP, growth, GNP but what I actually see when I travel around the country is human beings who are suffering at their expense.  So what I've done is to take a policy someone talks about in an impersonal and turn it into what it means to be drastically underpaid and work in unsafe conditions. 
There's a familial connection you have to Iowa. Where does that reach to and what did you learn from it growing up? I had an uncle who was a professor at the University of Iowa. So what did I learn, I learned that Iowa is a great university. I learned something about priorities and values. That that didn't just happen. People in Iowa felt that it was important that people be educated. There's a lot to be learned from Iowa. When I come to Iowa and see the scale on which farming economy works, it's mind blowing.
When you're not speaking or debating or getting ready for those events, what are doing to kind of decompress? How do you relax? I try and work out every single day for an hour. I try and make sure I go to church on Sundays. That's incredibly important and relaxing for me. I try to read, not stuff related to work. I love escaping into a story.
Last book you finished? I finished a book by a man named Harlan Coben, a murder mystery. I love good writing. I really do. Good storytelling by people who are masters of the English language.
What a Globe Gazette News+ membership can do for you:
A deeper examination of local issues than you'll find anywhere else.
Two products in one – not everything that's in the print edition of the Globe Gazette is on our website, and not everything on our website is in the print edition.
Access to newspapers.com archives dating back two years.
The ability to carry your local news with you and receive alerts instantly as news unfolds.
Advertising that frequently gets you deals you won't find anywhere else.
Reach Reporter Jared McNett at 641-421-0527. Follow him on Twitter and Instagram at @TwoHeadedBoy98.