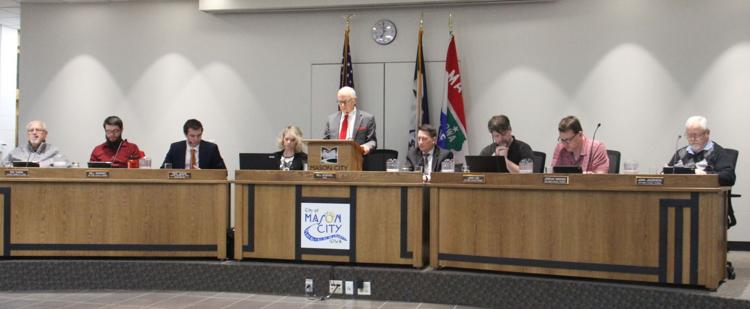 During Tuesday night's Mason City Council meeting, Mayor Bill Schickel had two words to describe the current state of things in the River City: "Exciting times." 
To try and offer proof of the claim, the four-term mayor pointed to a litany of developments that have been made in Mason City over the past year-plus. 
He added that such major developments have also helped in bringing smaller, more incremental, but no less important change to Mason City as well. 
"One thing I love most," Schickel said, "is a community working together to get things done."
But while running through the things Mason City had accomplished, Schickel also mentioned items the city still needs to clear off of its list.
Perhaps the biggest one, at least in terms of economics, is the construction of the downtown hotel which Mason City is working on in conjunction with Gatehouse Capital as a part of the River City Renaissance. 
Gatehouse has found a hotelier, in Hyatt, and has a time table that shows a late-May, early-June 2020 groundbreaking, but still hasn't produce a financier. However, Gatehouse Capital Representative David has said the plan is to have financing secure in February. 
Another Schickel acknowledged was the continual revitalization of the North End.
He argued that the Mason City neighborhood will be bolstered by $62.8 million expansion at the Kraft Heinz plant but city officials have also talked about how part of the work needed there is as much about communal perception as it is business interests. 
In pivoting between the two eras, what's happened and what's to come, Schickel said that Mason City had just been through those "exciting times" and was headed into a "decade of doing" that he said would help in further changing attitudes and perceptions about what Mason City is and what it's capable of. 
While the Mason City Council's agenda was relatively thin, with only 11 items on it, at least one item brought out nearly a dozen people. 
Residents near the 700 block of Third Street Southwest were there to complain about nearby MercyOne employees parking on the street and potentially creating traffic issues for neighbors. 
Jim Ewalt, who helped organize the residents, said that his reason for wanting something done was an urgent one. 
"(I'm) looking to get signs up before someone gets hurt or killed," Ewalt told the council members. 
A fellow resident said that, in his 47 years of living in the neighborhood, the current condition was wholly unfamiliar to him. "It's never been that bad." 
There wasn't uniform support for the plan though.
Joanne Mumby argued that permits to park on the street between 9:30 a.m. and 3:30 p.m., during the week, were "not Christian" and that people are entitled to park in public parking.
She added that she had lived in the area for 30 years and that her fellow neighbors were overblowing things. 
Residents in the neighborhood would receive two permit tags to park on the street and the city would also create signage to notify others of when they could park on the street. 
What a Globe Gazette News+ membership can do for you:
A deeper examination of local issues than you'll find anywhere else.
Two products in one – not everything that's in the print edition of the Globe Gazette is on our website, and not everything on our website is in the print edition.
Access to newspapers.com archives dating back two years.
The ability to carry your local news with you and receive alerts instantly as news unfolds.
Advertising that frequently gets you deals you won't find anywhere else.
Looking forward in 2020
From sports to entertainment to government and more, here's what you can expect so far in the new decade.
Reach Reporter Jared McNett at 641-421-0527. Follow him on Twitter and Instagram at @TwoHeadedBoy98.