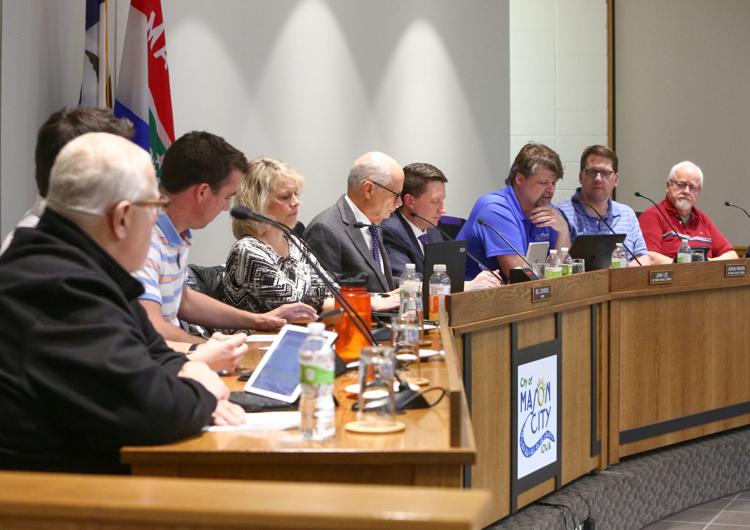 As the end of the year starts to come into focus for Mason City, there's a lot that local government still has to check off the list before Jan. 1 rolls around. 
That fact was acknowledged at the meeting by City Administrator Aaron Burnett while running through the monthly report. He mentioned budget season fast approaching and that always being a difficult task because there's only but so much time and so many resources. 
And there was plenty to advance at Tuesday night's regularly scheduled city council meeting: A memorial to a former councilman, a hearing for a $23 million-plus expansion, forgivable loans to new downtown projects and executing contracts related to the ongoing hotel development. Twenty three items in total which the council got through in under an hour. 
Golden Grain Energy
One of the bigger ticket items is the future expansion work that Golden Grain Energy is seeking to undertake at its property near 43rd Street Southwest.
Council approved a Dec. 3 hearing date to discuss a proposal to provide a 10-year tax rebate of 100% of incremental taxes (for the first eight years) and 34% (for the final two) stemming from Golden Grain's expansion.
Under the outlined terms, at this time, Mason City Assessor Dana Shipley estimates that the project would add about $6.12 million in value to the property and bring about 10 new jobs. At the meeting, North Iowa Corridor Economic Development Corporation President Chad Schreck said that that addition would up Golden Grain's job total to about 55 jobs with an average of $35 per hour and that because of the property value there would be about $600,000 coming back on the tax rolls.
Alex Kuhn memorial
While a project such as the Golden Grain expansion can be understood in dollars and cents, the memorial that the council approved on Tuesday night for former-Councilman Alex Kuhn is less quantifiable. Communal spirit, pride and valorizing show up on spreadsheets.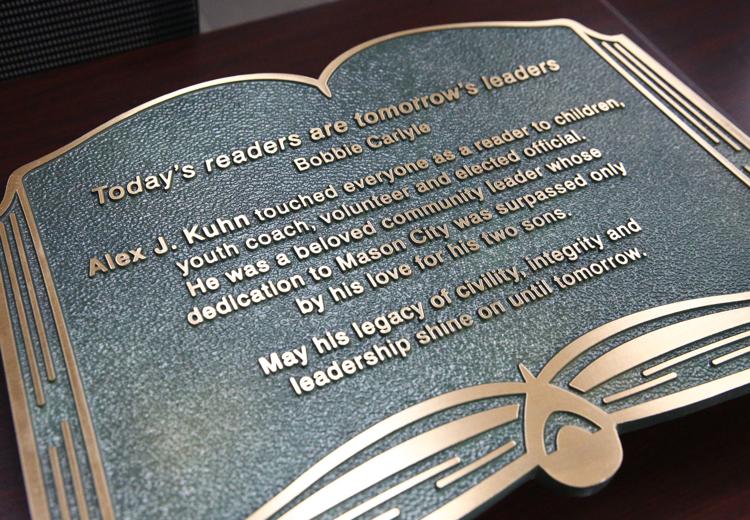 "I appreciate the opportunity to move this forward," Lee said. At-Large Councilman Paul Adams concurred and said he is waiting for the springtime when the memorial will be installed. 
According to Planning and Zoning Manager Tricia Sandahl, the sculpture features Kuhn, in bronze, on a 72-inch-by-20-inch bench reading to his sons Collan and Rylan. Collan is seated with his dad while Rylan is seated on a basketball.
You have free articles remaining.
Two other benches, of the same size, will also be a part of the display and are meant for the public to sit and engage with the memorial. Based on a review that Sandahl sent in a letter to City Administrator Aaron Burnett, the installation will be placed on a 16-foot-by-four-inch diameter paved circle and visible to "patrons of the (Mason City Public) library."
His father, Mark, said that the sculpture area "creates a gathering place for kids to sit with adults and share the love of reading. There is room for a storyteller to read and interact with children."
Apartment project
To encourage growth and development with the city, local government has been running twinned programs that provide forgivable loans to applicants looking to renovate and improve properties within the city. 
The latest example of that is a forgivable loan for $30,000 for downtown apartment work that the city council approved.
Local businessman Jay Lala is renovating the upper floor of the Great Atlantic & Pacific Tea Company Co./Northwestern Hall building to create seven market-rate apartments. The units will feature new finishes and appliances, accompanied by restored lobbies and hallways. 
In discussing the $200,000 project, Adams thanked Lala for his investment in downtown.
Hotel plans
As work continues for the downtown hotel that's a part of the larger River City Renaissance, planners are starting to finalize designs. 
Council approved a $32,850 agreement with WHKS for professional services for "hotel site improvements." Specifically, the engineering firm will help complete final designs for underground utility placement, drainage, parking and routes to and out of the hotel area.
Earlier this month, the city, along with Gatehouse Development, announced a hotel chain (Hyatt Place) for the development and a timeline for construction of 18-20 months. 
What a Globe Gazette News+ membership can do for you:
A deeper examination of local issues than you'll find anywhere else.
Two products in one – not everything that's in the print edition of the Globe Gazette is on our website, and not everything on our website is in the print edition.
Access to newspapers.com archives dating back two years.
The ability to carry your local news with you and receive alerts instantly as news unfolds.
Advertising that frequently gets you deals you won't find anywhere else.
Reach Reporter Jared McNett at 641-421-0527. Follow him on Twitter and Instagram at @TwoHeadedBoy98.