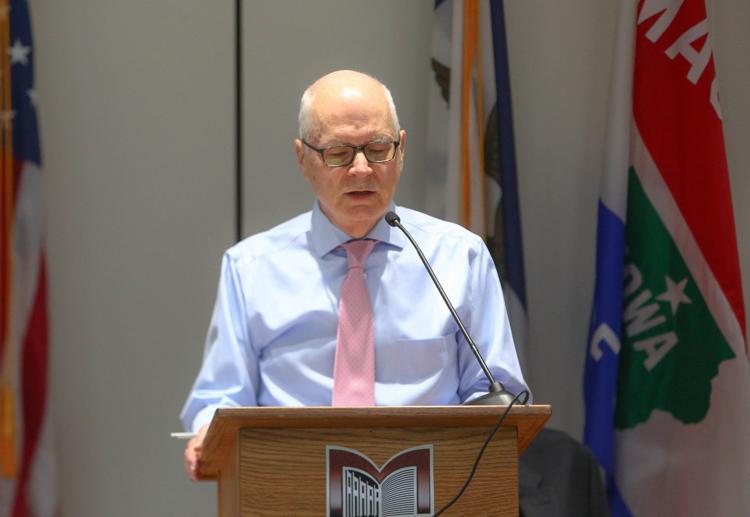 "In five short days, we went from zero cases to five cases to 150 cases," Schickel said. 
At the press conference, Schickel dove into one of the more restrictive options and said that a shelter-in-place order is something that's been under discussion among officials but that he would still prefer such an order from the state which City Administrator Aaron Burnett then expanded on by saying "If the order comes down, people have looked at these things with ways that we can continue to provide (essential) services."
For its part of the puzzle, MercyOne North Iowa President & CEO Rod Schlader said that the hospital system is making adjustments to expand to 45 beds for COVID patients, which has been made possible, in part, by postponing elective surgeries to free up key floors. To complement those 45 beds, MercyOne currently has 38 ventilators for use within the hospital.
"That's not our only surge plan, we're doing it in phases," Schlader said without getting into specifics.
One move that could come, if need be, would be converting unoccupied dorm space at North Iowa Area Community College into a medical staging area. But at this time, those talks between NIACC, Public Health and MercyOne are still in the early stages, according to Hanft and NIACC President Steve Schulz.
When Hanft spoke, he let folks know that his department is starting to plan for long-term recovery questions such as "How do we re-engage our schools and businesses?" 
He also fielded a question about testing numbers for MercyOne's mobile unit at the North Iowa Event Center. Though neither he, nor Schlader had a specific number, and had to be pressed for a figure by Schickel, he did finally share that the number is in the "hundreds." 
Once people are tested, Hanft said, they can usually expect results in about a day or two with some of that being dependent on individual symptoms.
Residents can tune into future conferences by checking on the main page of the Globe Gazette's website every Wednesday at 3:30 p.m.
What a Globe Gazette News+ membership can do for you:
A deeper examination of local issues than you'll find anywhere else.
Two products in one – not everything that's in the print edition of the Globe Gazette is on our website, and not everything on our website is in the print edition.
Access to newspapers.com archives dating back two years.
The ability to carry your local news with you and receive alerts instantly as news unfolds.
Advertising that frequently gets you deals you won't find anywhere else.
Heartwarming stories of this year so far
Needing some uplifting news? Take a look at some of this year's most heartwarming stories so far:
Reach Reporter Jared McNett at 641-421-0527. Follow him on Twitter and Instagram at @TwoHeadedBoy98. 
Concerned about COVID-19?
Sign up now to get the most recent coronavirus headlines and other important local and national news sent to your email inbox daily.