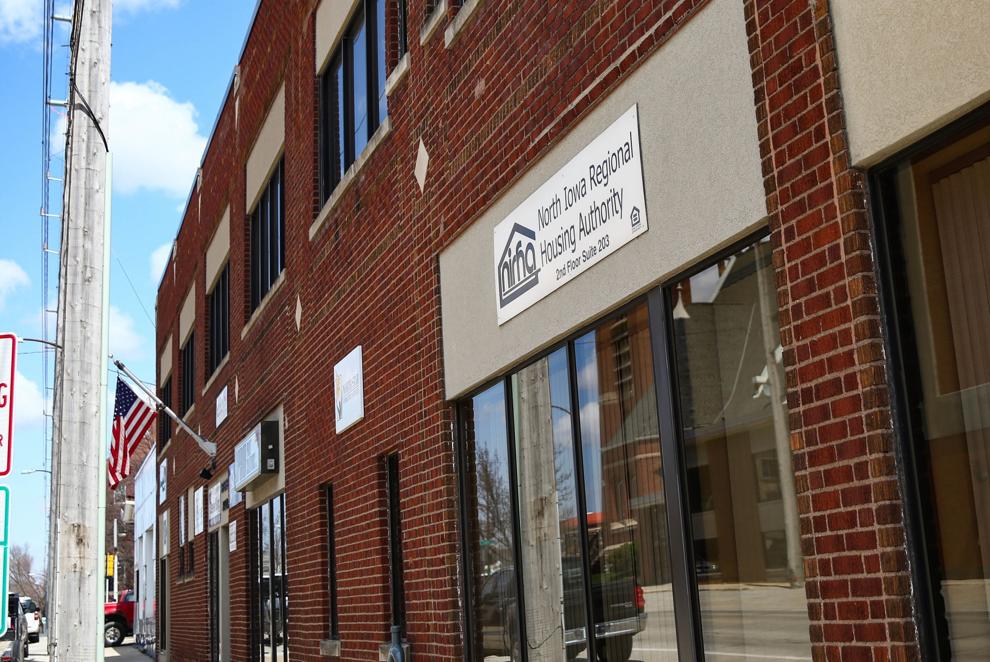 And that's going to be needed. 
Just in Mason City, there's been more calls for income changes by residents on top of the continual applications for housing assistance that can sometimes take months to finalize. 
That's according to Mason City Housing Authority Inspector and Specialist Jessy Willadsen who said that calls about such changes have been up in this past month and that his office is processing those as quickly as it can. And even though there isn't a major influx of new applications for the agency, those income change requests from existing recipients matter a lot because the Housing Authority works on a sliding scale. 
Willadsen gave the example of a recipient who might've previously been working for a restaurant. Before the Housing Authority might have only been paying for part of the rent. But if that restaurant worker lost their job because of COVID-19 concerns and is no longer working, they might have to rely even more on the Housing Authority's programs to bridge the gaps. 
"We could possibly pay for the entire rent if there is no income," Willadsen said.
Based on numbers from the North Iowa Regional Housing Authority, which assists low-income families, seniors and individuals with disabilities across eight counties, there have been 64 new applications for programs in the past 30 days. 
"We normally receive 30-50 new applications to our waiting list in a given month, so 64 new applications is a sizeable increase, Executive Director Justin Stotts said. "About a 28% percent increase over a normal spring month, as spring usually is on the higher end of applications coming in."
Along with that, Stotts said that his agency has had 20 families request assistance changes in the past 30 days (a 75% increase in requests due to loss of income). 
"Our families often work in service or retail and related positions, which leaves them particularly vulnerable to the closing of businesses. We have a few participants that work as paras or childcare that have been put on leave, and are in between their last paycheck and probable unemployment payments," Stotts said. His agency tries to help bridge the gap by ensuring housing stays in place though there's sometimes only so much it can do.
"Housing is only one piece of the puzzle, and an extended gap in income could leave them without a way to pay for food, utilities, etc. during these uncertain times."
Agencies like the Mason City Housing Authority, which assists up to 459 households in the Section 8 Voucher Rental Assistance Program, aren't alone in having to maneuver somewhat differently during this present time. All across the country, similar agencies are taking added measures to help their residents.
According to KJRH, the Tulsa Housing Authority is waiving rent for residents, in 18 different complexes, during the month of May in response to the pandemic. "Our hope is that through waiving rent for the months of April and May, our residents are able to funnel their financial resources to other pressing needs," Tulsa Housing Authority President and CEO Aaron Darden was quoted as saying. 
In Cincinnati, the Metropolitan Housing Authority has placed holds on evictions (through May) and is telling residents to inform the agency about income changes that could help reduce rent payments. Local TV station WCPO noted that, since mid-March, the CMHA has processed "more than 900 income re-certifications to reduce the amount of rent that their residents pay." But what that means in terms of actual job losses is unknown.
And in Baltimore the Housing Authority there is starting a food donation system to get resources to residents in need. Local TV station WJZ reported that the agency is even working to make sure donations to get to exactly where they are needed most.
If there's a hitch to any such plans at this point in time, it's funding dependency. 
Willadsen pointed out that the Mason City Housing Authority, like similar agencies, is funded by HUD so they are limited in finances by that. 
"We have a waiting list and it's 6-9 months," Willadsen said. "The way our funding is structured now, we're just kind of stuck with the waiting list. There would have to be a change in funding to do anything different than that."
What a Globe Gazette News+ membership can do for you:
A deeper examination of local issues than you'll find anywhere else.
Two products in one – not everything that's in the print edition of the Globe Gazette is on our website, and not everything on our website is in the print edition.
Access to newspapers.com archives dating back two years.
The ability to carry your local news with you and receive alerts instantly as news unfolds.
Advertising that frequently gets you deals you won't find anywhere else.
Has the COVID-19 pandemic left you in need? Here are some resources that may be of use.
Reach Reporter Jared McNett at 641-421-0527. Follow him on Twitter and Instagram at @TwoHeadedBoy98.