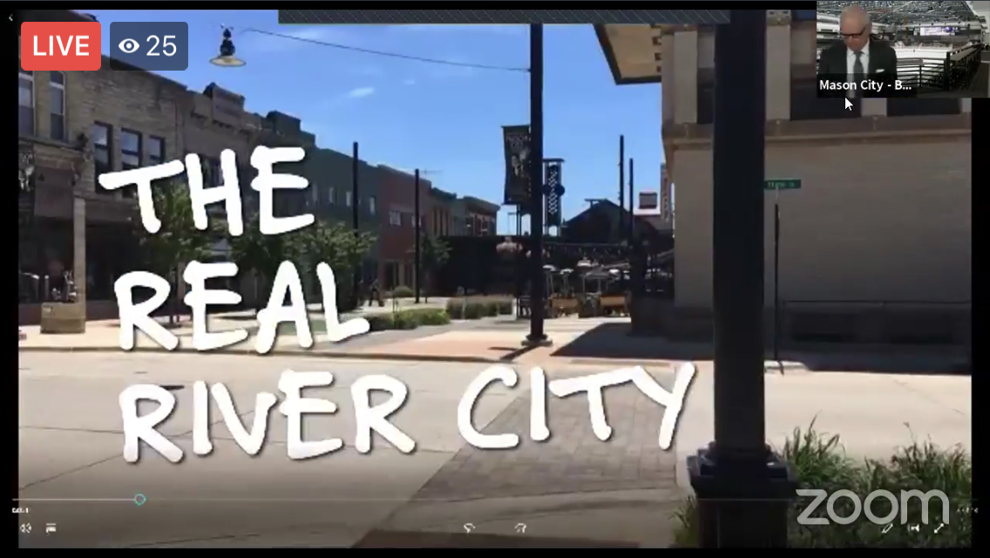 When it comes to presentations that are being judged, it's obviously good to make an impression. Having meaningful information is fine enough, but judges cannot live on facts and figures alone. A bit of pizzazz is needed.
Which is exactly what Mason City officials tried to bring to their Wednesday morning presentation before a panel of judges for the All-America City Awards.
As one of 20 finalists, and the only city in Iowa to make it this far, Mason City officials had 20 minutes to argue why the town deserved such a distinction. To make the case they indulged in some 'Real World' satire.
During the presentation, which threw to officials across the city, Burnett called the River City Renaissance "the embodiment of community collaboration" and told judges that just the arena facet of the project had led to new businesses and housing in downtown Mason City. 
At another turn, Recreation Superintendent Brian Pauly shared that nutritional work his department is engaged in has led to "79% more kids in (Mason City) schools eating more fruits and vegetables."
One other recreational endeavor the presentation spotlighted was the Chamber's "Trees for the Town" project which had 15 contributions from local businesses and received a matching grant of $2,000 from the city to plant 54 trees in areas damaged by the flooding from 2008. 
When it came time for questioning, the judges started off by asking how the city figured out of which these sorts of projects were even community needs.
"We just saw a need to come together and it's through this that so many of these things have been accomplished," Schickel said about some of the work. 
As for nearly doubling volunteer hours from 8,000 to 15,000, the judges wanted to know how the city measures the impact of such work. Mason City Volunteer Coordinator Mary Litterer was clear about that. "The impact our volunteers make in the community is by their participation and also by the projects," she said.
And to try and tie everything together, the judges also wanted to know where Mason City officials thought this was all heading. "We don't like to talk ourselves up enough and that's something Mason City is engaging in is celebrating these accomplishments," Burnett said. "We need to tell that story as much as possible."
And though Mason City ultimately didn't take home the top prize it was one of 10 cities in the United States, and the only city in Iowa, to be a runner up for the award.
Previous Iowa winners include Dubuque, Ames and Des Moines.
What a Globe Gazette News+ membership can do for you:
A deeper examination of local issues than you'll find anywhere else.
Two products in one – not everything that's in the print edition of the Globe Gazette is on our website, and not everything on our website is in the print edition.
Access to newspapers.com archives dating back two years.
The ability to carry your local news with you and receive alerts instantly as news unfolds.
Advertising that frequently gets you deals you won't find anywhere else.
ICYMI: Stories from the weekend
Catch up on the stories from this weekend you might have missed:
Jared McNett covers local government for the Globe Gazette. You can reach him at Jared.McNett@globegazette.com or by phone at 641-421-0527. Follow Jared on Twitter at @TwoHeadedBoy98.