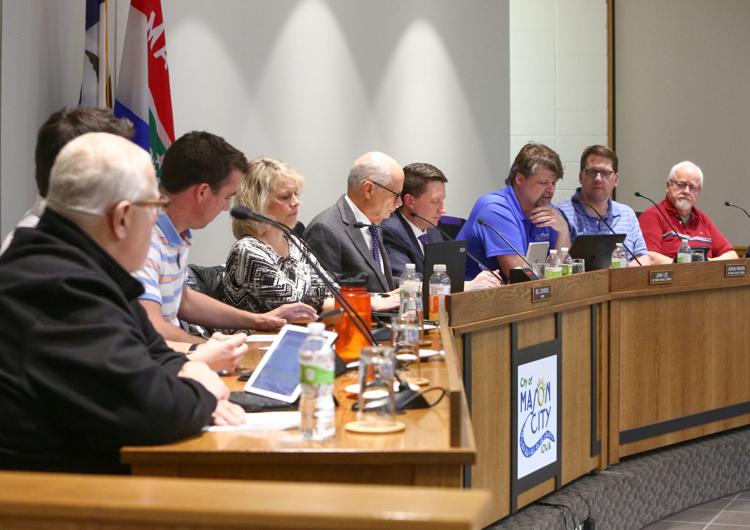 As Mason City officials work this week to finalize the local government's operating budget, the city council has moved on a number of items that will figure into the city's planning for the near and immediate future. 
At Tuesday night's city council meeting, the six-member panel approved multiple resolutions to set public hearings for items such as: work on a $1.65 million arts pavilion for the South Federal Plaza, the latest "Capital Improvements Plan" that will run from 2021 to 2025, construction for the "South Monroe Avenue Street Paving and Utilities-Rise Project" and construction of a new HVAC system for the Mason City Animal Shelter.
Work change order
One of the biggest points of contention during the meeting was in regard to the most recent work change order, for the arena, for the "addition of code review items that required adjustments prior to the issuance of a certificate of occupancy."
According to City Administrator Aaron Burnett, one driver of that work need was the fact that the ice plant room for the arena didn't previously have sprinklers. Over the course of work on the arena, change orders totaled more than $1 million with about $152,000 being spent to address rock elevation and design issues that impeded having a proper depth for the floor of the arena. 
Local resident Max Weaver took issue with the latest change order and said that he didn't believe city officials were being fully transparent with the process of change orders. He went to say that the total amount of overruns did not constitute a "small overage amount" as Burnett wrote in his memo to Mayor Bill Schickel and the council. But according to Burnett, the total sum of change orders "was less than 1% of the total project." 
Based on one study of over 12,000 projects, conducted by the Independent Project Analysis (IPA) group, on average, over 35 percent of all construction projects will have a major change order at some point during the process. With the arena, over $14.9 million was spent for the four distinct bid packages needed to make the arena materialize, not including those change orders.
New pavilion
You have free articles remaining.
There was also concern expressed about the pavilion but not explicitly related to costs for it. 
Instead, Weaver, again, asked who would retain ownership of the pavilion itself: the city or Michael Kohan, the mall owner, who has repeatedly failed to pay his taxes on time. Also looming with Southbridge is the fact that the two parcels that Southbridge Mall sits on were sold in a tax sale for $161,452 to the ACC group of Dubuque on June 17, 2019. 
To try and allay the ownership concerns, Third Ward Councilman Joshua Masson asked Burnett just how ownership would shake out. 
According to Burnett, "The arrangement will be a long-term lease" with Kohan and Southbridge Mall since the pavilion is a $1.65 million project that includes a stage opening onto the Federal Plaza with a roof coming out from the north wall of Southbridge. 
2021 tax dollars
One crucial piece of the soon-to-be-settled "Capital Improvements Program" for 2021 through 2025 is amount of maximum tax dollars, collected for levies, that would come through property tax. 
City Finance Director Kevin Jacobson wrote in his memo to Burnett that the maximum amount of taxes to be collected in Fiscal Year 2021 would be $13,484,592 which would amount to a 0.54% increase over Fiscal Year 2020. That increase would only require a simple-majority vote from the council to approve it. 
However, Jacobson made sure to note that greater increases now have a greater requirements to go into effect. 
Because of recent state legislation, cities now need a two-thirds majority vote if the requested dollars for a forthcoming fiscal year exceed 102% of the dollars collected in the current fiscal year. 
What a Globe Gazette News+ membership can do for you:
A deeper examination of local issues than you'll find anywhere else.
Two products in one – not everything that's in the print edition of the Globe Gazette is on our website, and not everything on our website is in the print edition.
Access to newspapers.com archives dating back two years.
The ability to carry your local news with you and receive alerts instantly as news unfolds.
Advertising that frequently gets you deals you won't find anywhere else.
The most-read stories this week
Hy-Vee acquires former Shopkos, the Chanhassen Music Man cast visits Mason City, and more:
Reach Reporter Jared McNett at 641-421-0527. Follow him on Twitter and Instagram at @TwoHeadedBoy98.