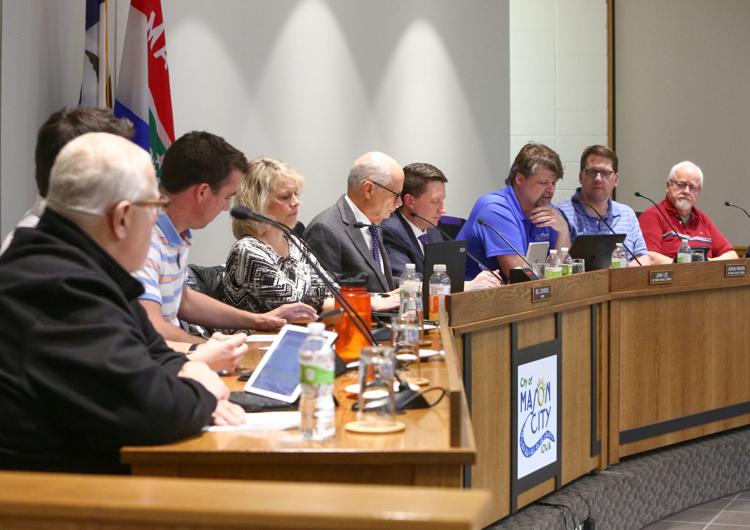 A reinvestment in community. 
That's how Golden Grain Energy's $23 million dollar expansion plan was characterized during Tuesday night's Mason City Council meeting by First Ward Councilman John Lee.
And in unanimously approving the development agreement with a 6-0 vote, the council showed that it fully and unequivocally supported the plan from the ethanol producer. 
What comments there were from fellow members were reaffirmations of the role that Golden Grain has played as an employer.
At-Large Councilman Paul Adams shined a spotlight on those employment numbers which will tick up to 55 full-time equivalent jobs when the expansion is completed.
"If you just look at what they're adding...it's going to be a substantial tax investment here," Adams said. 
Under the terms of the deal, the project itself will total some $23 million for construction and new equipment. That will mean adding 10 new jobs and an increase in the assessed property value to $6.12 million.
You have free articles remaining.
As part of the agreement, a 10-year tax rebate is also included (up to a maximum of $2 million). For the first eight years, 100% of incremental taxes are affected. In the final two, that drops down to 34%.
Even with the rebates and incentives, council took care to point out that Golden Grain contributes hundreds of thousands in taxes each year to the city, county and school district. And that would still be true under the new deal which is replacing a previous expansion deal from 2004. 
If all goes according to plan, construction could be done 18 months from now.
The sole public comment on the matter came from resident Ryan Baker who worried, in part, about carbon dioxide capturing that Golden Grain would do after the expansion is completed. 
"There should be more giving back in the agreement and agreeing to capture more CO2," Baker said.
Although one of the new positions being added is for an environmental manager, Golden Grain CFO Christy Marchand said that it's somewhat of a moot point for their plant.
"There are other ethanol plants that capture CO2, Golden Grain just does not have a market for that," Marchand said. (According to one report from Bloomberg, the carbon capture and sequestration market across the U.S. could reach $5.6 billion by 2026.)
Before the final, unanimous vote was taken on the matter, City Administrator Aaron Burnett was asked if anyone had recorded a public comment either for or against the project.
According to Burnett, no offline comments came in on the agreement.
What a Globe Gazette News+ membership can do for you:
A deeper examination of local issues than you'll find anywhere else.
Two products in one – not everything that's in the print edition of the Globe Gazette is on our website, and not everything on our website is in the print edition.
Access to newspapers.com archives dating back two years.
The ability to carry your local news with you and receive alerts instantly as news unfolds.
Advertising that frequently gets you deals you won't find anywhere else.
Reach Reporter Jared McNett at 641-421-0527. Follow him on Twitter and Instagram at @TwoHeadedBoy98.