In 1997, a task force came together to look at water quality issues along the Mississippi River and in the Gulf of Mexico Watershed. 
Since 2013, the Iowa Water Quality Initiative, with its Iowa Nutrient Reduction Strategy, has been working to improve water quality through collaboration between independent researchers, farmers and cities.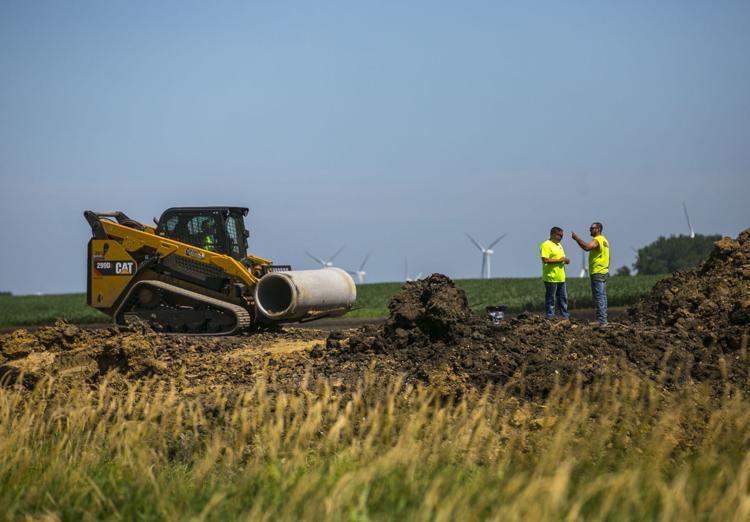 The Iowa strategy is a coordinated approach for reducing nutrient loads from the state's largest wastewater treatment plants as well as reducing potentially harmful nutrients that get into water supplies through agricultural runoff. 
One such program for addressing the issue is the State Revolving Fund Sponsored Wetland Project which allows interested parties to receive low-interest loans for wetlands projects or provides money, at no cost, to invest in water quality improvement.
When working properly, wetlands have an ecological diversity that helps to filter out sediment, nutrients and pollutants from water.
Northwood city officials have partnered with an agricultural drainage district, a part of the Iowa Department of Agriculture Land Stewardship and the Iowa Department of Natural Resources to develop a nutrient removal wetland just east of the 1000 block of 370th Street in Kensett.
Northwood constructed a new wastewater treatment facility, which it financed with a DNR Clean Water State Revolving Fund construction loan. With that came a Water Resource Restoration Sponsored Project loan that allows Northwood to fund the creation of a nutrient removal wasteland at no cost.
You have free articles remaining.
The goal, according to Bolton and Menk engineer Greg Sindt, who is overseeing the project, is to improve water quality in the Shell Rock and Cedar rivers. For now, an existing target to hit for state programs such as the Iowa Nutrient Reduction Strategy is a reduction of 45% of nitrogen and phosphorus that makes it to state waterways by 2035.
While Sindt and his fellow engineer Jon Rosengren estimate that dozens of similar wetlands have been built to date, they offer that the Worth County project is a bit different.
"This is the first of its type in terms of the cooperation between state and city and agriculture," Sindt said.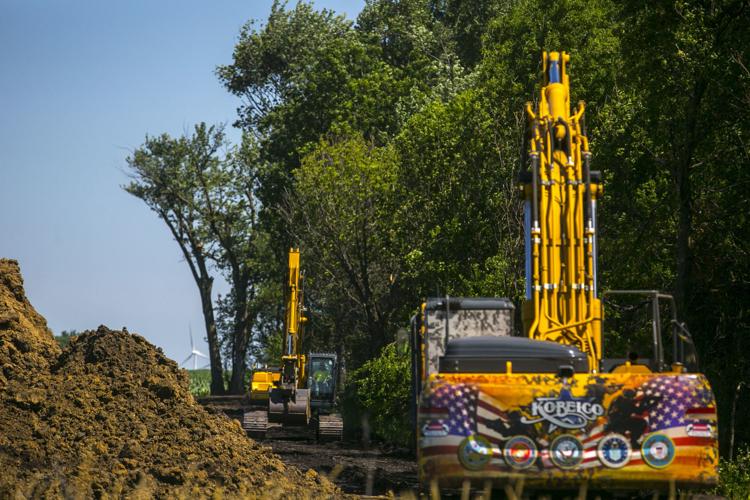 When finished before the end of this month, according to Rosengren, the nutrient removal wetland will total 16.5 acres while the contributing wetland will be about 1,800 acres.
Beyond the specific water quality benefits, Sindt said that such a wetland would also provide wildlife habitat and reduce the sediment in the river. The city would also be able to get water quality credits because of the wetland that could offset stricter future nutrient concentration regulations on the treatment plant.
Iowa State University will monitor the performance of the wetland and documenting nitrogen removal, Sindt said.
The Worth County wetland could remove about 40% of incoming nitrate loads in the future, according to William Crumpton, a biologist and the chairman for environmental programs at Iowa State.
Between the wetland and its buffer, Crumpton said that the site could reduce nitrogen exports by over 28,000 pounds per year, which he equated to retiring nearly 800 acres of cropland.
What a Globe Gazette News+ membership can do for you:
A deeper examination of local issues than you'll find anywhere else.
Two products in one – not everything that's in the print edition of the Globe Gazette is on our website, and not everything on our website is in the print edition.
Access to newspapers.com archives dating back two years.
The ability to carry your local news with you and receive alerts instantly as news unfolds.
Advertising that frequently gets you deals you won't find anywhere else.