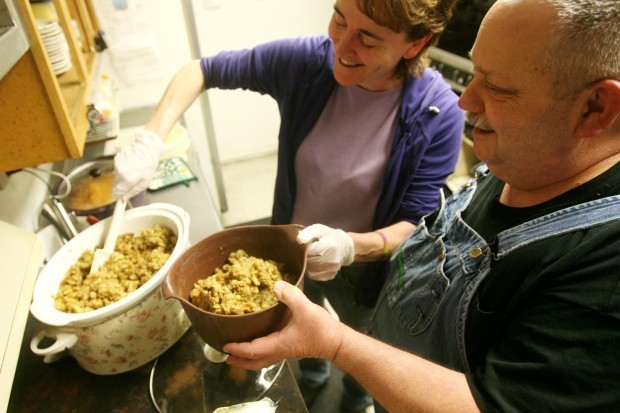 WODEN — Thanksgiving at Wubben's Bar and Grill in Woden is all about togetherness, tradition and cranberry relish.
Actually, cranberry relish was just one of the salads enjoyed by the 75 or so who attended Wubben's annual Thanksgiving meal on Thursday.
And there were plenty of dishes to enjoy.
Robin and Bruce Wubben open their business each Thanksgiving and provide a meal of turkey and the trimmings while their neighbors bring desserts and salads.
"I've come every year they've done this," said Sandy Hugo of Woden, who brought orange rolls.
"I live by myself — and this is a lot of fun and lots of people come," she said Thursday, nodding to friends and family lining up for the holiday meal.
Hugo's daughter, Kathy Brown — who is the mayor of Woden — brings the aforementioned cranberry relish. The relish must be a favorite among the group because Dixie Buns, also of Woden, brings her version of the dish. Both were snapped up by the crowd.
Brown said about one-third of the city's population of 220 attend the event.
"You see friends and family," said Brown, who attended with her husband, Cary.
"It's a time to catch up," Hugo agreed.
Dixie Buns and her husband, James, come every year if they can.
"It's always good," said James.
Robin Wubben said Pastor Arlen Lloyd and former bar and grill owner Jeff Mitchell started the tradition several years ago, knowing there were some friends who had nowhere to go on the holiday.
Although Lloyd and Mitchell have since moved, the tradition has been kept alive by the Wubbens.
"Well, I love people, and they seem to really enjoy it," Robin Wubben said.
"When we bought the business, we just thought we should keep it going," Bruce Wubben said.
The dessert line — this year's choices included pecan, cherry and peach pies; sweet rolls, and bars, bars and more bars — promised to bring the meal to "oh-I'm-so-full-but-it-was-so-good" end.
"It's a happy day," Robin Wubben said. "And then, we're all going to go home and take a nap."