MASON CITY - Another storm system will impact North Iowa starting Monday afternoon.
The National Weather Service has issued a winter storm warning for Cerro Gordo, Winnebago, Worth, Hancock, Wright, Franklin, Butler, Mitchell and Floyd counties in North Iowa. The warning will be in effect from 6 p.m. Monday to 6 p.m. Tuesday.
Kossuth County is under a winter storm watch.
A wintry mix, including freezing drizzle, is expected to begin mid afternoon and transition to snow. The snowfall will be moderate and occasionally heavy through the evening. By Tuesday morning there could be 5 to 7 inches of snow.
Wind gusts could reach 40 mph Tuesday, resulting in patchy blowing snow and reduced visibility.
Temperatures will rise Tuesday to about 25 by noon, then fall to around 18 during the remainder of the day. Wind chill values could be as  low as zero.
Temperatures will drop again Tuesday night to a low around 1 with wind chill values as low as minus-15 below zero.
The National Weather service expects travel to be "very difficult" and may impact commutes. 
The storm should clear out by Tuesday night and lead to sunny skies Wednesday with a high near 18 degrees.
More snow could follow later in the week.
There is a 30 percent chance of snow Thursday afternoon, rising to a 50 percent chance by Thursday evening into Friday morning.  
Live road conditions: North Iowa DOT webcams
I-35 at Dows Webcam
I-35 at Clear Lake Webcam
I-35 at Clear Lake Webcam 2
I-35 at Clear Lake Webcam 3
I-35 Rest Area North of Clear Lake
I-35 at Joice Webcam
I-35 at Northwood exit
I-35 at Ames
US-18 at Spencer
US-18 near Mason City
US-18 near Floyd
US-218 near Plainfield
Highway 9 near Decorah
Highway 9 near Estherville
I-35 south of Albert Lea, Minnesota
I-35 at Owatonna
Cape Canaveral Florida Webcam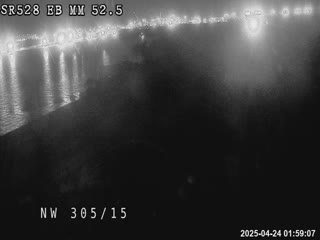 Highway 52 Rochester