CLEAR LAKE | An impending weekend winter storm has postponed Clear Lake's annual Christmas by the Lake for the first time in more than 20 years.
Trish Fundermann with the Clear Lake Chamber of Commerce said the 24th annual event will take place Saturday, Dec. 8, and Sunday, Dec. 9.
The two-day event, including the Lighted Christmas by the Lake Parade and fireworks, generally goes on as planned unless there are bitterly cold temperatures or blizzard-like conditions, according to Gene Madson, Christmas by the Lake Committee chairman.
The festival was postponed for a week its first year in 1995, but has gone on as scheduled every year since then.
Despite Christmas by the Lake being postponed, One Vision's 23rd annual Festival of Trees will be held as planned at the Kinney Lindstrom Center gym, 1200 N. Ninth St. W. 
Festival of Trees will host Breakfast with Santa 8-11 a.m.  Saturday, which includes pancakes, sausage and bacon served by the Clear Lake Knights of Columbus. Admission is $8 for adults and $5 for kids age 5 and under.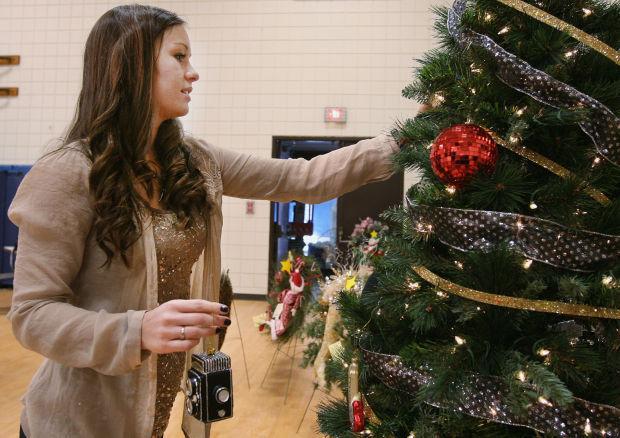 Santa's Secret Workshop is 8 a.m. to 1 p.m. Saturday and allows kids to create something special on a child-sized budget. Hot chocolate will be available for parents. 
Holiday cookies and candies can be purchased during the cookie walk, 11 a.m. to 3 p.m. Sunday. 
You have free articles remaining.
More than 120 Christmas trees, wreaths and swags of all sizes will be displayed and available for sale. People can tour the displays 8 a.m. to 3 p.m. Saturday and 11 a.m. to 3 p.m. Sunday. Admission is $2 per person. 
Proceeds from the event benefit the more than 550 individuals who are supported by One Vision in 30 North Iowa communities.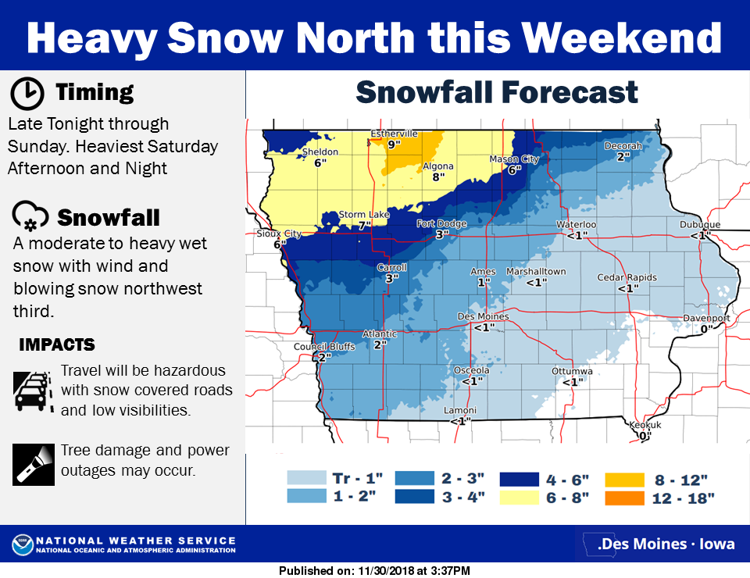 The latest National Weather Service forecast calls for 6 or more inches of snow in North Iowa this weekend, with ice accumulations of up to a tenth of an inch possible. 
North Iowa is under a winter storm warning 3 a.m. Saturday through 12 p.m. Sunday. The storm is expected to begin in North Iowa with a wintry mix Friday night into the overnight hours. 
Forecasters say the mix may change to rain midday Saturday before turning to heavy, wet snow Saturday afternoon into Sunday night, persisting into Sunday. The snow may cause tree damage and power outages. 
Gusty winds may cause blowing snow and reduced visibility. Slick, icy and snow-packed roads are expected. 
In Mason City, alternate side parking is in effect 7 p.m. Friday until further notice. Snow parking ordinances will also be in effect in Ventura and Clear Lake Saturday and Sunday. 
Live road conditions in North Iowa
I-35 at Dows Webcam
I-35 at Clear Lake Webcam
I-35 at Clear Lake Webcam 2
I-35 at Clear Lake Webcam 3
I-35 Rest Area North of Clear Lake
I-35 at Joice Webcam
I-35 at Northwood exit
I-35 at Ames
US-18 at Spencer
US-18 near Mason City
US-18 near Floyd
US-218 near Plainfield
Highway 9 near Decorah
Highway 9 near Estherville
I-35 south of Albert Lea, Minnesota
I-35 at Owatonna
Cape Canaveral Florida Webcam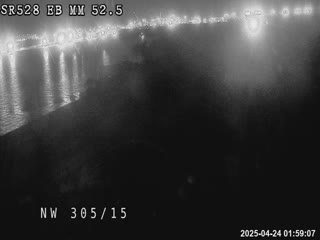 Highway 52 Rochester