ROCKFORD | Two Rockford volunteer firemen dove into action Saturday when they witnessed an unconfirmed tornado pick up and drop an occupied pickup truck in a farm field. 
"When we saw him, for all I knew, the truck could have come from miles away," said fireman Corey Johnson, 26.
Parker Brumm, 22, who was driving the truck, suffered minor injuries in the wild ride.
"How lucky we are," Johnson said.
Johnson and fireman Jim Moore, 35, were storm watching Saturday afternoon. The Rockford Volunteer Fire Department sends its volunteers out during large storms to observe in order to sound sirens, if necessary.
"It was very calm, I mean, we weren't getting winds above 10 miles an hour before this happened," Moore said.
Johnson chuckled as he said winds went from "zero to 60" and then to more than 60 as the clouds and storm front approached, which Johnson said looked like a "tire rolling."
They were close to the intersection of 210th and Wren Avenue, northwest of Rockford when the storm started picking up.
"We were right where you don't want to be," Johnson said. "We were in the -- I guess -- the epicenter."
Brumm left home before the weather "got really bad" to go to a friend's house in Nora Springs. As conditions worsened, he decided to turn around and go home.
"By the time I got a mile or two up the road here, it got worse and worse," Brumm said. "Should I bust it home, should I go away, what should I do?"
He sat at the intersection at 210th and Wren, thinking for a minute.
"I just saw dirt and sticks flying," Brumm said. "By that time it was too late, so I tried to go east, and that was it.
"I just closed my eyes and held on," Brumm continued. "I didn't really see much, just dirt and gravel flying. You could tell you were not on the ground, that's for sure."
There was a mark in the mud of the ditch where Brumm's truck hit. The vehicle took out a couple of road signs on its way down to the ground. 
"You can see it way over there," Brumm said, pointing to the far southern end of the field. "I must have hit that and went up."
Johnson said he and Moore were going to turn around and go back to town when they spotted Brumm's vehicle.
They saw a flash of light ahead and thought the power lines were sparking. Then they both realized they were seeing a truck. 
Photos: June 8, 2018 storm
Moore, Johnson and Brumm are not sure whether the light was the truck turning and the headlight flashing in the firemen's direction or if Brumm hit the powerline.
"He got some pretty good air," Moore said.
Johnson and Moore said it looked like the truck was as high as the powerlines.
"I'm surprised we saw him," Johnson said.
Moore said the scene was a "dark green truck pretty much on a dark, greenish sky." The truck is tan-colored and may have been reflecting light from the storm. 
There was no mark in the ground from the ditch to about 50 feet in the field where he landed.  
Johnson, who was driving a pickup truck for the fire department, pulled onto the access drive for the field. 
"Everything was a big jolt," Brumm said. "Hitting the ditch was a big one."
When Brumm landed, Moore jumped out of his vehicle and ran toward Brumm's truck.
"I didn't think, I just went," Moore said. A second later, Johnson also dove out of the truck to help. 
Meanwhile, a liquefied petroleum tank from the property across the street rolled off its cradle and into the road. There was a bin in the road as well. 
"This is a bad spot," Johnson said he recalled thinking, "we gotta go."
Brumm spotted the firefighters when he exited his truck. 
"I don't know what I would have done if you guys hadn't been here," he said, noting he probably would have tried to walk to his home down the road. 
The whole experience lasted between 30 seconds to a minute, Johnson said. 
"It was definitely in slow motion," Moore said.
The National Weather Service said it cannot confirm tornadic activity in Rockford Saturday. Some believe there were straight line winds or possibly one or two tornadoes. 
Regardless, Moore said it was "one heck of a wind" to blow a pickup truck about 50 feet into a soybean field.
"I got out of the truck, believe it or not, it was still running so I turned it off," Brumm said. "I saw Jim and he said, 'come on, let's go' so I ran over there."
With the adrenaline pumping, none of the three men said they could remember the wind, the rain or the sound they heard when they got out of their trucks. 
"I know there were some fat, heavy rain drops and we were all wet," Moore said.
After picking up Brumm, they were unable to get back into town, so Johnson drove him up the road to his cousin, who is a nurse. They gave him paper towels in the meantime to stop him from bleeding. 
Brumm knew that he didn't survive the moment unscathed.
"My white shorts were brown and red, so I knew I was hurt," he said as he laughed. "It didn't take me very long to realize I was bleeding like a stuck hog."
When they got to the house, they ran in and told everyone to get into the basement.
Moore went back out into the truck but quickly came to the realization they had to stay put. 
"I don't remember hearing the wind but I heard the trees snap in half," he said. 
They all waited out the remainder of the storm in the basement, where Johnson said he recalled the hail sounding like gunshots. 
"Jim was on the radio, yelling 'turn on the sirens, turn on the sirens!'" he said. 
After the skies cleared, they dropped Brumm off at his parent's house and went back into town after the storm.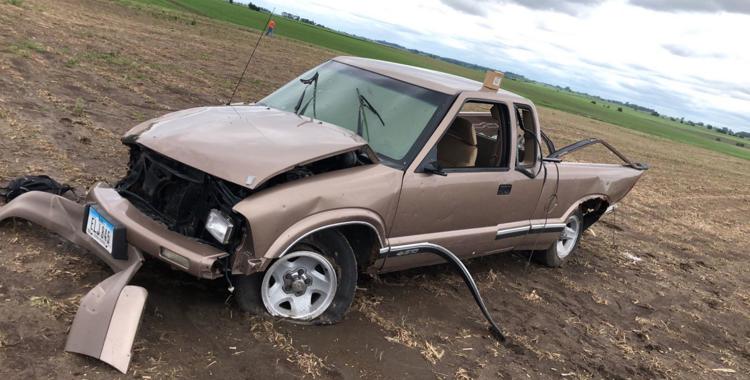 The Chevrolet S-10 truck was a total loss, banged up and dented on all sides. The hail damage made the truck look like it had been pelted by softballs, and the windshield, driver's side window and grill were gone. 
"That truck was a rolling junkyard," Brumm said, laughing.
Anything that was in the truck or in the bed was strewn about the field, including the truck's topper. The soybeans were blown away in the storm. 
Brumm lost one of his flip flops while getting out of the truck and they still haven't found it, although on Tuesday they discovered an iPhone charger, fishing supplies and broken shards of glass. 
"I didn't have my phone," Brumm said. "I found it laying in a mud puddle out here. Somebody called it when we came out later and, lucky enough, it rang."
Brumm joked that iPhones and S-10s are tougher than they look.
"Get an iPhone, it'll make it through a tornado," Johnson said as he laughed. 
All three agreed that they were scared through the storm.
"I've never been scared like that before," Moore said.
If other Rockford Fire volunteers had seen what they witnessed, Moore said they "all would have done the same thing."
Johnson said the aftermath of the weekend's storm was the best outcome. 
"Mostly property damage," he said. "Everything is replaceable."
Brumm probably won't be out driving during the next big storm.
"Don't be dumb," Brumm advised. "Stay home."
600 block of North Van Buren Avenue
600 block of North Van Buren Avenue
South Washington Avenue and Fourth Street Southwest
700 block of North Hampshire Avenue
Egloff House, 600 block of Seventh Street Northeast
700 block of North Carolina Avenue
700 block of North Maryland Avenue
700 block of North Maryland Avenue
700 block of North Maryland Avenue
600 block of North Carolina Avenue
Intersection of Elm Drive and 13th Street Northeast
1300 block of North Connecticut Avenue
1000 block of Second Street Northeast