MASON CITY | Two classes of students waited patiently to go back inside Roosevelt Elementary after a fire drill Friday morning in Mason City. 
The school's mascot, Tweets, stood in front of the classes, waiting for the cue from Principal Dan Arjes.
At the front of the lines, siblings Jayden Waldschmidt, 9, and Mia Brager, 7, went up to hug the mascot. 
They didn't know that they had just hugged their mother, Iowa Army National Guard Sgt. Angelica Brager of Mason City, who is back from a deployment in the Middle East and was waiting to take off the mascot head to surprise them.
Brager was deployed in December 2017 and hasn't seen her children in person since Nov. 30, 2017. She said she spent time in various countries in the Middle East, including Iraq and Kuwait.
She was sent on a nine-month assignment to provide assistance for aircraft with the Waterloo-based 248th Aviation Support Battalion.
Brager said she has been in the National Guard for more than 12 years, joining at age 18.
"I love my country, and pretty much after 9/11, I knew I had to do something to serve," she said.   
Though she hasn't seen her children in more than nine months, she is able to talk with them often. In June, she surprised them by reading a book via Skype during Roosevelt's summer reading program. 
"I get to talk with them daily through Facetime or on the phone," Brager said before she met up with her kids at the school. "They're not expecting me to be home for another two weeks."
She reached out to the school administration Wednesday night, telling them that she wanted to surprise her kids in a memorable way.
"It's something I've looked forward to since the day I left," she said of surprising her kids.
Arjes said they already had a fire drill planned, so it worked out perfectly.
Jaydon, who is turning 10 next week, got the best birthday present.
"That's all he wanted for his birthday, I was like, 'What do you want for your birthday,' and he said, 'I just want you to be home, mom,'" Brager said before the surprise. "He's not expecting me to be home until after his birthday."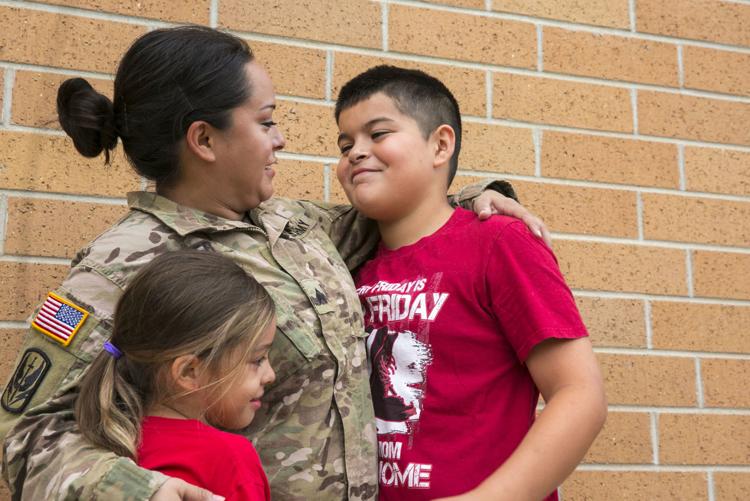 Arjes told kids through the PA system media would be there to cover the drill for a "school safety story." Once the students saw Tweets, many got excited, giving her high-fives, fist-bumps and hugs.
When the drill was over and the classes returned to the building, Arjes brought back Mia's second-grade and Jaydon's fourth-grade classes at the very end, with the two kids leading their class lines.
Bothe were wearing RED Friday shirts, which stands for Remember Everyone Deployed. Jaydon's shirt said, "Everyday is Red Friday until my mom comes home." Mia's said, "I wear red on Fridays for my mom, my hero."
Mia and Jaydon hugged the mascot and went back to their class lines, unaware that they just hugged their mom.
Arjes told the students that their classes were so well behaved that they would get a reward. The students would finally get to see who is inside the Tweets costume, which caused a buzz among the students.
Brager took off the mascot head.
"Mommy!" Mia yelled. Both kids rushed to hug their mom, crying. 
Teachers, administrators and students were all moved by the scene. A few students began crying at the back of the class lines.
"Welcome home," the classes shouted on the count of three.
"You've gotten so much taller," Brager said, hugging Jaydon.
Jaydon and Mia said they were "very, very surprised" to see their mom.
Jaydon said he couldn't wait to surprise their grandmother, who does not know Brager is home.
"She's going to be very surprised," he said. "She's gonna cry."
Members of Brager's Guard unit in Mason City were also there. They presented Mia with flowers, which she would not put down.
She's home "until further notice," she said, smiling. "Hopefully for a while."