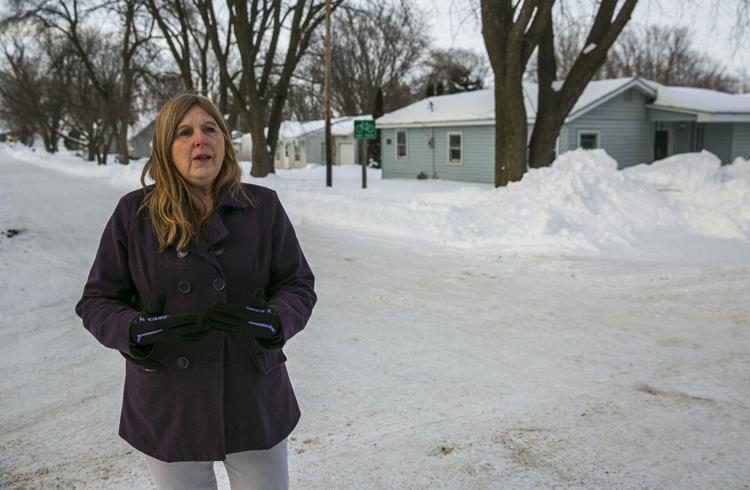 MASON CITY | Diane Sanchez, 65, has resided in the Central Heights neighborhood of Mason City for most of her life and just wants the roads in her neighborhood paved.
For her, the daughter of someone who lived in the same area, it's a simple wish she's had for about three decades now.
She'd rather not have to have each pothole in the area memorized. She'd prefer to drive in straight lines down the street instead of serpentining her car. 
Of the 17 items on the Mason City Council agenda from Tuesday night, the one that generated the most fractiousness was that lingering, three decades issue-old issue: 
Paving in the Central Heights area and how Mason City would pay for it.
It finally reached a sort-of conclusion but only after threats of lawsuits, a failed attempt to further delay, a defeated walkout by one couple and a final failed vote.
The first and most impassioned to speak was Sanchez.
She gave a sweeping history of the issue while raising the specter of a lawsuit.
"One thing you need to know about Central Heights residents: there are a lot of us that are the children of the people that are the ones that you screwed over years ago," Sanchez said.
"Most of the people out there, that were alive at that time, are deceased."
"But there's enough of us that purchased our parents' property that we're not going to let this die. We're not gonna let you push us aside and forget us. We live in a city where we should have paved streets, and we expect that at a fair price, considering this should've been done years ago."
The proposed resolution that caused so much consternation would have levied special assessments on property owners in the neighborhood to partially fund the paving. 
Before the vote had taken place, the specifications for the project were nearly complete.
However, residents such as Sanchez and Steve Brau took issue with that.
They felt the assessments were burdensome to some less fortunate residents.
Sanchez has argued that she doesn't "want to see anybody out here have to pay for roads they cannot afford."
"You can't have your taxes double and expect to be able to make it."
Another concerned raised by multiple residents was that the totals were inconsistent and that the issue should've been put to bed in 1990.
In that year, the Central Heights neighborhood, which goes from 14th Street to 22nd Street, was partially paved after the city received a $600,000 grant from the Iowa Department of Economic Development to pave streets, install storm sewers, rehab houses and demolition of blighted spots.
But a portion of the money was diverted and potholes still linger in Central Heights now. 
According to prior reporting by the Globe Gazette, the state no longer has any record of the contract. And the city applied for further funding for Central Heights in fiscal years 1992 and 1993, presumably to finish the projects, but the funding requests were denied in part because the state changed its guidelines, no longer funding street projects through Community Development Block Grants.
During Tuesday night's meeting, Sanchez hinted at having paperwork related to this particular moment in Central Heights history and suggested it could merit a lawsuit. 
When city council was slated to vote in January on using Central Heights property assessments to pay for 40 percent of street improvements, it delayed the issue to its Feb. 5 meeting.
At that meeting, city council decided to delay until the March 5 meeting.
And as council deliberated on the issue Tuesday night, there was another motion to defer action for a month.
You have free articles remaining.
That motion failed. On a 3-3 vote.
It would be the first of two failed votes. 
Council members Paul Adams (At-Large), John Lee (First Ward) and Joshua Masson (Third Ward) all voted against it.
Council members Tom Thoma (At-Large), Will Symonds (Second Ward) and John Jaszewski (Fourth Ward) voted in favor of delaying until April.
Once deliberation began, every councilman spoke and at times with hesitation.
"We tried to accommodate with the assessment amount as much as possible," Adams said. But he added that, "I'm not comfortable putting them in a financial hardship situation to force this through."
"I have very little at stake," Lee said. "What the staff came up with is a great solution, but what I'm hearing from some of the 'no' people is that they just can't afford it." 
Though the math is a bit in dispute, 72 of the 132 property owners in Central Heights responded to a survey about the proposed assessment plan. According to Brau, of those 72, 60 percent are against the plan.
That matters because in Mason City streets are paved if 50 percent of the property owners agree. All property owners on a street are then assessed for the cost of the paving.
During deliberation, council members indicated that when the city used assessments to pay for paving projects in the past, it would pick up 20 percent instead of the 60 percent it would have covered for the Central Heights project.
"If you want this done, somebody has to pay for pay for it," Jaszewski said. 
The vote to delay until April, which had a brief half-life, would have potentially given time for more residents to respond to the funding proposal. 
However, it failed, as well. And that failure was enough to send one couple packing.
"We just as well go, we're gonna get screwed," one Central Heights resident in attendance told his wife as they bolted from their chairs and exited the Mason City Library's Mason City Room.
They ultimately missed the second, deciding vote where the "Resolution with respect to the adoption of the Resolution of Necessity Proposed for the Central Heights Paving Project" went down in a 3-3 vote along the same lines as the prior vote.
So the assessments won't go into effect. Residents won't have to worry about coming up with an "extra $200 a month," as Diane Sanchez suggested. Lawsuits likely won't need to be filed.
But the streets will still need to be paved.
And after dust settled on the meeting, Diane Sanchez is still a mix of upset and dispirited. 
"We just do not get anywhere," Sanchez sighed. "This is the closest we have ever come, and that's because we were willing to kind of forget the old grant stuff as long as they would pay and do it. And they did make an effort. I'm not saying they didn't."
She reiterated that point several times: The city did make an effort.
"But this is not a normal income neighborhood. It's a lower-income neighborhood. And I don't think we should be punished for that and have to live in these conditions. They need to come up with the money."
Sanchez isn't looking forward to the springtime when she says the roads around Central Heights can get muddy and cumbersome.
"It's hard on your vehicles. Kids riding bikes fall and get hurt. It's just not safe."
She said she's taken that paperwork documenting old grants intended to pave the roads to several places: the city, the statehouse, multiple senators and nothing changed. 
"We need people with the know-how and the expertise to make this stuff happen for us," Sanchez said, "because we don't know how to do it."
"We've tried and we're running out of options."
Photos: Mason City in its heyday