Editor's note: This story has been updated to include both Wednesday and Thursday developments of the event.
Protests over MercyOne North Iowa Medical Center's recent requirement for employees to get vaccinated against COVID-19 broke out on Wednesday night, with around 35 people gathered along Fourth Street Southwest near the hospital to voice their concerns. 
"We are standing for freedom of choice," said protester Gina Lovejoy. "Employees and citizens should choose if they want to be vaccinated." 
"We just want people to have a choice," said Connie Dianda, a self-described organizer of the protest. "You shouldn't have to choose between losing your job and getting a vaccine we think is not safe." 
Protesters returned to the same area Thursday night.
The consensus from the majority of the protesters in attendance both Wednesday and Thursday was that they were there protesting against vaccine mandates for employees as a whole, and MercyOne's vaccine mandate specifically, not that they were protesting the COVID-19 vaccine itself. 
Many of the protesters said they wanted to make it clear that they were not "anti-vax," but rather they were against forced vaccination.
Three protesters who were there on Thursday claimed to be MercyOne employees, and a handful more claimed to work in healthcare, but all declined comment. 
"Freedom of choice" and "My body, my choice" were both phrases commonly heard from the protesters and featured on many of the signs.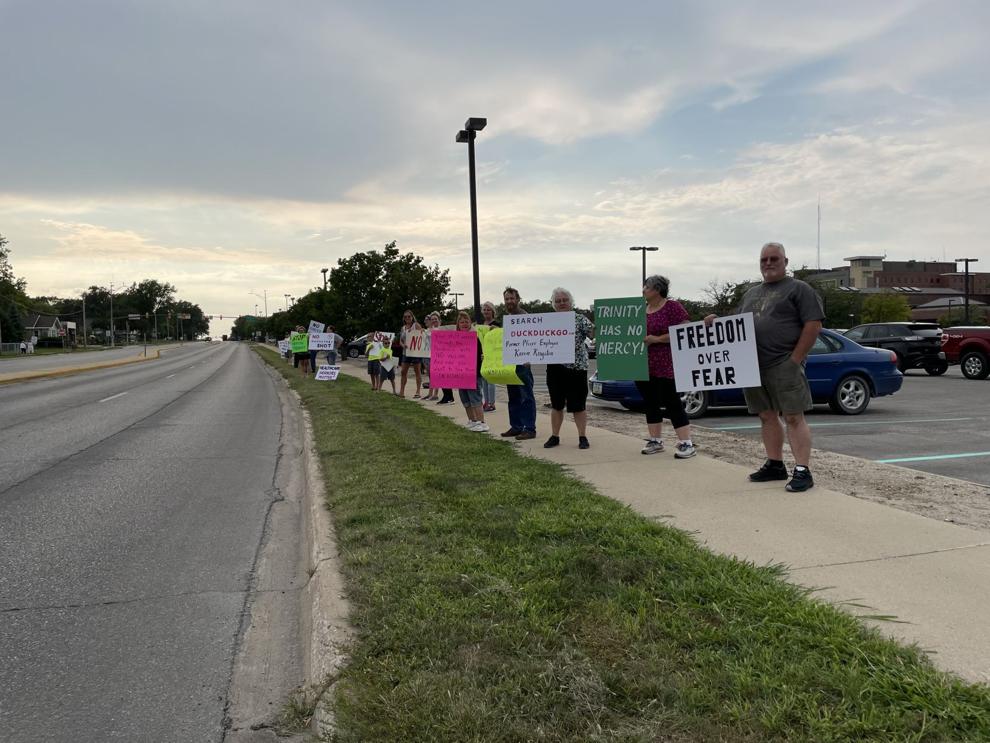 MercyOne announced in July that it would be requiring all colleagues and medical staff to be vaccinated for COVID-19 by Sept. 21. 
"The safety of our patients, residents, colleagues, physicians and communities is a top priority for us. The COVID-19 vaccine is the single most effective tool in slowing, and even stopping, the spread of COVID-19 and saving lives," MercyOne North Iowa Communications Lead Angie Anstine said via email following the announcement. "As health care professionals, we are responsible for doing everything we can to end the pandemic and save lives in our communities."
Exemptions for religious or health reasons are available, which must be requested, documented and approved, according to a press release from MercyOne Communications Lead Chelsea Keenan that was shared in early July.
According to the CDC, 49.8 percent of all Americans and 60.7 percent of Americans over the age of 18 years old are completely vaccinated against COVID-19. 
Protestors at the event said they would be back on Friday to continue their protest. 
Zachary Dupont covers politics and business development for the Globe Gazette. You can reach him at 641-421-0533 or zachary.dupont@globegazette.com. Follow Zachary on Twitter at @ZachNDupont