Tyler Abundis, 29, Plymouth, is a major sports fan and has a University of Iowa Hawkeyes hat mixed among the dozen or so on a rack in his bedroom, but he's none too fond of making twice-monthly trips with his mom, Brenda, down to Iowa City where the campus is.
For Tyler, those trips, which used to only be every couple months, have come to mean occasionally long waits on medical paperwork and dealing with needles.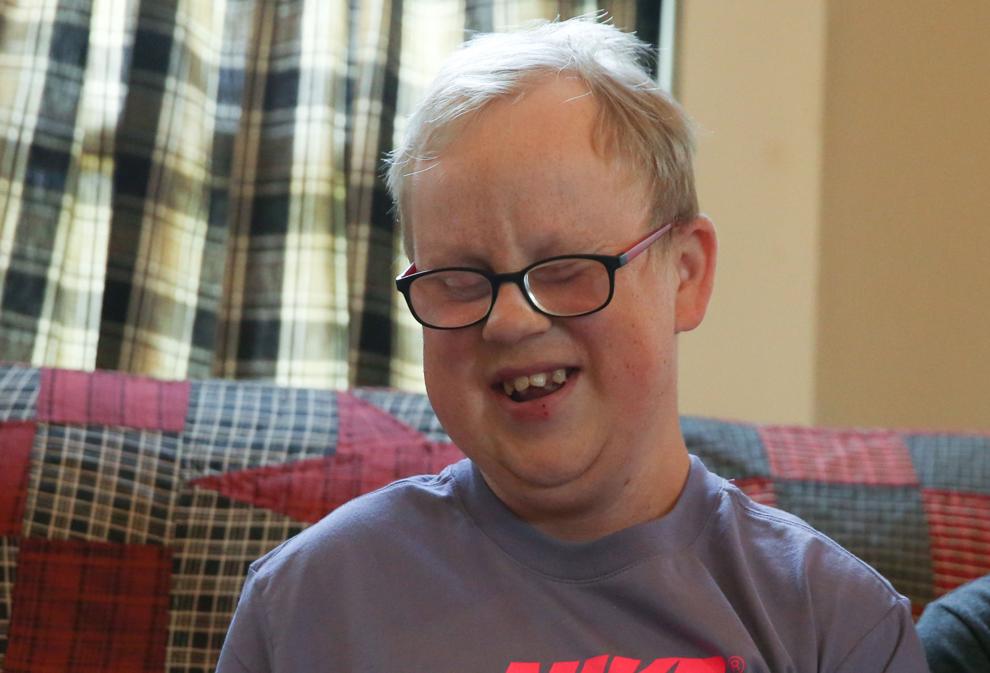 While pointing to a bruise on his right arm he says, "I don't like them" about the daylong visits to Johnson County. 
The diagnosis
According to Brenda, Tyler was born with Lowe syndrome, which is a disease that affects the bones, eyes and kidneys. It appears in about every 1 in 500,000 people per a National Institutes of Health study, mostly occurs in men and can dramatically impact life expectancy. In Tyler's case, he is legally blind but can see lights and shadows.
He's shorter in stature, has a low muscle tone, is prone to seizures and makes use of a walker or wheelchair.
Tyler's had to start making more trips with Brenda down to Iowa City because, since January, his kidney function has gone down to a rate of 17%.
"He's not feeling what you would feel if his kidney was sick," Brenda said. "They said that he's overall in good health. They're not going to be too dramatic right now."
Despite that overall good health, Brenda, her husband Eric, and a number of medical professionals are looking for the perfect kidney donor match for Tyler. So there's a donor portal, uiowa.donorscreen.org/register/now, for people with a Type-A kidney to go through and enter Tyler's name in.
'My son is in need of a Kidney Type-A'
There are signs publicizing Tyler's cause, which read, "My son is in need of Kidney Type-A call (641)-583-0262," that people in and around the Mason City area may have seen. Or they could've caught a glimpse of Brenda's dark blue Chrysler Town and Country minivan, which features the same information, that she drives around town.
Per Brenda, the Abundis family got almost a dozen calls in a three-day stretch earlier this week from folks wanting to know what they can do to help or just phoning to provide some sort of encouragement. 
"I got a call from a woman who just wanted to say she's praying for us," Brenda said. "And I think she was down in the southern area of Iowa near Osceola."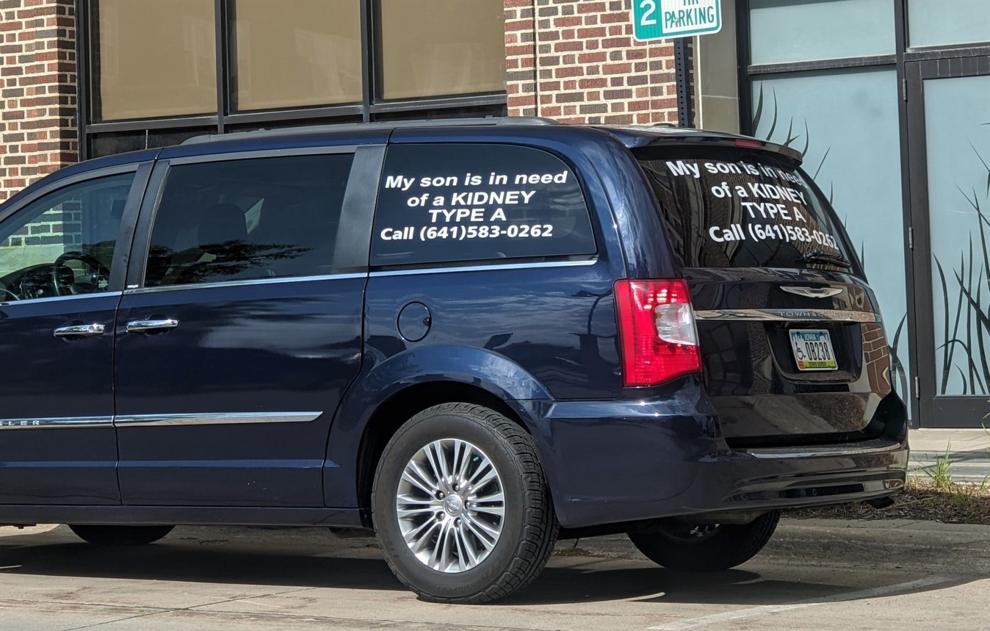 A man of many interests
Brenda said that her full-time job is being there for Tyler. They go on trips to Thursdays on Main in Clear Lake (where Tyler recently won a beachball), see $5 movies on Tuesday at Cinema West Theatre in Mason City (Tyler is a big fan of the recent Disney film "Cruella," which tells the origin story of the Dalmatian menace herself), or they spend time in the coziness of Tyler's room putting together Lego models that Eric provides a major assist on. 
Depending on the time of day, it's not unusual to hear Tyler standing near one of several sound systems around the house, which used to be St. Michael's Church, singing along to recent discovery Miranda Lambert or old favorite Taylor Swift.
"I want to marry Taylor Swift," he said with a wide smile.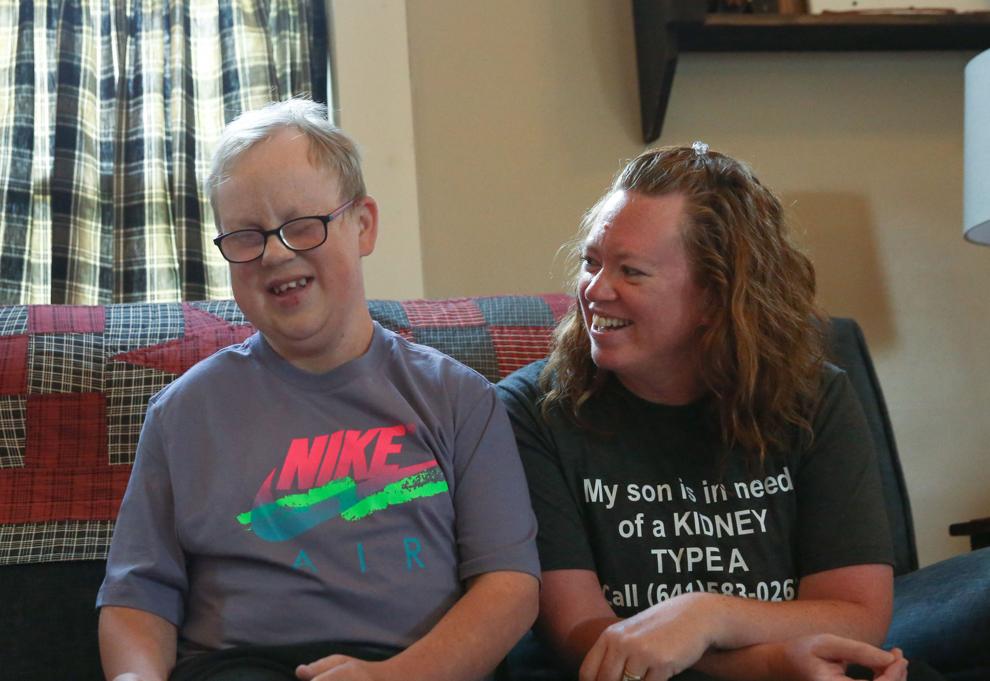 At the moment, Tyler's also keen on swimming. He likes going to the aquatic center in nearby Nora Springs, the town where both of his grandmas live, but also has an ambitious plan to get a pool of his own.
"I was thinking about digging a hole," he said from a living room couch just under the window that overlooks the backyard. Were that to happen, Eric would likely help and maybe so would the family's enthusiastic dog Scooby, named for the cartoon pet detective, who Tyler lovingly calls "a bozo."
Scooby Dooby Doo, where are you?
During a visit on Thursday afternoon, Tyler repeatedly asked Brenda and Eric where Scooby was and wanted to know what the dog was doing. He had multiple anecdotes to tell about the dog who the family has had for about eight years including one where Scooby unrolled the window of the Abundis' camper while it was stopped in the Shopko parking lot in Hampton and wandered into the store to look for treats. 
Akin to his dog, Tyler has a mischievous streak as well. Eric said that when Tyler was young he would sometimes sneak outside just to swing on the swingset without any supervision. Another marker of his impish side comes when Eric asks Tyler, who loves the Green Bay Packers and caught a divisional game at Lambeau Field, who they don't like. 
"The Purple," Tyler said without missing a beat in reference to the Minnesota Vikings, whom the Packers lead 63-55 in the all-time series and 4-0 in Super Bowl wins. 
Concerns and contentment
Tyler did express certain fears about things, but none of them were in reference to his medical condition. Instead he talked about the time he got scared going into Spook Cave in McGregor, Iowa, which may well be haunted, rumor has it. 
"I was worried about a spooky guy in the cave," he said. 
When he was a kid, Tyler used to worry about a Buddha statue at a relative's house, though he now has that same smiling Buddha near the closet in his room. He overcame that fear.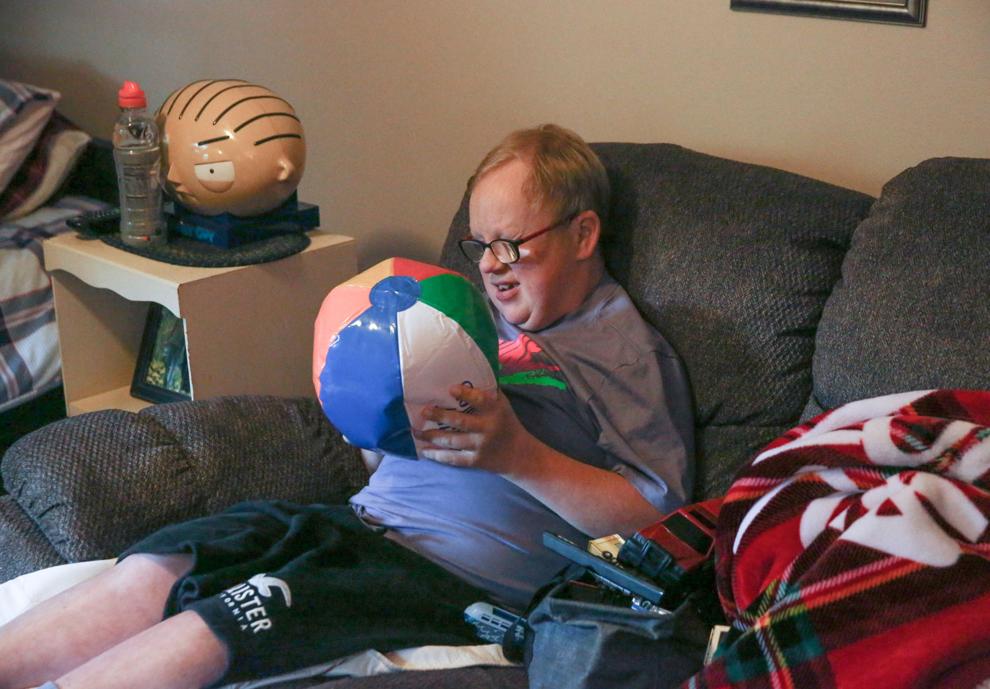 Gaining such courage is possible, at least in part, because of the major support network that Tyler has. His grandmas help take care of him whenever they can and Brenda said that family and friends want to do a fundraiser to help cover Tyler's expenses. Brenda said she's a little bit sheepish when it comes to those kinds of ventures but repeats a reminder from her friends. 
"We've got to do this for Tyler," she said. 
Asked about whether or not it feels good to know so many people, some of whom are complete strangers, care so much about him, Tyler responded with a single word and a smile.
Jared McNett covers local government for the Globe Gazette. You can reach him at Jared.McNett@globegazette.com or by phone at 641-421-0527. Follow Jared on Twitter at @TwoHeadedBoy98.