CLEAR LAKE | The last thing Scott Bronson remembers is calling for help.
And three days later, he awoke in the intensive care unit at Mercy Medical Center--North Iowa in Mason City.
"I didn't know what the heck happened," he said.
But in the days — and weeks — to follow, staff at Oakwood Care Center, an ABCM Corp. skilled-nursing and long-term care facility in Clear Lake, would help him piece together an "amazing" story.
"They saved my life," he said.
Bronson, who recently celebrated his 53rd birthday, is a resident at Oakwood. He has been paralyzed from the neck down due to an accident at age 8. 
On April 16, Bronson pressed his call light to notify nurses he needed to use the restroom and inform them he had lower abdominal pain.
"He was in the chair, so a bunch of us lowered him down to the floor and checked for his pulse," said Mardi Sauve, an Oakwood nurse. "There wasn't one, and he wasn't breathing."
So, the nurses — about five — began performing CPR, rotating every eight rounds to ensure Bronson was receiving the best quality of care, while others provided supplies and cleared the paths to his room for paramedics. 
Twenty-five minutes passed before the EMTs arrived with an automatic CPR machine.
"I've been doing this a lot of years, and I'd never seen anything like that," said Sheri Weaver-Isvik, who's been care center administrator for 21 years.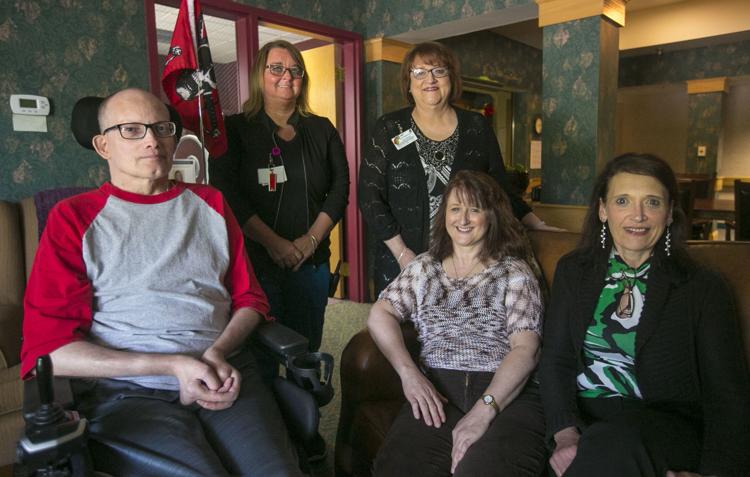 Nurses, EMTs and staff provided high-flow oxygen, adrenaline and an intraosseous infusion, which is injected into the bone marrow to provide a non-collapsible entry into the systemic venous system, to try and get a pulse from Bronson.
But 20 more minutes passed without a pulse.
"It was emotional," Weaver-Isvik said.
After speaking with a physician on the phone, an EMT called time of death at 10:17 a.m.
A sheet and towel were placed over Bronson's body, still intubated, while nurses called the funeral home and his mother and sister.
You have free articles remaining.
While Sauve was in his room cleaning and waiting for another nurse to assist her, she saw the towel on his face move.
"I couldn't believe what I was seeing," she said.
Sauve called in the nurses and EMTs for help, and Bronson was transported by ambulance to the hospital with a weak pulse.
While Bronson was transported to the hospital, nurses and staff were trying to explain to his mother where he was and what happened and call the funeral home back.
"His mom was so confused when she arrived and we told her just to go to the emergency room," said Belinda Rasmuson-Oulman, a nurse. "We all were kind of questioning what had happened."
Bronson coded again during the 10-mile ambulance ride and in the emergency room.
"After he left the building, we did just expect a call anytime that he was gone," Weaver-Isvik said. "After what he'd been through, we just didn't think he'd make it."
But the call would never come.
Instead, Bronson, after four days in ICU and four days under additional observation, returned to Oakwood with no explanation of what nearly caused his death and minimal side effects.
After what he had gone through, he only had two broken ribs, abdominal bruising and swelling.
"I had a whole fleet of doctors come in every morning to my room (at the hospital) and they couldn't believe it," he said. "They said, 'It's unbelievable that you don't have brain damage.'"
Bronson is grateful for the Oakwood nurses Lauren McWhorter, Deb Miller, Deanna Smith, Kelly Gute, Tafeeta Benson, Rasmuson-Oulman and Sauve, the EMTs and the doctors who saved his life.
"I wish I had millions of dollars, I'd pay these nurses a lot of money," he said.
On April 27, Bronson threw the Oakwood staff a pizza party to show his appreciation and learn about the events that transpired from those who experienced them firsthand.
Since then, he's been visited regularly by his mother and sister as well as aunts, uncles and cousins he hasn't seen in a long time.
"I wonder what really brought me back?" Bronson said.
Rasmuson-Oulman responded, "It just wasn't your time."