Central Gardens of North Iowa was buzzing with excitement Friday morning as people of all ages attended Fresh on Fridays in Clear Lake.
Children dug for worms, watered plants in raised garden beds and painted rocks with their parents nearby, while adults sipped coffee and ate homemade treats on the patio, purchased fresh bouquets and wandered throughout the nearly 3-acre public garden.
"It's pretty from up here, isn't it?" said Troyce Fisher, Central Gardens of North Iowa Board president, from the second-story of the Nature Education Pavilion. "A perfect view of the gardens."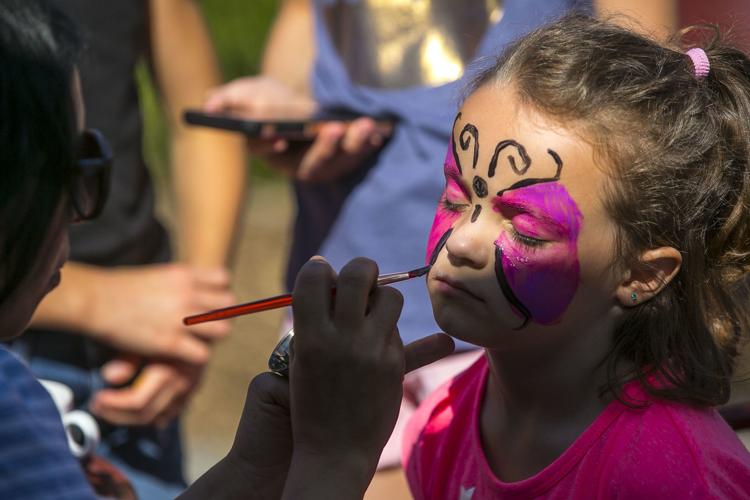 It's that beauty the Central Gardens of North Iowa Board of Directors hopes to bolster with its Upgrade 2020 project, a $220,000 capital campaign launched earlier this year.
The campaign comprises 12 projects — identified by a 15-member board in its 2018-2021 strategic plan — to be completed by the Central Gardens of North Iowa's 20th anniversary in 2020.
Fisher said half of the money will go toward the projects, while the other half will go into the Gardens' endowment.
"Our rule here is half the Garden donations go toward the endowment," she said. "It ensures that Central Gardens will be here forever because we can never touch that money."
Central Gardens of North Iowa, located on Second Avenue North between North Eighth and Ninth streets, was built on the former site of Central School nearly 20 years ago by a group of visionaries.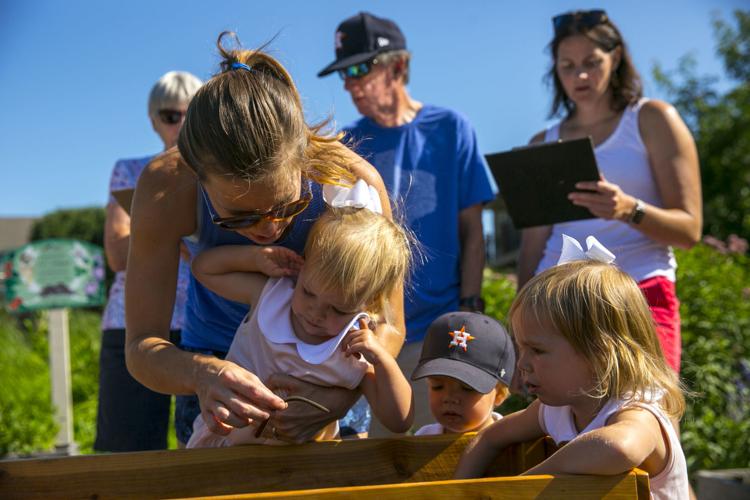 The Gardens boast 22 themed gardens, the Nature Education Pavilion, the Mother Earth Workshop, a gazebo, a pond and waterfall, a fountain and a moon gate arch that frames the Ceremonial Lawn.
Fisher estimates more than 15,000 individuals visit the venue annually for events, weddings, reunions and parties.
However, there are still people, including people in Clear Lake, who don't know Central Gardens of North Iowa exists.
"That's why we're raising money," Fisher said.
The Central Gardens of North Iowa Board hopes to complete fundraising for its capital campaign this fall and finish its projects by fall 2020.
The Moon Gate ($10,000): Planting a screening arc of conifers with roses and perennials to the north of the Moon Gate to restore what was once a beautiful photo location for wedding parties prior to the multi-story condominium being built.
The Nature Education Pavilion ($7,000): Adding night lighting for evening theatrical productions; expanding irrigation on the hillside and improving building accessibility.
The Pond and waterfall ($16,000): Rebuilding the waterfall, so it can be seen from 360 degrees and adding new plantings.
The Naturalist Terrace ($32,500): Construction of a sound attenuating wall that'd reduce and deflect traffic noise as well as the installing a semi-permanent shade sail.
The Ceremonial Lawn ($8,000): Retiling and resodding to better withstand increasing foot traffic.
Eighth Street noise and visual barrier ($7,500): Planting of nearly 200 trees and shrubs to reduce noise from increased vehicular traffic.
New sign at northwest corner and banners ($7.500): Installing a new sign and banners along Eighth Street to improve Central Gardens' visibility to the public.
Entrance fountain improvements ($7,000): Adding landscaping inside and outside the gate as well as replacing the fountain's tired parts.
Plant identification apps ($3,500)
Mother Earth Work Shop enhancement ($7,500): Correcting drainage, adding a visual linkage between the shop and pavilion at the main entrance and landscaping.
You have free articles remaining.
Planting of the trees and shrubs along the Eighth Street fence took place two weeks ago for the noise and visual barrier, but other projects will not be completed until the funding is available, Fisher said.
Central Gardens is maintained almost entirely by volunteers. In 2018, there were about 110, but more are always welcome.
Connie Plagge, board vice president, started volunteering at Central Gardens to meet people in Clear Lake, including some of her best friends, after two of her sons got married at the venue.
"It's just so beautiful," she said.
Plagge and her husband, like many others, dedicate countless hours to weeding, pruning and planting of the gardens each year to ensure others can enjoy them.
Kayla Meyers, who oversees Fresh on Fridays, started working at Central Gardens with her father when it began.
"I'm a florist by trade, so the garden was a place for me to bring all of my skills together and give back to the community," she said.
Meyers described Central Gardens as her sanctuary and the joy of her heart.
In addition to Fresh on Fridays, the venue also hosts an annual Plant and Gardening Fair, Summer Garden Beach Party and other specialty events, like Garden Fiesta, to increase awareness of the garden and promote inclusion.
Garden Fiesta will take place from 4-7 p.m. Aug. 18 and feature children's crafts and activities, face painting, salsa-tasting and food trucks as well as entertainment from Grupo Foclorico de Hampton, a group of young Mexican folk dancers.
Central Gardens of North Iowa is open from dawn to dusk daily from May through October. Admission is free, but donations are welcome.
Photos: Fresh on Fridays at Central Gardens of North Iowa in Clear Lake