MASON CITY | The Mason City Police Department is investigating a social media post they say threatened a pep rally at the high school Monday afternoon. 
Officers were dispatched to Mason City High School about 12:30 p.m. for a "social media threat of violence that was to occur at an afternoon pep rally," the department said in a news release Monday evening. 
The department said it met with school officials to "help make decisions about the balance of the school day," according to the news release. 
"We supported the MCCSD decision to have the pep rally, based on the information known to us at the time," police wrote in the release. 
Uniformed and plainclothes officers were present during the remainder of the school day, as well as at the rally.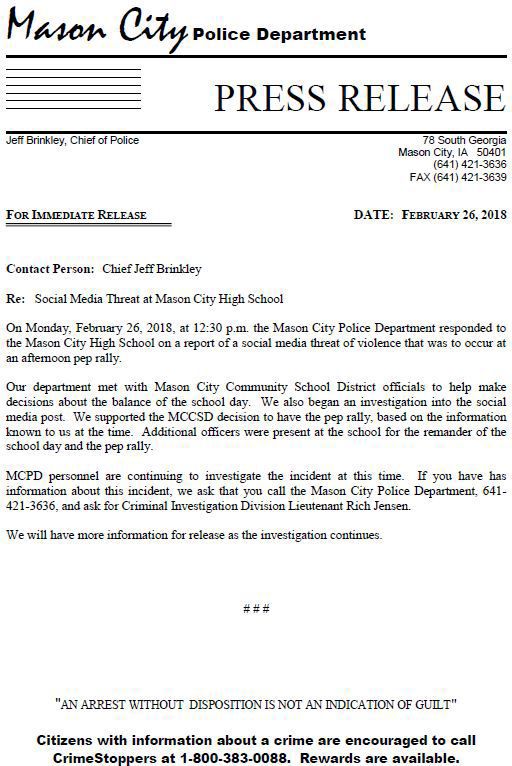 The social media post is being investigated, according to police. No other details are being released at this time, but police say they will release more information as the investigation continues. 
Anyone with information about the incident is asked to contact Mason City Police Criminal Investigation Division Lt. Rich Jensen at 641-421-3636.
---
MASON CITY | Police and school officials are investigating a "rumor" of a potential threat to a high school pep assembly this afternoon, school officials said.
Mason City Schools announced on Facebook about 2 p.m. that administrators have been alerted to a rumor, which is currently being investigated. 
"The rumor is related to a threat received to the high school pep assembly scheduled for this afternoon," the post staid, which noted police officers are at the high school to assist in the investigation. 
The district didn't specify what the assembly is for, but the school's activity calendar lists a pep assembly for the girls' basketball game from 3:15 to 3:45 p.m. at the high school. 
The team is scheduled for a first-round state tournament game against Grinnell in Des Moines at 8:30 p.m. Monday. 
At this time, school officials and police are unable to substantiate the rumor, the post said, but will continue to investigate. 
"As always the safety of our students is our number one priority and we wanted to make families aware of the situation," the school district said. "The district will continue to keep you updated as we have further information."
"We will let you know if anything changes," the district said.
Mason City Police Chief Brinkley attended the pep rally as well as several uniformed and plainclothes police officers patrolling the gym and surrounding area.