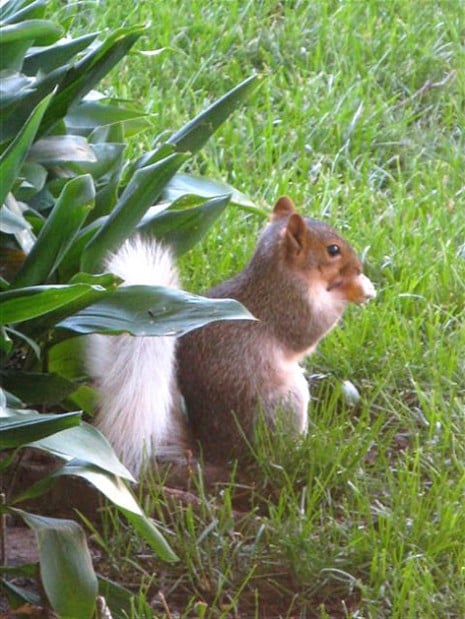 OSAGE — Squirrels in Osage are gathering more than nuts these days.
They're also getting a lot of double-takes from residents when they see the squirrels with white tails.
The white-tailed squirrels "are unique," said Vince Evelsizer, wildlife biologist for the Iowa Department of Natural Resources. "To be honest, it's more common in Iowa to see all-black squirrels than a white-tailed one."
A homeowner in Osage has seen as many as three playing in a yard.
On Sunday, two of the white-tailed animals were playing with a fully colored gray squirrel on Ash Street. All appeared to be young squirrels and have been seen at different locations throughout town.
You have free articles remaining.
White-tailed squirrels are relatively rare, Evelsizer said. He had not seen one before.
They are not albino squirrels. The color variation can come from a recessive trait that will occasionally appear in the genetic line. The color variation is more often seen in gray squirrels, he added.
If the mother has a white tail, that characteristic is carried to off-spring, he said.
These squirrels that look as if they have powder puffs for tails are just a blip on the strange squirrel radar, though.
In Olney, Ill., a population of albino squirrels have become the town's collective mascot (police wear a white squirrel on their uniform patch).
Each year, there is a white squirrel count to see how many have taken up residence. Last year, about 100 were counted.