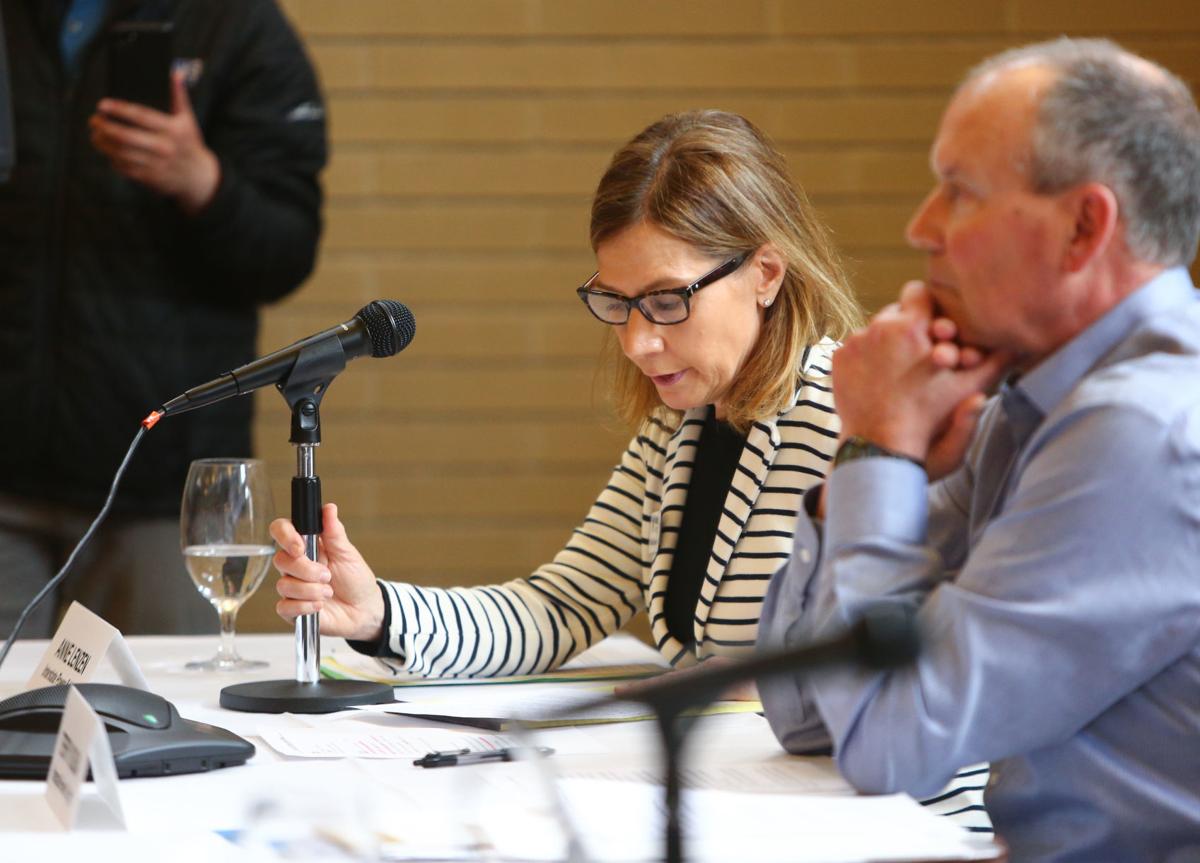 On March 29, 2002, Interstate Power and Light Company, a subsidiary of Alliant Energy Company, filed a request with the Iowa Utilities Board to increase Iowa electric rates by about 9.6%, which would've meant a revenue increase of $82 million.
In the interim before a final decision, the IUB allowed for a temporary increase of 1.8% that went into effect on June 27.
Less than a year later, on April 15, 2003, that final number shaded upward to about 2.88%. 
Since then, Alliant Energy, doing business as IPL, has ratcheted up its proposed rate increases. IPL has had at least five distinct requests for a permanent increase that have gone before the IUB since the 2003 increase and all of them have been for 5% or more.
According to its website, rate setting is a key function of the IUB. By law, the board assures that customers receive adequate service at a reasonable price.
The board also has to allow sufficient income for the utilities so that they can maintain reliable service and assure sufficient earnings for stockholders.
The jurisdiction of rate setting only extends to larger utilities within Iowa. Municipal utilities and rural electric cooperatives (except those which choose rate regulation) are only subject to IUB review of their service.
Once the IUB reviews all the evidence, testimony and exhibits filed into its records it makes a decision. The obligation of the IUB under Iowa law is to ensure the charge made by any public utility, for any service rendered, is reasonable and just. 
Theoretically a utility could make any rate increase proposal that it wanted (because Iowa Code simply requires the proposal be "reasonable and just") but, according to IUB Director of Communications Don Tormey, the utility is required to support its request by filing sufficient evidence and testimony to the IUB to prove that its requested rates fit the standard of the Iowa Code.
Iowa Code also stipulates that a public utility can't make additional filings for a new or changed service rate, charge, schedule, or regulation while a previous filing is pending.
That stipulation is for within 12 months following the date a previous application was filed or until the time that IUB issues a final order on the prior application. There are exceptions for cases where the public utility applies to the board and receives authority to make an additional filing earlier than it is typically allowed.
If the final rate decision by the utilities board is lower than the temporary rate that's been established with utilities company, refunds go back to customers.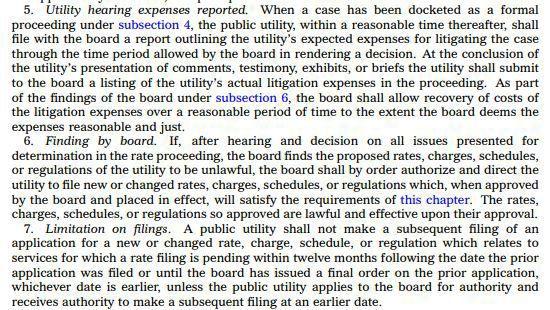 In 2004, one year after it settled into a 3% increase with the IUB, IPL filed a request to increase its permanent electric rates by an average of 16.3 percent to collect approximately $149.2 million in additional annual revenues.
In the interim, IPL requested that the board allow for temporary rate increase of 11.6%. In June 2004, the board decided on a 10.9% temporary rate increase. 
When the final decision for the 2004 increase came down, in 2005, the board locked into a permanent increase of about 12.28%.
The 2009 request came in at 16.6%. As permitted by Iowa law: a temporary rate increase of about 7% ($84 million annual revenue increase), not requiring pre-approval from the board, was implemented on March 27, 2010 (according to IUB documents).
On March 10, 2010, just 17 days before the 2009 request solidified, IPL file a petition for a permanent increase of about 14% (or $163 million). 
That request led to a temporary increase of about 10 percent ($119 million) which didn't require pre-approval of the IUB but was subject to a rate refund pending the IUB's decision in the case.
To add to all of that, in December, the IUB held a meeting where it decided to grant a portion of IPL's requested permanent electric rate increase while ordering customer refunds. The board added that it would allow a permanent annual revenue increase of 9% ($114.5 million). About $4.5 million of excess in temporary rates were meant to be refunded to customers with interest.
Before January 2011 concluded, the IPL and the Office of Consumer Advocate (Utilities) each filed requests for rehearing. The final increase allowed after the rehearing and proposed increases and temporary increases was $113,978,761, or approximately 8.99 percent. That final increase was less than what IPL charged in temporary rates so IPL had to make a refund, with interest, for the over-collections.
And that rate increase largely held as investor-owned electric company revenues in Iowa increased over the 2010s. 
In 2010 such companies took in $2,916,650,398. By 2016 that number reached $3,213,855,432.
Mike Wagner, a spokesperson for Alliant Energy, points out that such rate increases are typically done after the energy company has made investments in new technologies and developments.
Part of reasoning for the 2010-2011 increases was that IPL spent about $650 million (in capital costs) on two of its projects.
Another spokesperson for Alliant, Justin Foss, concurred with Wagner about the investments angle and went a step further.
Foss said that the way that utility rate making works is that utilities determine the investments they're making and then assign those costs to classes of customers.
"Any investments we make are on behalf of customers. It's a different business model than what customers are used to seeing and that's some of the disconnect."
About two years after those numbers crossed the $3 billion threshold, IPL received an 8.5% permanent increase from the IUB.
Then, in 2019, Alliant sought a new permanent increase.
In charts sent to customers by mail, Alliant showed a typical residential electric base rate bill portion of $82.31 in 2018 would increase by more than $20 to $102.44 in 2020, a more than 24 percent change. (Figures from 2017 on the Energy Information Administration website show that the average monthly electric bill for Iowans is $102.55. That number is lower than the average for every other surrounding state except for Minnesota at $97.58)
According to Mike Wagner, part of the difference this time is that Alliant is basing the proposed increase on both projected cost increases and events from the recent past. (That ability to ask for the increase on projections comes from a law passed by the state Legislature.)
Justin Foss commented that the big change for customers is the number that they saw and the context to make sense of the bill. "It's one line item versus an entire bill and some of the other costs are going down."
He argues that the 24-percent increase range is also less dramatic because wind additions that Alliant is making will help to lower fuel costs.
Investments in wind energy to the tune of more than $1 billion, grid improvements and updated meter-reading methodology all contribute to the proposed new bottom line for customers, according to Wagner.
Foss also noted that the company doesn't have much of an interest in unduly burdening customers and that the recent proposal isn't as drastic in context.
"We are all customers, too. If you look at our costs over history, we have been in line with national costs. For years we've had rates that are pretty steady."
However Foss did acknowledge that this current rate increase process has had more attendant pressure.
That's largely come from legislation, customers and municipalities that have all chaffed at the increase.
Here, the Mason City Council approved a recommendation that flatly stated its opposition to the increase by saying that it represents "a significant breach of trust and accountability between Alliant Energy, the City of Mason City and Mason City customers."
The Mitchell County Board of Supervisors also OK'd a resolution in early April to oppose the increase. 
Don Tormey, from the IUB, said that the board has received approximately 5,000 written comments filed in the two rate case dockets, all of which are reviewable through the IUB's website.
One such filing, from Stonehill Franciscan Services of Dubuque President Gretchen Brown, patiently made the case that 43% of the health center's skilled nursing residents are "Medicaid-qualified where the reimbursement does not cover the cost of services."
"The proposed rate increase by Alliant increases our utility expenses by $90,000 each year. We already pay approximately $360,000 annually. We have no additional revenue to offset these increased costs. With the current profitability of Alliant, it would appear that there are many other avenues they can take to fund their future infrastructure needs without putting this additional burden on the backs of their customers," Brown wrote.
Another customer, from Ottumwa, in an email dated May 26, wrote "About Alliant rate increase, no, no, no, no, no!! Too much, all at once."
A portion of the increase would not take effect Jan. 1, 2020 and the Iowa Utilities Board has 10 months to issue a final decision. At present time, the IPL increase is about 5.5%.
What a Globe Gazette News+ membership can do for you:
A deeper examination of local issues than you'll find anywhere else.
Two products in one – not everything that's in the print edition of the Globe Gazette is on our website, and not everything on our website is in the print edition.
Access to newspapers.com archives dating back two years.
The ability to carry your local news with you and receive alerts instantly as news unfolds.
Advertising that frequently gets you deals you won't find anywhere else.
Get local news delivered to your inbox!
Subscribe to our Daily Headlines newsletter.