This year has not been the greatest year for farmers with the soaked spring and now the cold and early snow in fall.
Because of the wet spring, farmers had to push planting their crops back a couple of weeks, forcing the harvest to start late as well.
Last week, according to the Iowa weekly growing season report for the week ending Nov. 3, Iowa's average temperature was 33 degrees, 12.6 degrees below normal, and with the southerly dip in the jet stream came multiple fast-moving winter-type systems through Iowa during the week, bringing a statewide average of 2.4 inches of snow.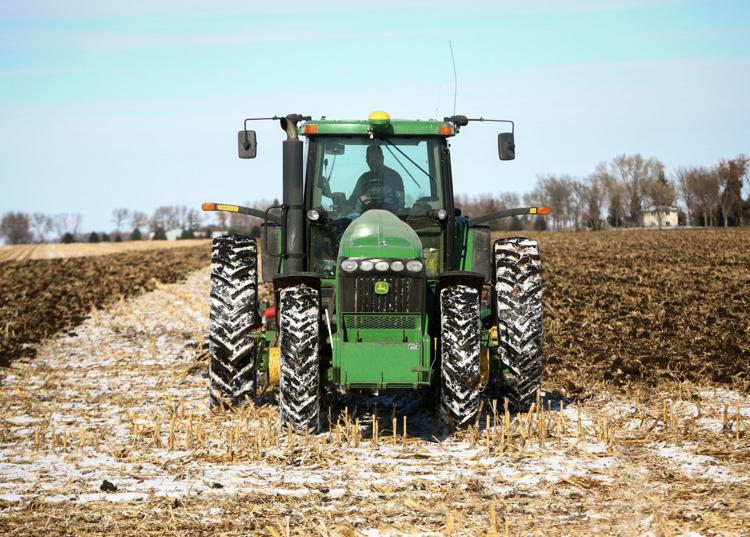 Mason City farmer Kevin Pope said with the early snow, all harvest has been halted.
"It's pretty difficult to do any sort of harvest with snow on the corn stalks," Pope said.
But snow on the corn stalks isn't the only thing putting a stop to this year's harvest; snow on the harvest equipment is also keeping the farmers from going out in the fields and collecting their crop.
"The snow gets inside of the combine and over time it starts to freeze in there and plug things up, and that's what stops you," Pope said.
To continue the harvest, farmers need the weather to warm up again and melt the snow, after which Pope said farmers will be able to start "right back in" with the harvest, or for the weather to get even colder.
"It's a funny deal," he said. "You either have to wait until the snow melts or you have to wait until it gets colder, because what happens is your machine is warm because of the engine heat and things like that, so if it gets really cold, then it can kind of blow that snow right through it, but it's when you get that – oh, I'm going to say from 15 degrees and above – then it gets too warm in there, the snow comes in and it starts to melt, it starts to stick, and then that's when you have real problems."
Pope said he's a little more than halfway through harvest this year after starting the first week of October, but in a normal year he's usually done with the harvest by Nov. 10.
"We're definitely behind, and everybody's behind," he said. "I don't know, we're just at the mercy of the weather here."
There isn't much for farmers to do when facing difficult weather such as there has been this year, Pope said. The best they can do is do what they can do, maybe a little differently than usual.
You have free articles remaining.
"Sometimes you have to be patient, and sometimes you have to make drastic changes," he said. "You just do what you can do."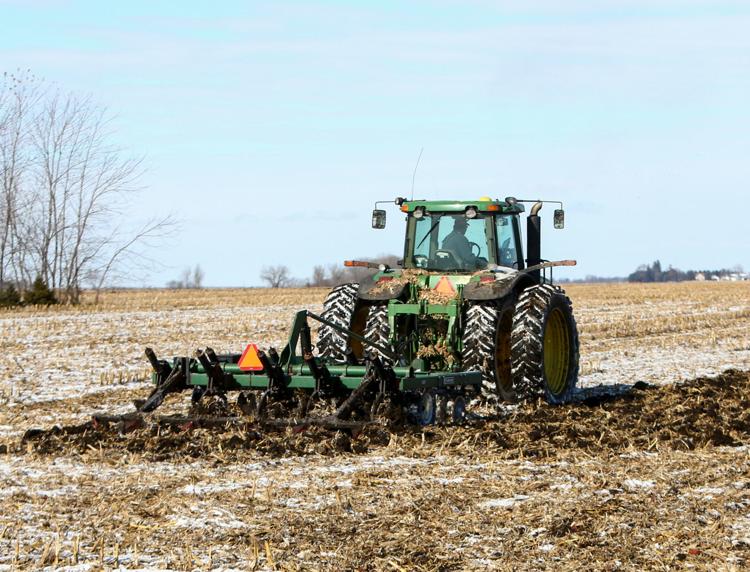 State Climatologist Justin Glisan said Iowa is locked in a jet stream pattern allowing cold air to come through, and this behavior will continue to the end of the month.
"We are also seeing drier than normal conditions, so there is less rain and less snow," he said.
With the drier conditions, Glisan said this would be a good thing for farmers to be able to get back out into the fields and finish harvest as this is ideal for late planting, though there will also be a cold snap at the end of the weekend and with the dry conditions, some machinery may not start. If the cold temperatures persist, the ground may also freeze.
The weather isn't the only challenge for farmers this year; a propane shortage is in full swing as well, and Iowa Farm Bureau Regional Manager Trae Hestness estimated they'll be able to last just about another month.
With the late spring planting in eight states, harvest has been pushed back in all eight states, and harvest came at the same time for all eight states, so propane was in high demand, according to Hestness.
Couple that demand with the increasing cold weather, and with it the increase in propane use for drying the corn out more and the need to heat homes, suppliers were left unprepared.
"It's just a recipe for bad luck for all those different factors coming in, and all of them coming in all at once kind of made this propane shortage a real deal," Hestness said.
Not all farmers have the capability to dry their own corn on their farm, so they take them to a co-op to dry, which many use propane. Now the co-ops are shutting down and not accepting wet grain at noon, Hestness said.
"When they do that, it's hard for farmers to continue to get this crop out of the field," he said. "Now that there's snow on the ground, it's getting colder, you're losing yields, you're losing money, you're leaving money out in the fields. There's a lot of stuff that's going on right now, that with this entire year and everything that's happened, this is just another piece, another straw on the camel's back."
Nearly every bushel of corn needs to be dried, and with the corn crop's late maturity it's had less time than usual to dry in the field. Normally, corn should have about 15 to 17 percent moisture, but the average for corn currently being harvested is 21 percent, and it could spoil if not dried.
Gov. Kim Reynolds has already signed an emergency proclamation to help boost supplies by lifting restrictions on how many hours drivers can work, so when they're sitting in their trucks waiting in line for hours at propane terminals for elevators to get propane for customers, they can still drive their trucks to where they need to be.
Reynolds is also working on meeting with the Federal Energy Regulatory Commission to get another possible emergency declaration that can force pipelines to prioritize propane shipments, according to Tyne Morgan with the U.S. Farm Report.
Hestness said though transportation was one issue, they need to figure out why it happened, and though they knew it was coming down the road, why companies weren't prepared for it.