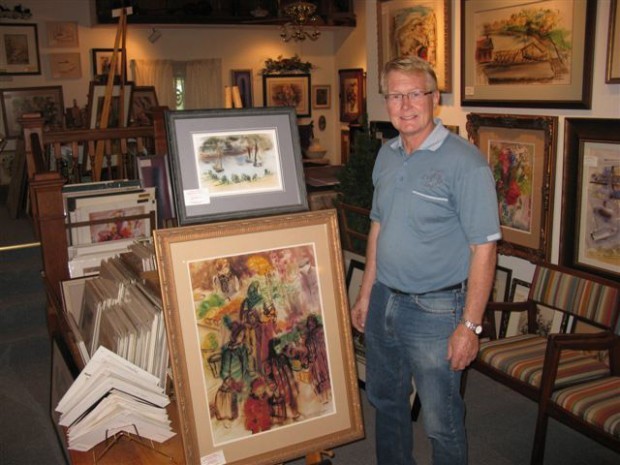 TOETERVILLE — The Unionhurst Gallery, a depository of the works of Atlanta Constance Sampson, will re-open Sunday.
Jim Sampson of Lyle, Minn., a great-nephew of the artist, will open the gallery from 1 to 4 p.m. on Sundays.
The gallery, located in Toeterville, will also be open by appointment.
Questions were raised about the status of the gallery following the death of its longtime curator, Fred Langrock, another nephew of the artist.
"A long time ago, Fred asked if I would take it over if anything happened to him," said Sampson, 61. "I never thought about it — I thought Fred would go on forever, he had so much energy."
Langrock died Dec. 30 in a traffic accident.
In some ways, Jim Sampson's involvement closes a circle. Sampson operates and lives on the farm where his great-aunt was born.
She was "soft-spoken, a real nice lady," Sampson said.
"She always knew what she wanted to do. Painting was her life."
She would return to the family farm for two weeks each summer. Sampson said the hollyhocks — the subject of one her first paintings — are still growing outside the home's kitchen window.
Atlanta Sampson was born in 1896 and studied art at the University of Minnesota, where she received her degree in 1923. She taught art in Detroit schools and then, in 1947, moved to New York City to pursue a career as an artist.
At the age of 90 she prepared to move back to Iowa, never having gained the recognition she sought. The deli downstairs from her apartment offered to give her a farewell show — where she was finally discovered.
"True Colors: The Paintings of Atlanta Constance Sampson, 1896-Present," opened in May 1988 at the National Arts Club in New York City, and many exhibitions followed, including one in the rotunda of the Russell Senate Office Building in Washington, D.C., on her 96th birthday.
Jim Sampson agreed that the gallery continues to intrigue, especially those visiting for the first time.
"They can't quite believe it when they walk in the door," he said, referring to the scores of Atlanta Sampson original paintings and the hundreds of prints available in the gallery. The works cover a broad range of both media and styles.
He said he was proud of his aunt's legacy.
"We will keep this going as long as we can. We're glad to open it again," he said.
The gallery will be open on Sundays. It will also be open from 1 to 4 p.m. on Memorial Day, Monday, May 28.
The gallery will also be open by appointment, by calling 507-438-9906.
To get to Toeterville from Mason City, go north on U.S. Highway 65 to Kensett; turn right on County Road A-38; travel east to St. Ansgar. Turn north on U.S. Highway 218 to County Road A-23 and then turn left on Hickory Avenue. Drive north into Toeterville.