The summer of 1994 was memorable for many reasons.
Abroad, Nelson Mandela took over as President of South Africa. Nationally, Major League Baseball went on strike, while the O.J. Simpson case dominated the headlines.
And here in Mason City, a little-known baseball team called the Bats came into being and ceased to exist, all within the span of two months.
This month marked the 25th anniversary of the short-lived Mason City Bats, a team that provided as much off-field drama as it did on-field entertainment.
The story of the Bats begins with John Skipper.
The longtime reporter for the Globe Gazette was in the county offices one early June day when a man named Dick Jacobson walked in. Jacobson said he was the founder of a baseball league called The Great Central League and was looking for somebody to run the independent professional baseball team that would be based in Mason City.
The league already had three teams: the Minneapolis Millers, the Lafayette Leopards, and the Champaign-Urbana Bandits. A fourth team had been planned for Waterloo, but when that fell through, Jacobson scrambled to find a new home for the team.
The team already had a roster of players, uniforms, and equipment. The only thing the team didn't have was a home city. Skipper decided to help out and was named the team's general manager.
"I've always been interested in baseball and I know enough about it to where I thought I knew what I was getting into to," Skipper said. "Boy oh boy."
Jacobson sent a partner to Mason City to help Skipper get the team started financially with $2,500. The group went over to the Liberty Bank, across from the Brick and Tile building, to open a team checking and savings account.
"When it came time for her to deposit the $2,500, she went into her purse and she had a roll of 50s," Skipper said. "Right there, I don't feel like I'm in the New York Yankees clubhouse. This is weird to begin with."
The new team made arrangements with the Mason City School District to play its home games at Roosevelt Field while quickly putting together a staff. The season was scheduled to begin in two weeks, so tryouts were held to fill in the rest of the positions. 
The manager
A former minor league pitcher named Tom Waelchli was named the team's manager. Waelchli was a former batting practice pitcher for the Detroit Tigers and endeared himself to the management with his baseball acumen and, at times, prickly personality.
"He might be the only guy I've ever met who almost always looked like he had a three day growth of beard," Skipper said. "He wasn't clean shaven and he didn't have a beard, it was always just perpetual stubble. That was his personality too: perpetual stubble."
Assistant GM and PA Announcer Dan Scharnhorst remembers Waelchli as a man who spared no one from a harsh word.
"In the best sense of the word, he was crazy," Scharnhorst said. "He will say whatever he is feeling, regardless of who is around, or who he might offend. I say that with all the respect in the world. He was a great guy to be around."
Waelchli was similarly beloved by his players. Most of the Bats were anywhere from 18 to 24 years old and were away from home for the first time. Waelchli's baseball knowledge was valuable in the transition from college to the professional ranks.
"Tom was fantastic, knew the game extremely well, could coach the game well, and also get players to understand the difference between aluminum bat swings and wood bat swings, because there is a clear difference," outfielder John Pratt said. "That was obviously the biggest difference for guys playing minor league ball, making that wood bat work in the correct manner."
Scharnhorst remembers Waelchli as someone who accepted the job over the phone and showed up to town in a van packed with belongings.
Waelchli would work as a substitute teacher in the offseason and kept his home in Saint Clair Shores, Michigan. Every summer, he'd pack up his car and go on to the next job somewhere across country.
"(He was) just kind of a vagabond, which I admired at the time," Scharnhorst said. "It seemed like that was his life. Wherever the next job was he was going to go because he loved baseball, loved sports and loved being involved."
Waelchli said that he saw an ad for the Mason City managerial gig in Baseball America.
"They were looking for a manager somewhere else. I applied and Dick Jacobson told me I'd be in some obscure place I'd never heard of before called Mason City. I looked it up on a map and thought: That's cool, I like that."
Early promise
Opening Day was June 14, 1994. It went well. There was a crowd of 1,385 people, which was a promising sign for Skipper and the rest of the team.
The Bats fell behind 6-0 to the Lafayette Leopards but battled back to tie the game with six runs in the bottom of the ninth. In the 10th inning, Mason City left fielder Chris Aufiero hit a line drive over the left field fence to win the game on a walk-off home run.
Soon after, things began to fall apart. While Skipper knew that the first year of a new ball club was going to be a challenge, the costs soon began to spiral out of control. Everything from groundskeepers to equipment to laundry bills started to add up.
"The uniforms have to be cleaned after every game," Skipper said. "We reached the point where I was taking the uniforms home and my wife was washing them. It was the cheapest way we could do it."
The team needed things like bats and baseballs so badly that Skipper began offering kids a dollar if they returned foul balls to the press box. Some did, but some also began to demand $5.
"It was a circus operation," Scharnhorst said. "That was all because of ownership. Everybody in Mason City was great. The team was awesome, and they were all fun to be around."
He said the community came together and got behind the Bats.
"The only one I despise is Dick Jacobson," Scharnhorst said. "He made it horrible."
Jacobson places most of the blame at the feet of the team management, not just in Mason City, but throughout the league.
"I had the wrong people," Jacobson said. "People who shouldn't have been general managers. All they did was keep calling me for money, they weren't selling the advertising, we were losing money like every day. We had a quality to the baseball, but financially it cost me plenty."
The players
One of the Bats' most popular promotions was Players Night, where specific members of the team were honored.
Greg Rudolph was one such player. Rudolph was not originally on the Bats roster, but at the team tryouts held just days before Opening Day, Skipper learned about Rudolph from outfielder Eric Robinson, Rudolph's former college teammate. Rudolph had been a former prospect in the St. Louis Cardinals organization.
"(Robinson) came up to me and he said 'I've been watching what's going on and there's a guy who is pumping gas in Gadsden, Alabama, who is better than anybody on this team," Skipper said. "I contacted him and we brought him up here. He came up, got off the bus, took a cab to the ballpark, he didn't have his uniform on, and he came up as a pinch hitter late in the game."
The first pitcher that Rudolph faced was Casey Fisk of Champaign-Urbana (son of Hall-of-Famer Carlton Fisk) and, according to Skipper, Rudolph hit a ball off the center field wall. In 22 games for the Bats, Rudolph hit nine home runs. He quickly became a crowd favorite.
When Rudolph came up, the crowd would start chanting "Rudy, Rudy, Rudy."
"He would tip his cap and then he'd hit a home run and we'd piss off the whole neighborhood with the Batman theme song," Skipper said with a chuckle. "That was kind of neat for Rudy."
Skipper laughed while recalling the complaints he got from neighbors. One woman complained that she couldn't get her kids to sleep after a particularly big offensive showing one night from the Bats.
Rudolph was good enough to start attracting attention from other teams, in more ways than one. Skipper recalls an incident that was telling both about Rudolph's reputation and Waelchli's way of sticking up for his players.
A group of Bats players overheard players from the Lafayette Leopards conspiring to hit Rudolph during a game, while the two groups were eating at a local restaurant.
"They had decided that the first time Rudolph came up, they were going to bean him," Skipper said. "They went and told Waelchli. Before the game, the managers go out and exchange lineups. Waelchli told the other manager, 'If anything happens to Greg Rudolph tonight, I'm not going after the pitcher. I'm coming after you.'"
Waelchli remembered the incident, and still has some harsh words for Leopards manager Jim Gonzales.
"Jimmy was just an a**hole," Waelchli said. "It was his first job, so he was going to teach us a lesson and throw at Greg Rudolph. We weren't going to take that crap. Every league tries to do it until they get established. We're going to out play you, beat you up, and humiliate you."
A few other players had quirks of their own. Pitcher Dalton Maine was a gifted pitcher, who couldn't get any run support. 
Waelchli said that Maine was "a funny kid, albeit a bit messy.
"I went into his room one day and he just had a mess all over the place," Waelchli said. "I was like Dalton, you've got to clean this stuff up, you've got underwear everywhere."
According to Waelchli, Maine said he would just throw it away and buy new stuff every week.
Maine, who currently works in Chicago for the business management consulting firm Bain and Company, laughs at the story now.
"I wasn't the best at housekeeping," he said.
Maine ended up pitching in 10 games, with five starts for the Bats, and had a 4.39 ERA in 41 innings of work. After the summer in Mason City came to an end, Maine signed with the Baltimore Orioles and spent three years in their minor league system before an arm injury ended his career.
"You didn't go out there because they were going to pay you a lot," Maine said. "It was a group of guys who just loved baseball and had a good time with it. For some of us it was a springboard for other opportunities in the game. I, for one, am very grateful for the opportunity."
Another well-known local player was John Pratt.
Pratt was a local baseball hero when he tried out for the Bats. He graduated from Nashua High School, was a member of the 1985 1A basketball state title team, played baseball at Northern Iowa (and also the University of Iowa) and then became a Bats player after walking onto the team tryouts at NIACC.
Pratt also hit the first home run in Bats history, which happened on Opening Night. On "John Pratt Day," Pratt singled, hit a home run, threw out a runner at home plate, and scored the winning run on a head first slide into home plate. 
Promotions and problems
Over the brief season, the team became known for the North Iowa Pie Races. The races would involve a child standing at home plate, while an adult would stand on second base, holding a pie, and "race" the child. If the child won, they would win the pie.
Skipper said that his only rule for the race was to let the kids win.
"Some of these kids, these little legs would just be churning and churning," he said. "One adult was trying to go so slow that he actually got down on his knees to allow the kid to pass him."
The promotions helped for a while, but the Bats needed a lot more backsides in the seats to break even. They ran into issues with the costs of stadium staff because of the way the league had negotiated with the school district. Rather than renting the field for each game, they rented it by the hour.
This meant that only school district employees would be working the game and would receive overtime that was paid for by the league. Soon afterward, league ownership began to take notice of the astronomical costs.
Skipper said the ownership was concerned about the amount of money they were paying for these games, so they came down and eventually had a meeting with him and Waelchli.
"They said that the games are lasting too long," he said. "Tell the umpires that there are too many 3-and-2 counts."
Jacobson disputes this account and calls it "ridiculous."
"Absolutely not," Jacobson said. "I wouldn't take the baseball out of baseball."
The Bats were not the only team in the Great Central League with drama.
At one point, The Minneapolis Millers (managed by former Red Sox superstar George Scott) went on strike before a game against the Bats because of conflicts with management. Scott was fired twice by the Millers management, only to be reinstated by Jacobson.
The Bats showed up to the ballpark and discovered that the Millers were nowhere to be found. Also at the ballpark was a group of disabled children who had been invited to a meet-and-greet with the Minneapolis players. The team didn't send a representative to inform the kids.
Rather than see the children leave the ballpark disappointed, the Bats held their own meet-and-greet. Under a sunny sky and with plenty of baseball equipment to go around, the Bats played a baseball game with the kids, gave autographs and provided baseball tips and instruction.
Eventually, the Millers showed up at the ballpark to honor their obligation, but it was the Bats that won acclaim for their classy response to the situation.
Enigmatic owner
Jacobson proved to be a mysterious figure to many in the league.
Jacobson owned a series of strip clubs in Minnesota and the money that Skipper said was promised to the teams to help finance their operations didn't come. Skipper said that he sent bills by fax machine to Jacobson's Minneapolis office, but the faxes would bounce back.
"But we kept playing because that was the only way we were going to get any income," he said.
The financial situation was so desperate that Skipper and Scharnhorst drove the two hours to Minneapolis to try to find Jacobson.
"I don't remember if he was there or not but I remember that it didn't fix anything," Scharnhorst said. "We couldn't keep track of him. He is a mystery."
Despite the off-field problems, the team drew well. But it still had trouble breaking even.
Skipper estimates that the club needed to draw close to 900 fans and it was averaging 500.
Throughout the summer of 1994, the possibility of a MLB players strike was looming. This could've been a boon to independent league teams like the Bats. With the focus off of big league baseball, and with fans hungry for summertime entertainment, the thought was that crowds would come out to see some local action.
To prepare for the possibility, Skipper and Scharnhorst discussed a promotion where a striking MLB player would be offered money to come appear in a Mason City game.
"We thought wouldn't it be fun to contact one of these major league players and say we'll pay you a thousand dollars to appear in one game," Skipper said. "We'll pay your expenses. Just come for one game and we'll promote the hell out of it."
But those promotions never happened.
The end of the Bats
In mid-August, after the team had played a home game on a get-away day, Skipper and Waelchli called a team meeting to tell the players that they were out of money.
Even though the players were pursuing an elusive dream on the fringes of organized baseball, they voted to walk away. None had any guarantee that they would ever receive another opportunity.
"There was a team vote, and it was absolutely 100 percent," Pratt said. "I don't remember anyone not voting that this thing needed to stop if things didn't get taken care of. I've always looked back on that and admired the maturity because they put the baseball aside."
Skipper, Waelchli and the Bats players told Jacobson that they would walk away unless the league owner and vice president met their demands. In an August 12, 1994, Globe Gazette article, Jacobson was quoted as saying, "I don't listen to ultimatums. I don't consider that the way to solve problems."
Even though it ended the summer in ignominious fashion, Waelchli knew that he had to support whatever decision his players made. After the team voted to not play until they were paid, Waelchli said Jacobson demanded that he make the players take the field.  
"I said, you just wrote your ticket, pal. I'm not telling them nothing," he said. "They voted to not play until they got paid."
Once it was apparent that the paychecks weren't coming, Scharnhorst remembers Waelchli took an alternate approach to making sure he got what he had coming to him.
"When we weren't getting paid, Waelchli went into our office and took anything of value and put it in his van, holding it hostage for his last paycheck," Scharnhorst said. "If you find that guy in Michigan, you might find his van full of a fax machine, desk chairs, stuff like that he grabbed from the office."
Jacobson confirmed the account that Waelchli took all the bats and catching equipment, but said that he eventually returned it.
"When I went down there to try to straighten things out, nobody wanted to tell me what happened," Jacobson said. "Skipper told me this guy had taken it back to Michigan. He tried to steal it, as far as I'm concerned. It wasn't his. They ended up sending it back because they didn't want to be prosecuted."
Jacobson said that the main cause behind the league's money troubles was that he wasn't able to secure a license to sell beer. It was especially tough to secure the license in Mason City, since the team played at a high school field.
In addition, Jacobson said the Bats complained about the lack of insurance for the players, which became an issue when one of the Bats went down with an injury.
"If I were a ballplayer trying out for a ball club, the last thing I'd worry about was insurance," Jacobson said. "I'd want to play some baseball and do the best I could, hopefully get promoted somewhere if I had the talent."
Too little, too late
The Bats walked away on August 12.
That same day, Major League Baseball went on strike. For the first time since 1904, there was no World Series. As Skipper recalled, the strike dominated the headlines but the Bats got some attention as well.
"USA Today had this big headline of "Major League baseball players go on strike,' and then a little story at the bottom said 'In Mason City, Iowa a whole team quit."
Once Skipper, Waelchli and the rest of the team walked away, replacement players were put on the field. It quickly became apparent that the talent level couldn't match up. According to Skipper, the original Mason City Bats finished at 19-26 before the replacement players took over.
Overall, the Bats went 19-41, which was good for last in the league. The Great Central League died soon after. A league championship was never played.
Scharnhorst recalled the end to the summer when he and Skipper had to take back the 8-by-4 vinyl advertisements to local businesses because they couldn't pay the printer who had created the signs.
"How humbling is that?" Scharnhorst asked rhetorically. "Driving around town returning things we used because we couldn't pay for them."
Picking up the pieces
For the fans, the management and the players, it was one wild and crazy summer.
For Skipper, who went from organizing a festival in the county auditor's office to running a professional baseball team in the span of two weeks, he simply laughs when reminded that all of the drama took place within two months.
With the benefit of hindsight and 2 1/2 decades, he said that ideally he would've given his team a year to drum up local interest before they took the field.
"I was buoyed by my own naivety," Skipper said. "Trying to get everything together, making sure the field was ready, and selling tickets. I think the first game, there were 1,300 people there, which is amazing, because two weeks before that, they didn't know we existed."
And so, the Bats faded into oblivion.
But the Bats players seem to have no regrets. They remember their time in the River City fondly. The memories of the Batman theme, the Greg Rudolph home runs and Waelchli's crusty and sometimes profane baseball stories are bright spots.
"For some of us, it was a springboard for other opportunities in the game," Maine said. "I, for one, am very grateful for the opportunity. For John, I know from his point of view, it was not a very successful endeavor, but I am very appreciative that he pulled it together."
In an article from the Aug. 13, 1994, issue of the Globe Gazette, Skipper's wife Sandy spoke to the emotional trauma that came with losing their baseball team.
"This team has enriched our lives, John and mine, and our daughter, Jennifer. It's like part of your family leaving. We've been close all summer. We go as a team, we leave as a team… it's like losing 21 sons."
Moving on
Some of the players went on to play more organized baseball, while others went on to success in other fields. Infielder Dan Donato left the team in July to pursue hockey. He never made it to the NHL but his nephew Ryan Donato now plays for the Iowa Wild and his brother, Ted, is the head coach of the Harvard hockey team.
Bats catcher Matt Brown, who formerly caught in the Twins system, played one more season of professional baseball for the AA Trenton Thunder in the Red Sox system. He hit .182 before he was released.
Rudolph played several more seasons of independent league baseball, mostly in the Frontier League. Waelchli went on to coach and manage independent leagues throughout the Midwest for years.
Rudolph and Waelchli crossed paths one more time in Kalamazoo, Michigan, in 1997. After that, Rudolph went back to Gadsden, Alabama, and works for Goodyear.
"I used to tell my wife, Mason City is my home away from home," Rudolph said. "I never got back there, but they were great. Made me feel right at home."
Modern day
In early May, Skipper stood behind home plate, leaned up against the backstop, and stared out at the field. Twenty-five years ago, his ragtag group of players were pursuing a dream.
Skipper said that he could still see the spots where each of them played. As the years have passed, some of the names have faded. But he will never forget that summer.
He remembered a valuable lesson that he learned when Waelchli decided to cut a player named Dan Lajoie, who had gone hitless in 10 at-bats. When Lajoie complained to Waelchli that he has only had 10 at-bats, and hadn't gotten a chance, Waelchli responded harshly.
"Waelchli said 'You don't understand, that was your chance.'" Skipper said. "That's cruel, but it is life."
In his life now, Jacobson still insists that nothing he did caused the league to go under.
"I tried to do the right thing," he said. "It just didn't work out."
Photos and news clips from the Mason City Bats' season in 1994
Bats Clips 1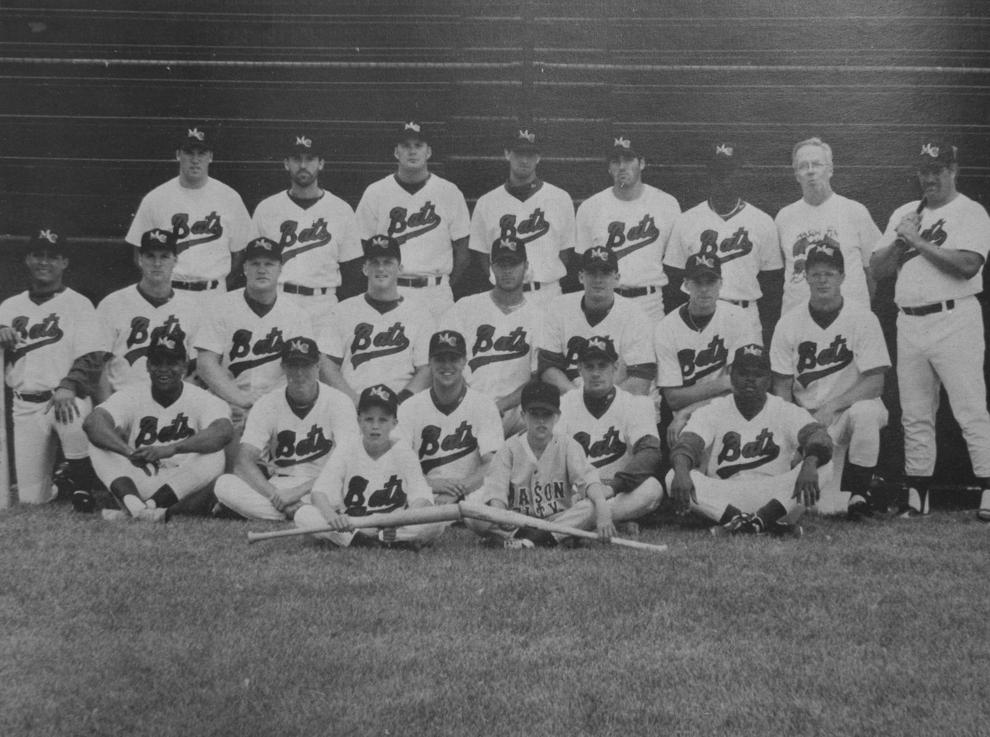 Bats Clips 2

Bats Clips 3
Bats Clips 4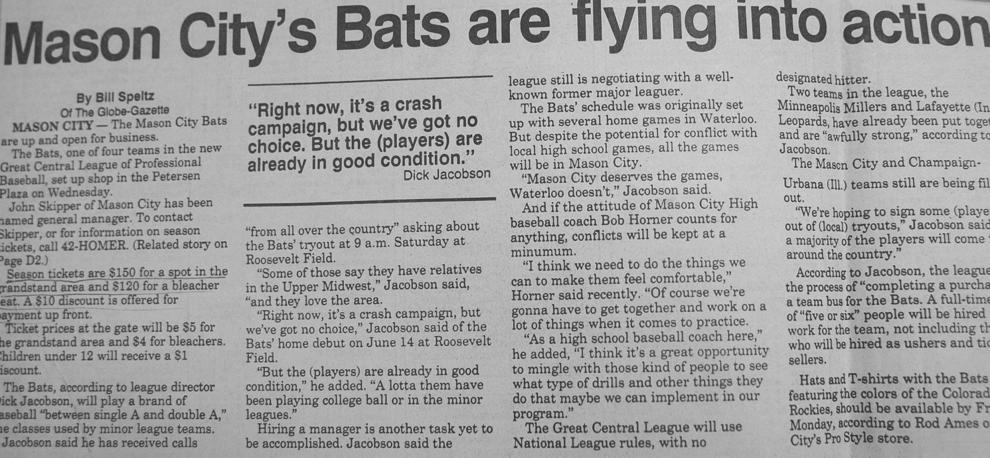 Bats Clips 5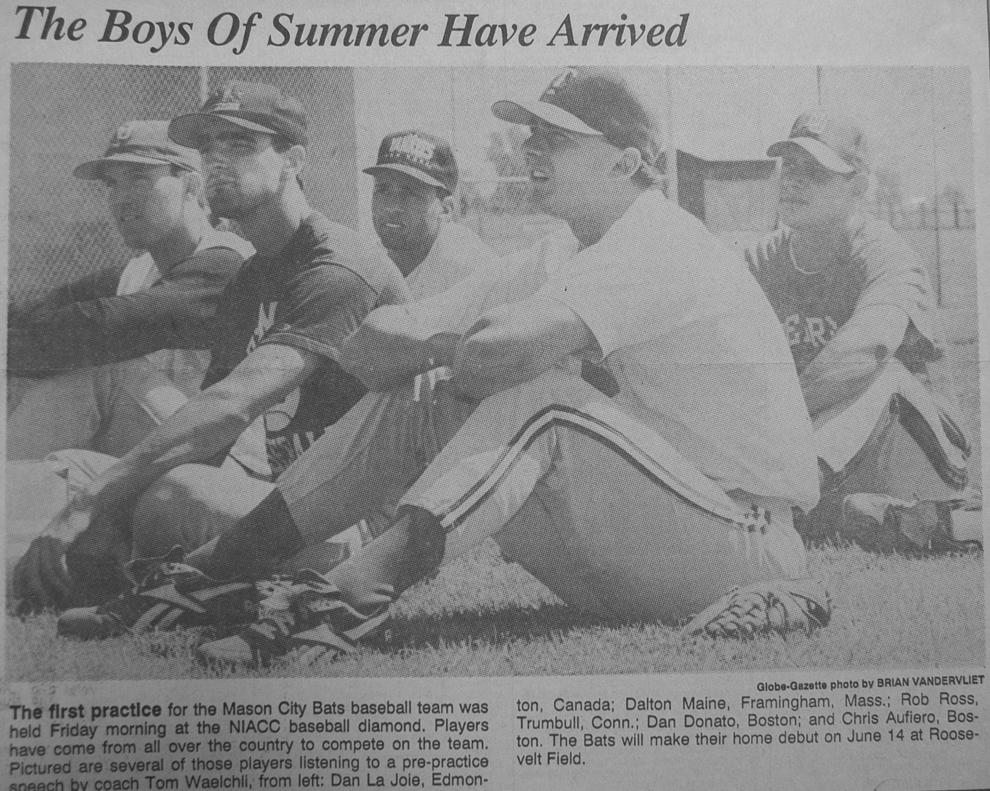 Bats Clips 6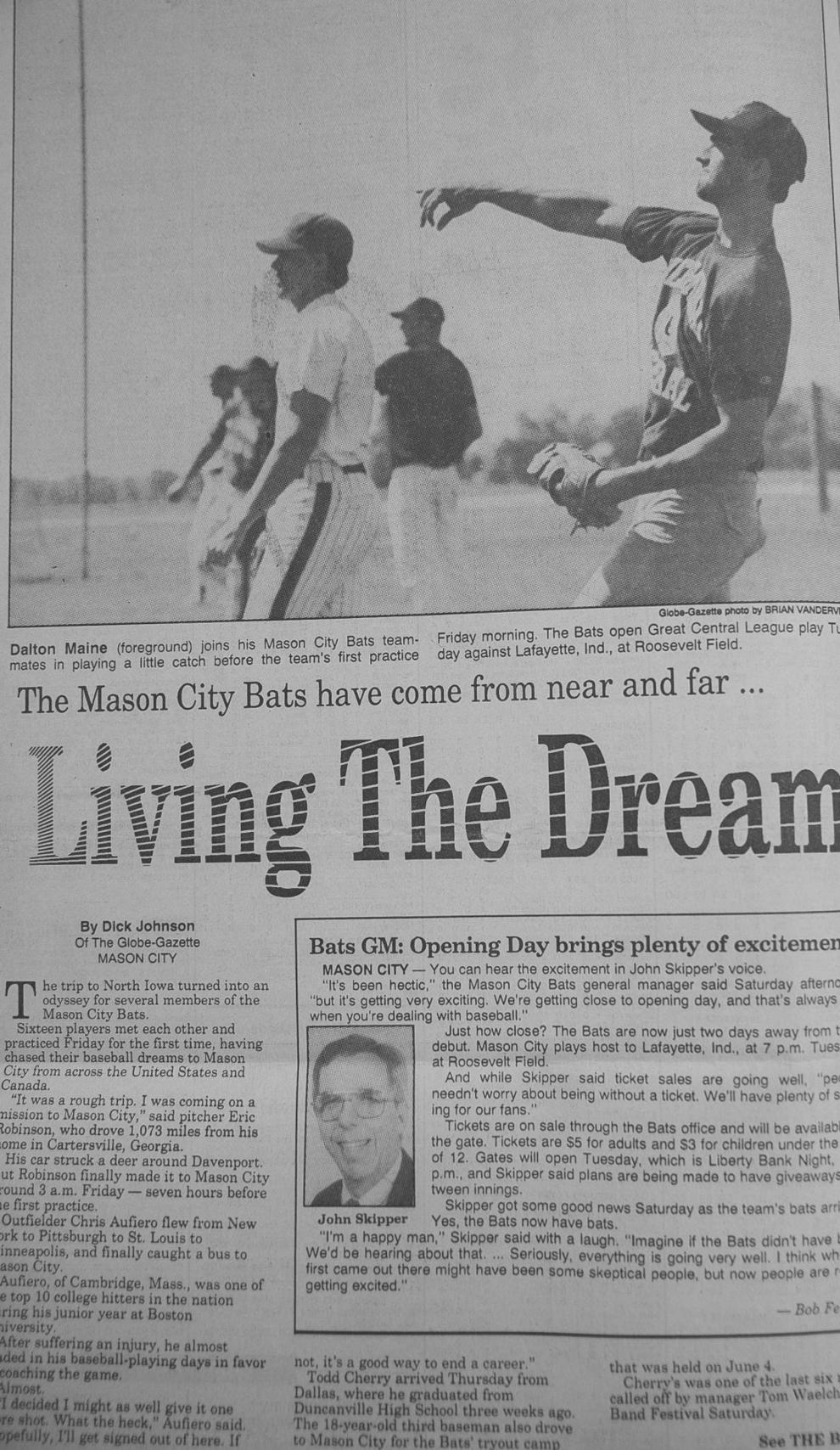 Bats Clips 7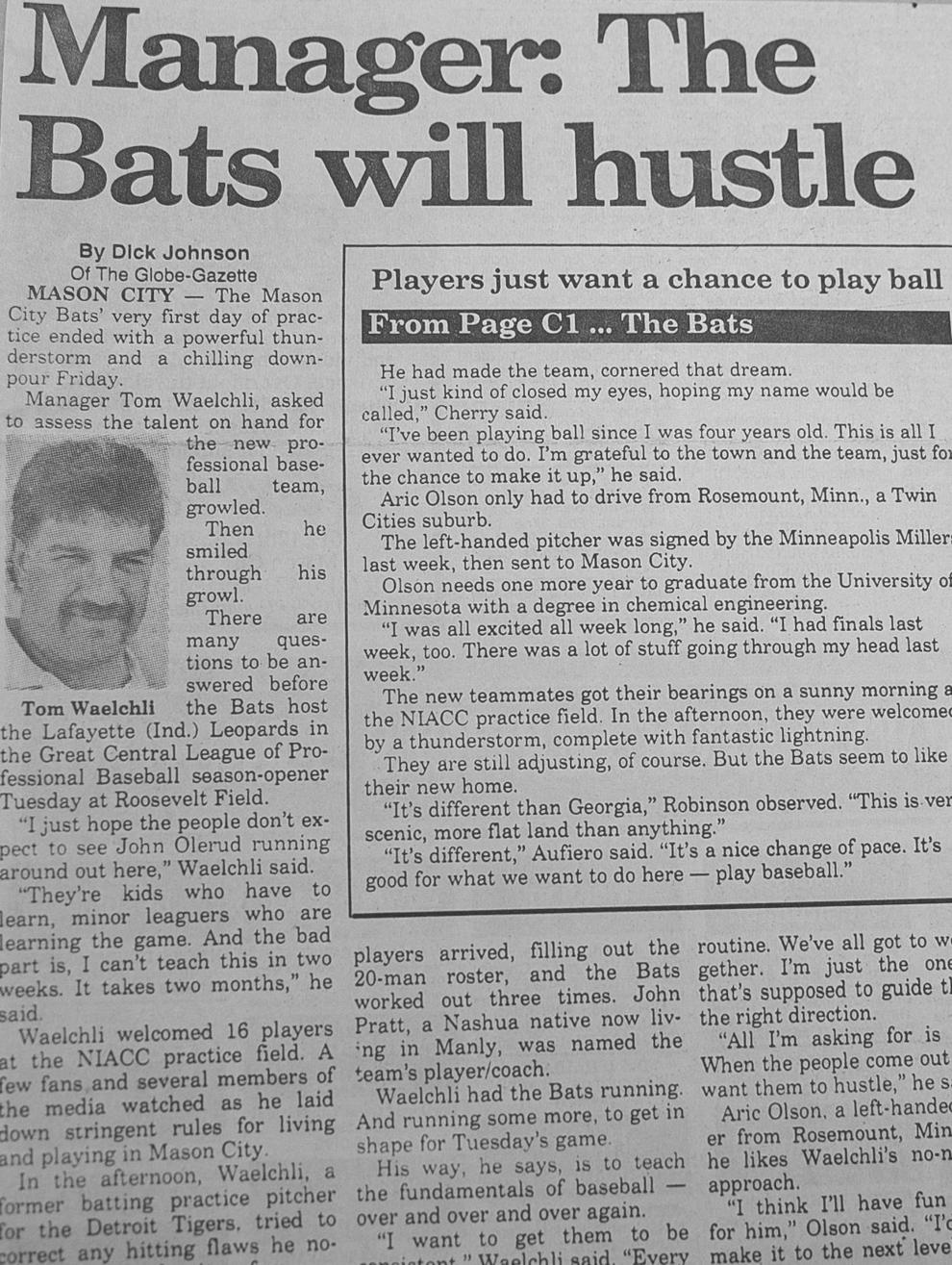 Bats Clips 8
Bats Clips 9

Bats Clips 10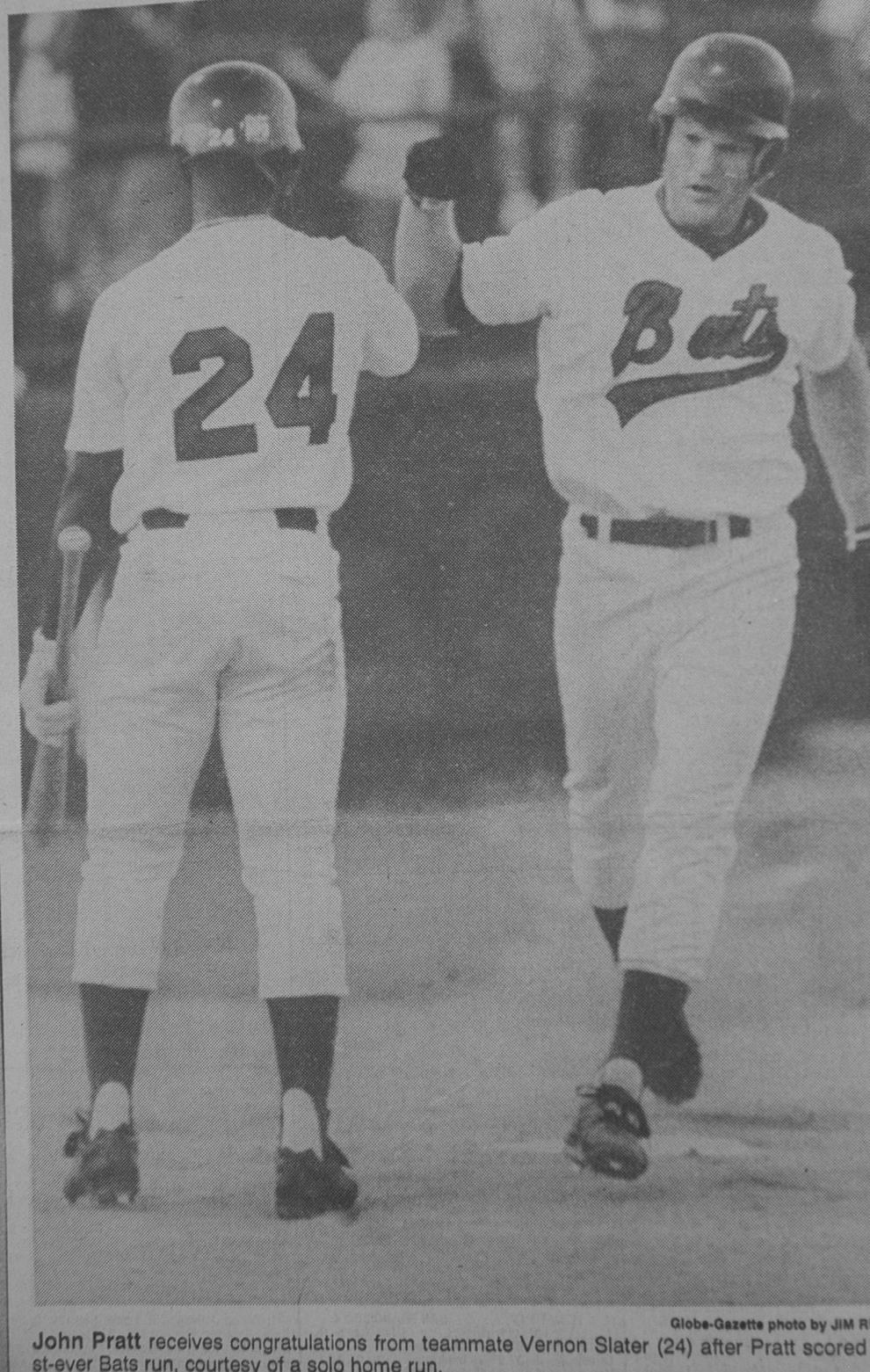 Bats Clips 11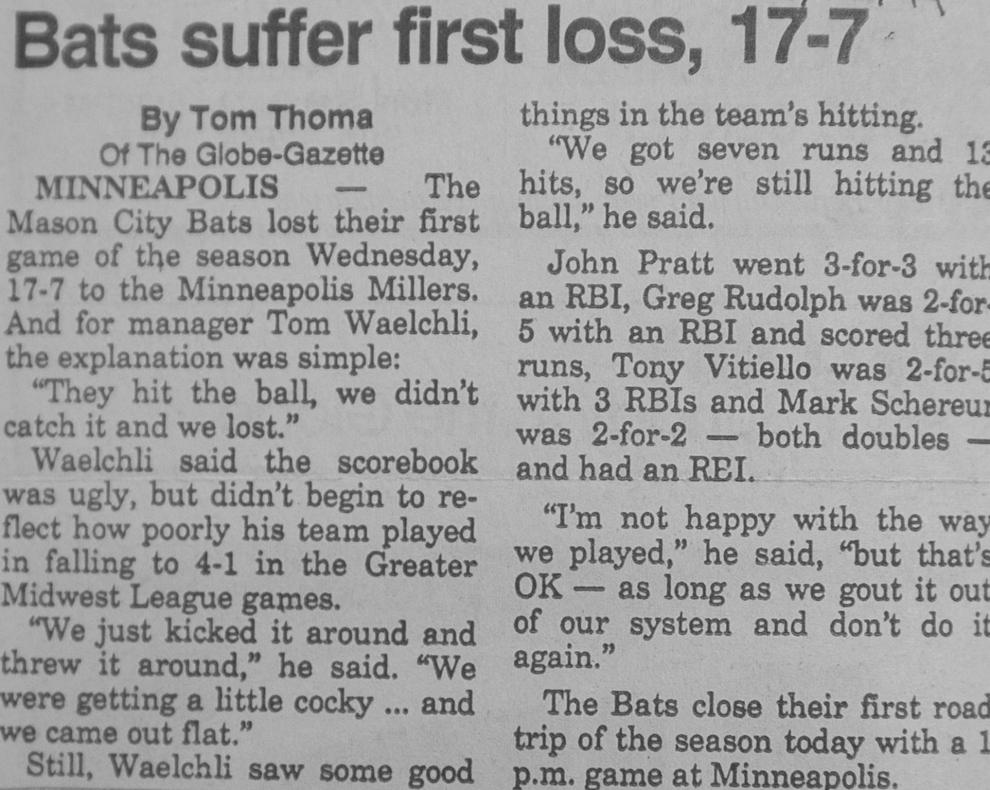 Bats Clips 12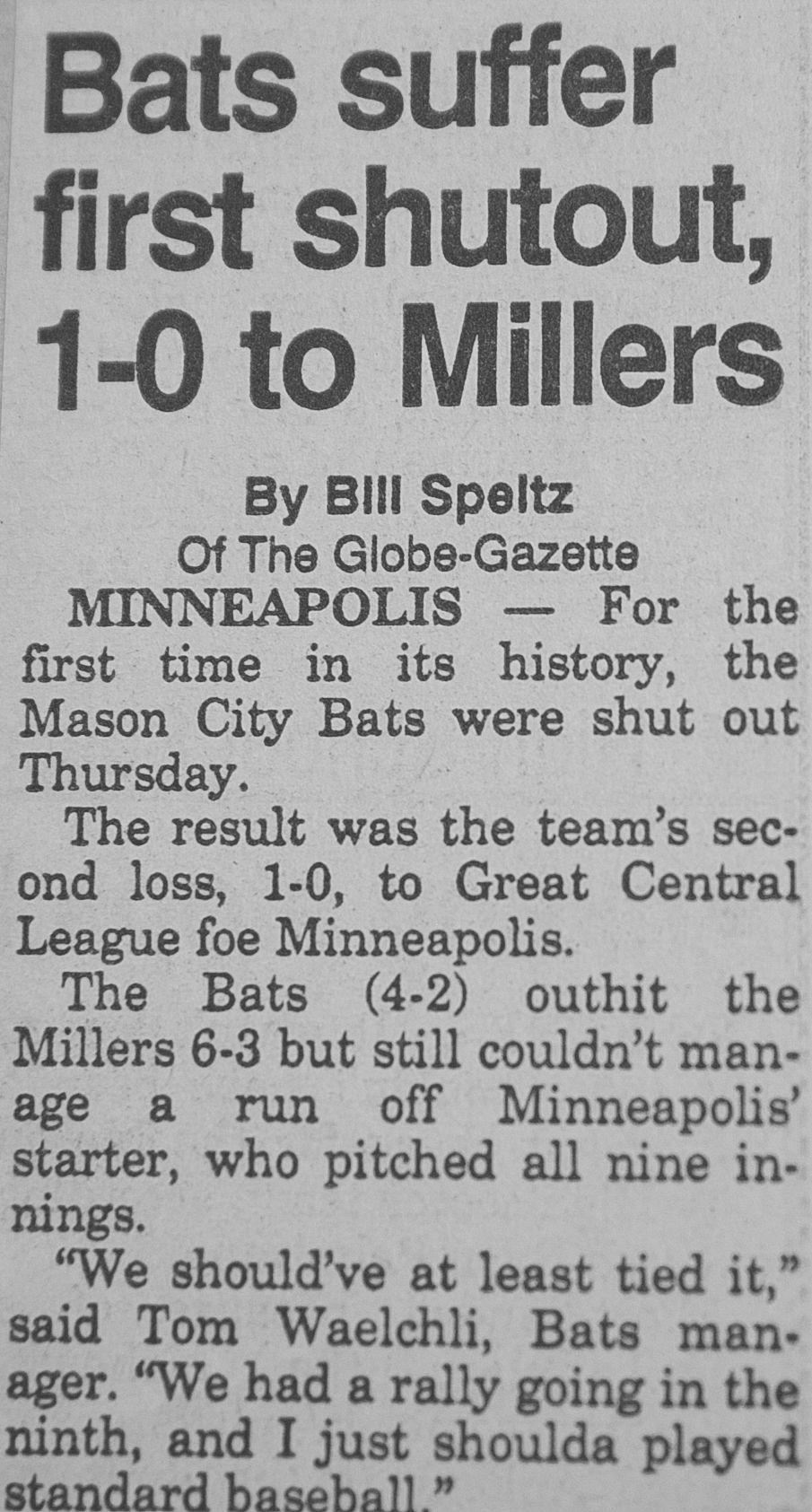 Bats Clips 13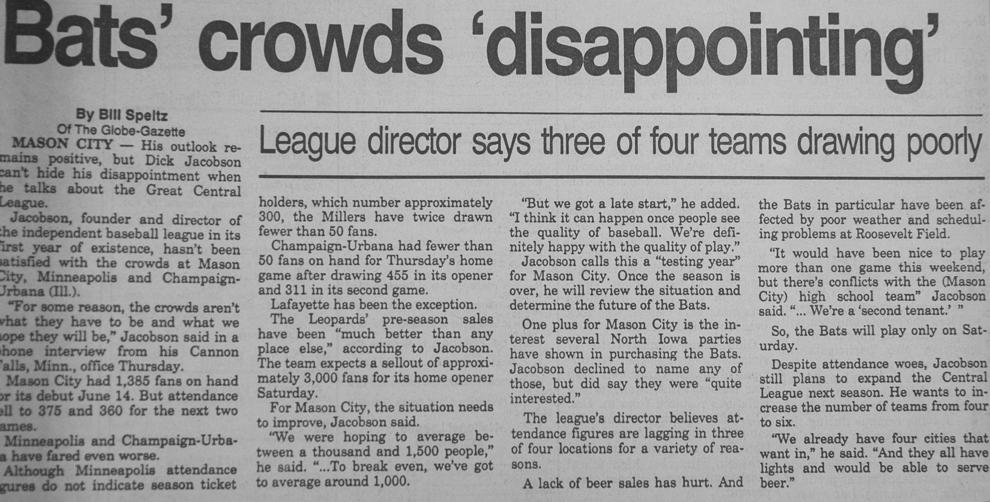 Bats Clips 14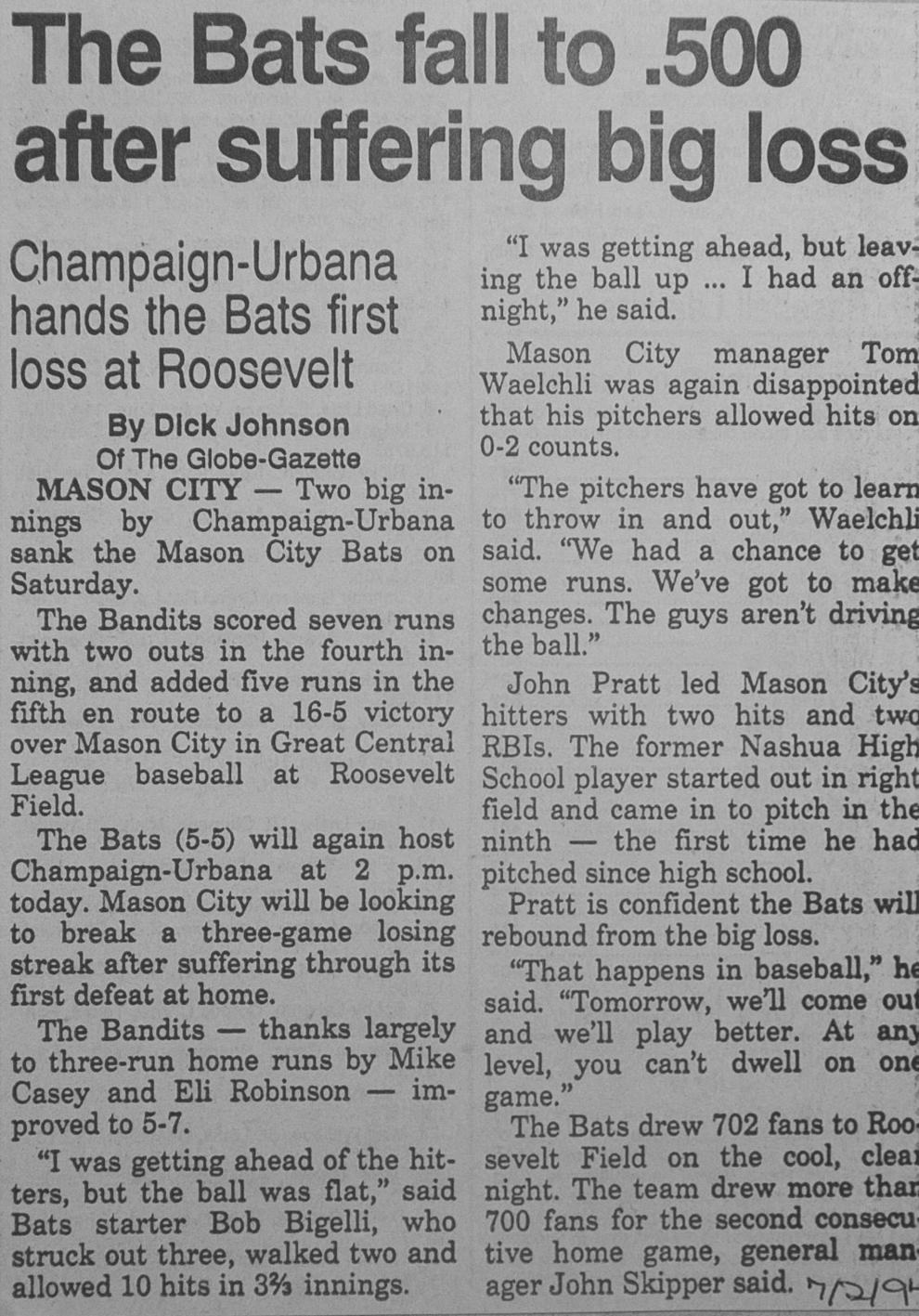 Bats Clips 15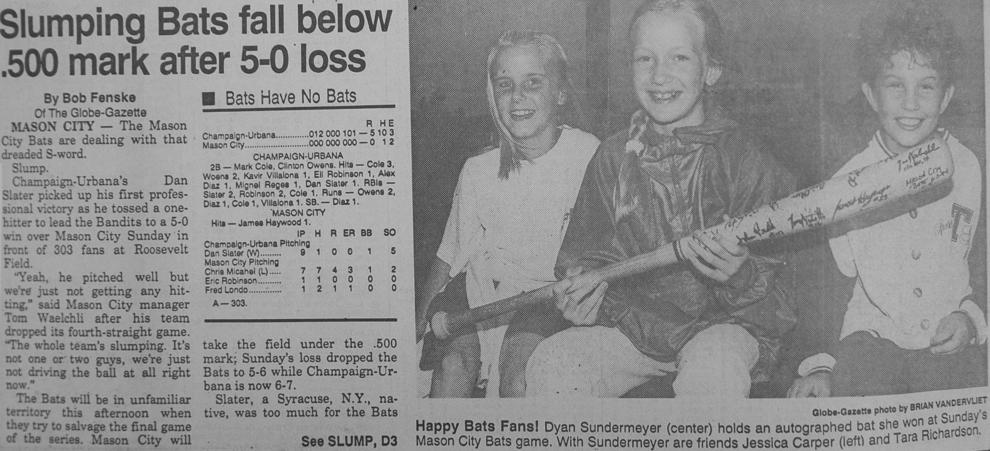 Bats Clips 16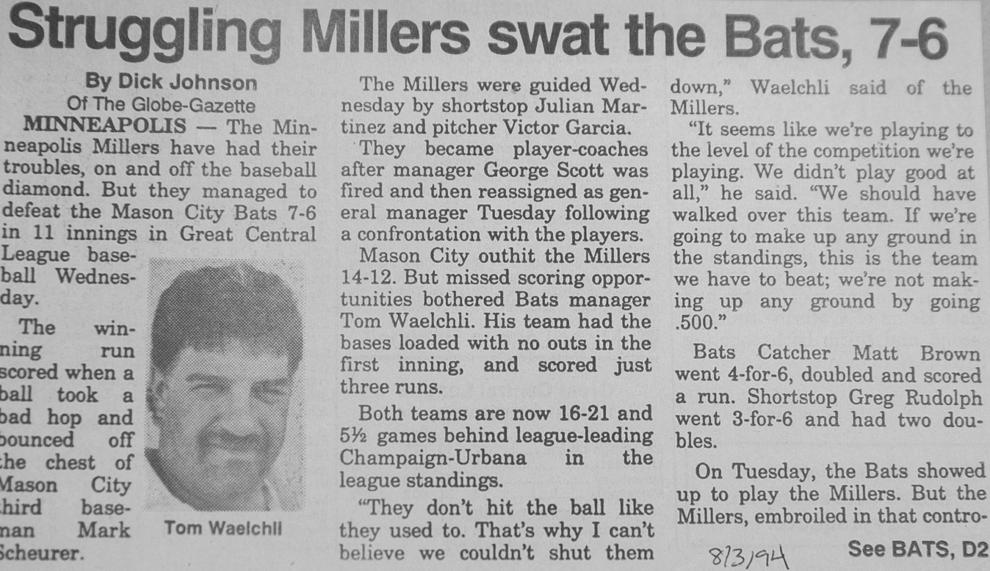 Bats Clips 17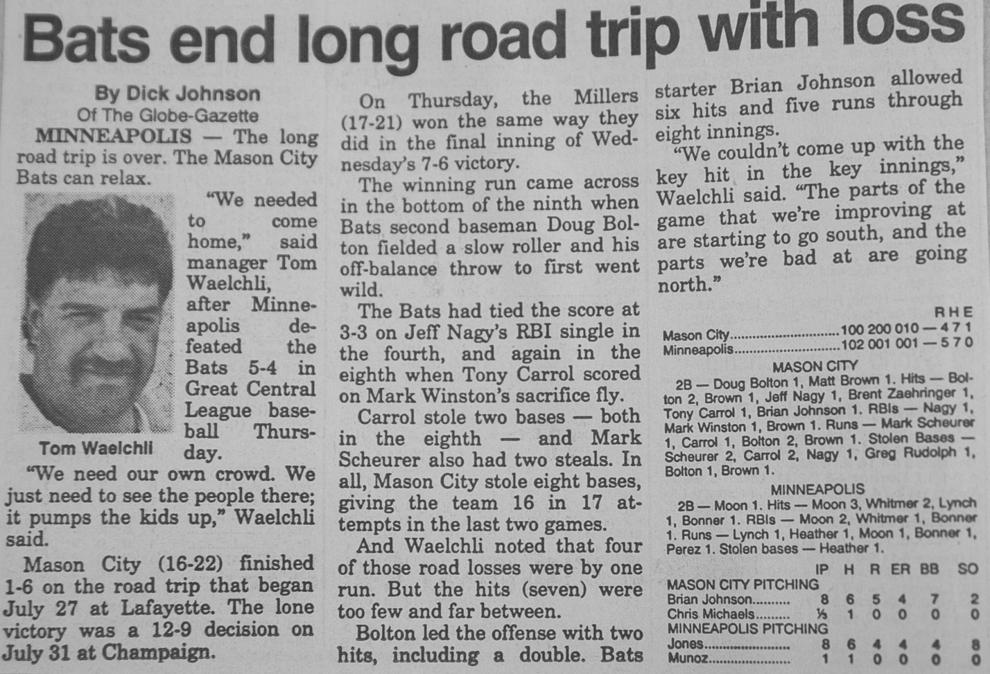 Bats Clips 18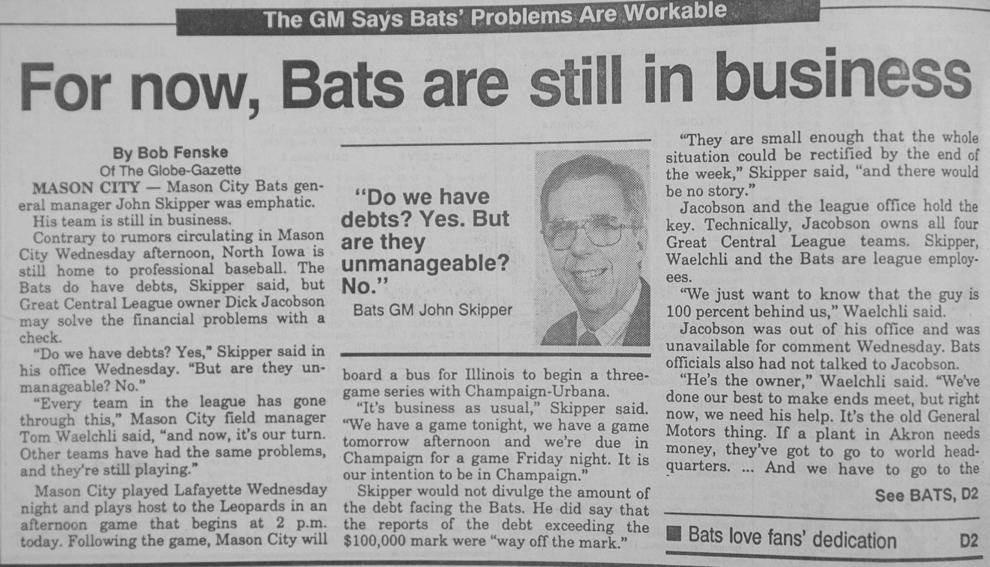 Bats Clips 19

Bats Clips 20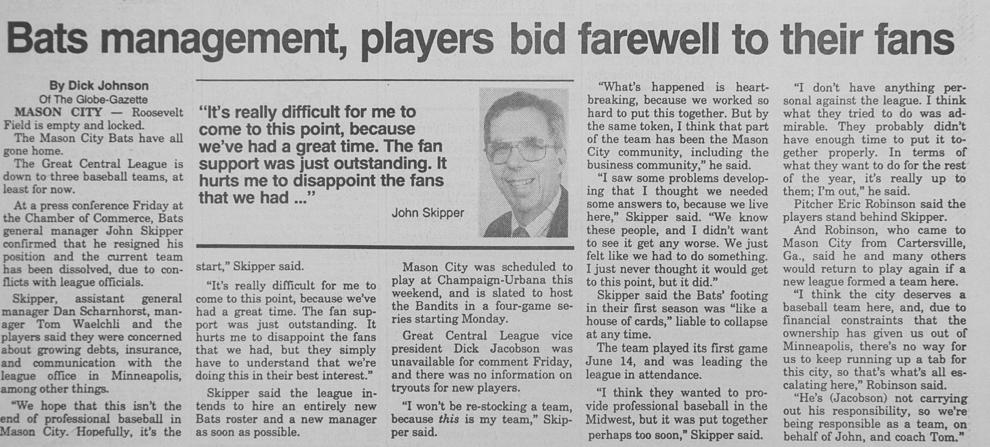 Bats Opener 1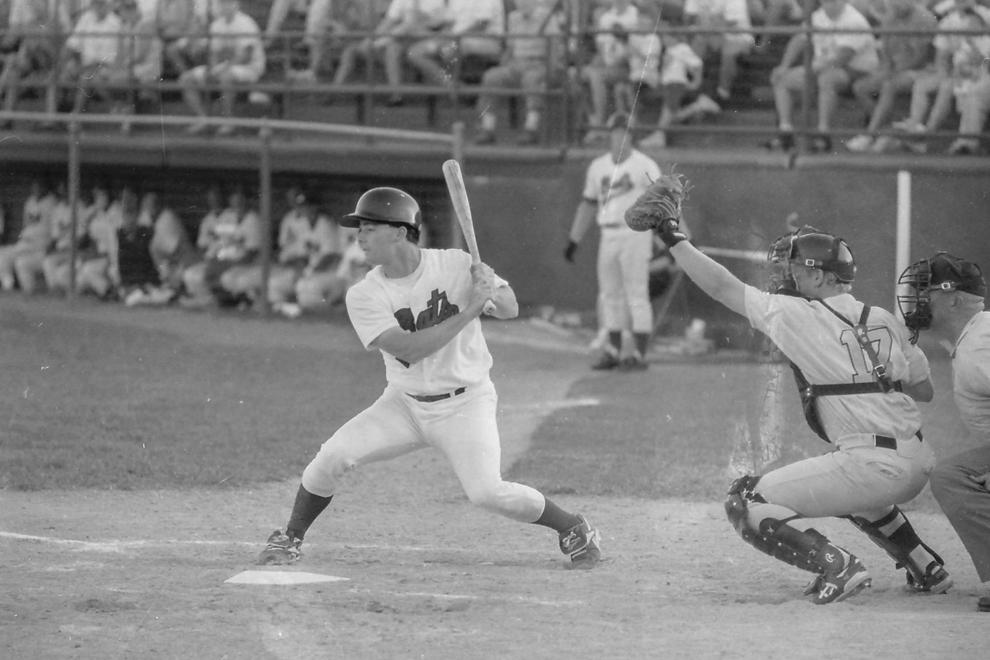 Bats Opener 2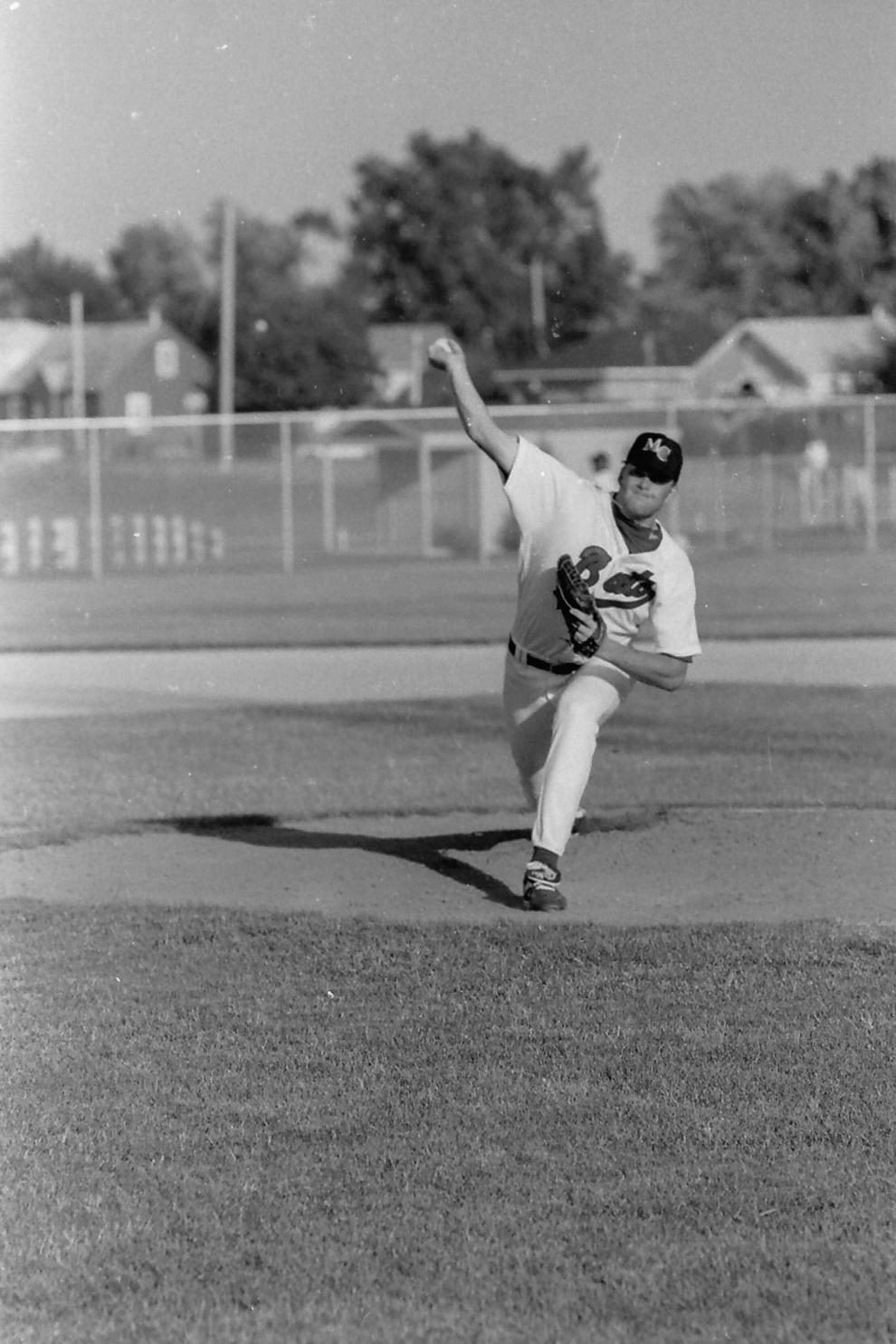 Bats Opener 3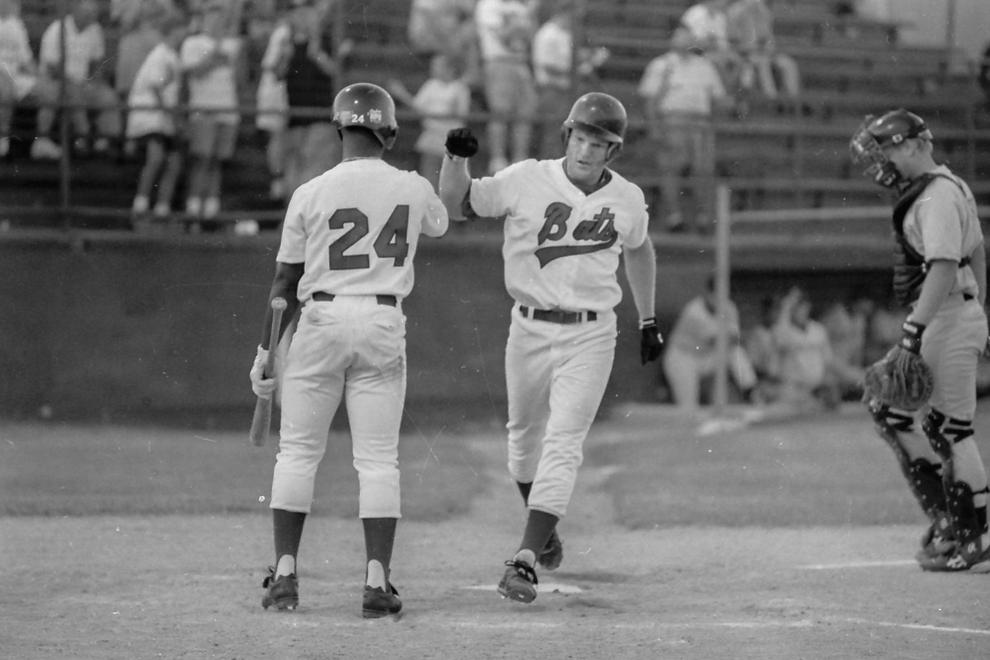 Bats Opener 4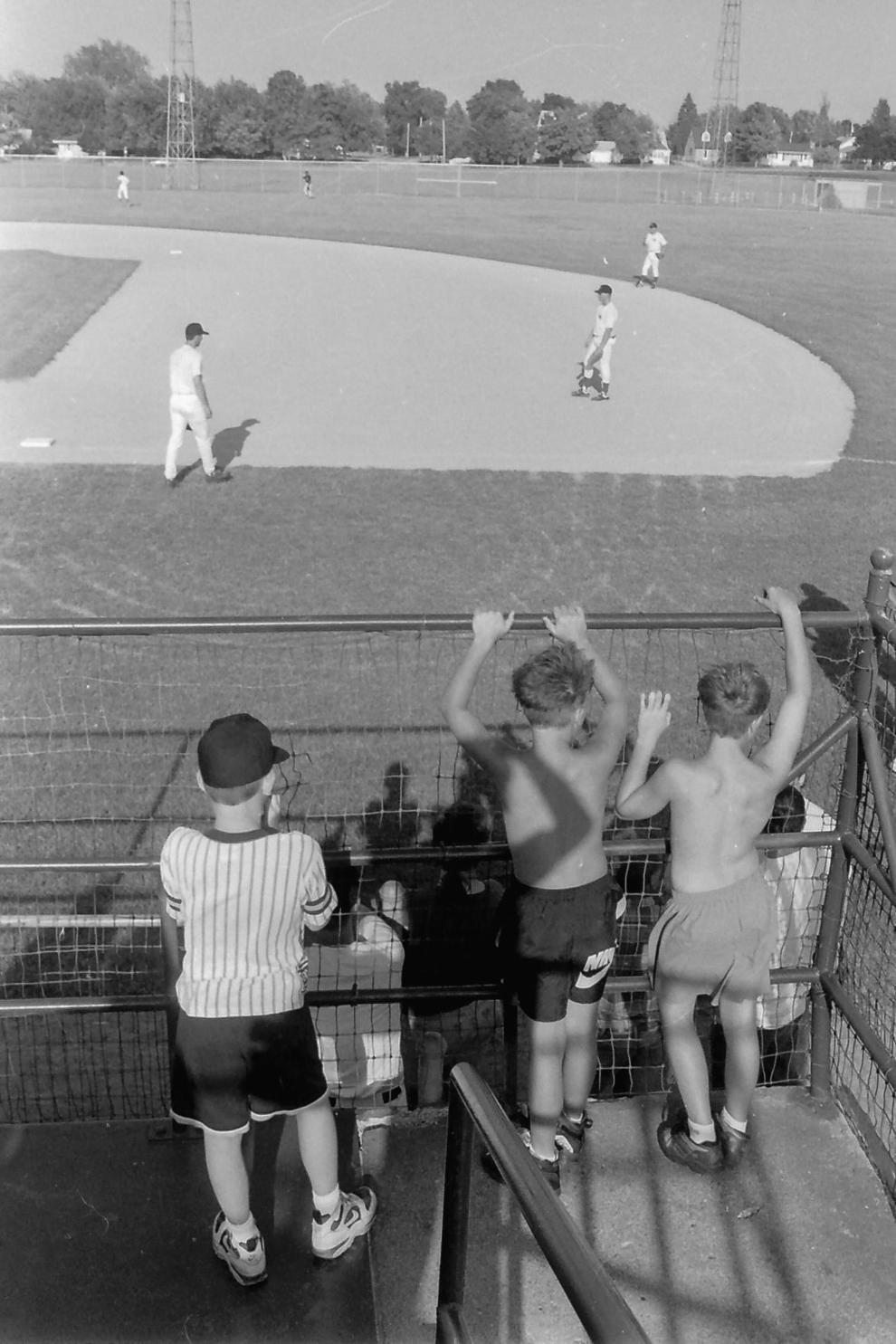 Bats Opener 5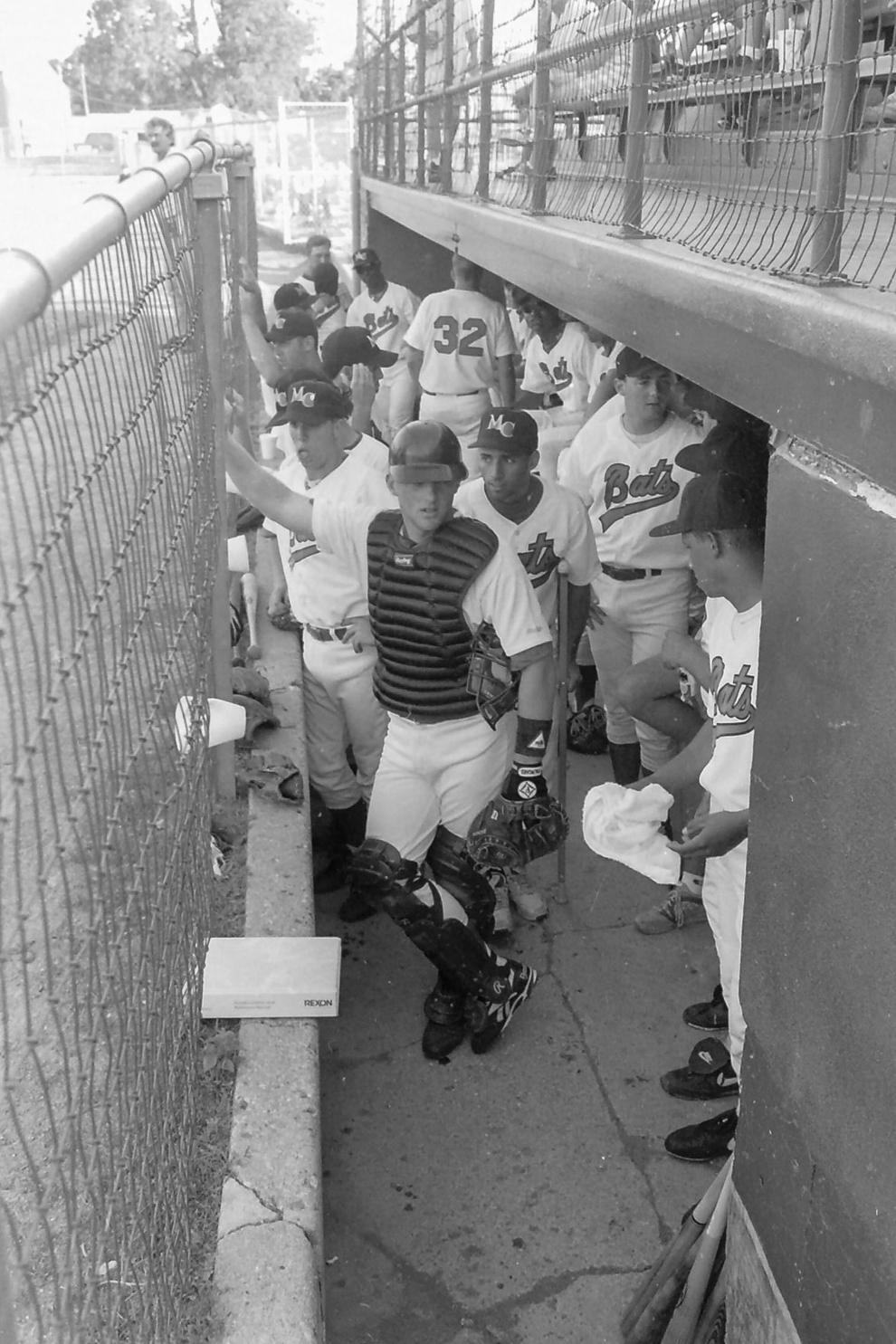 Bats Opener 6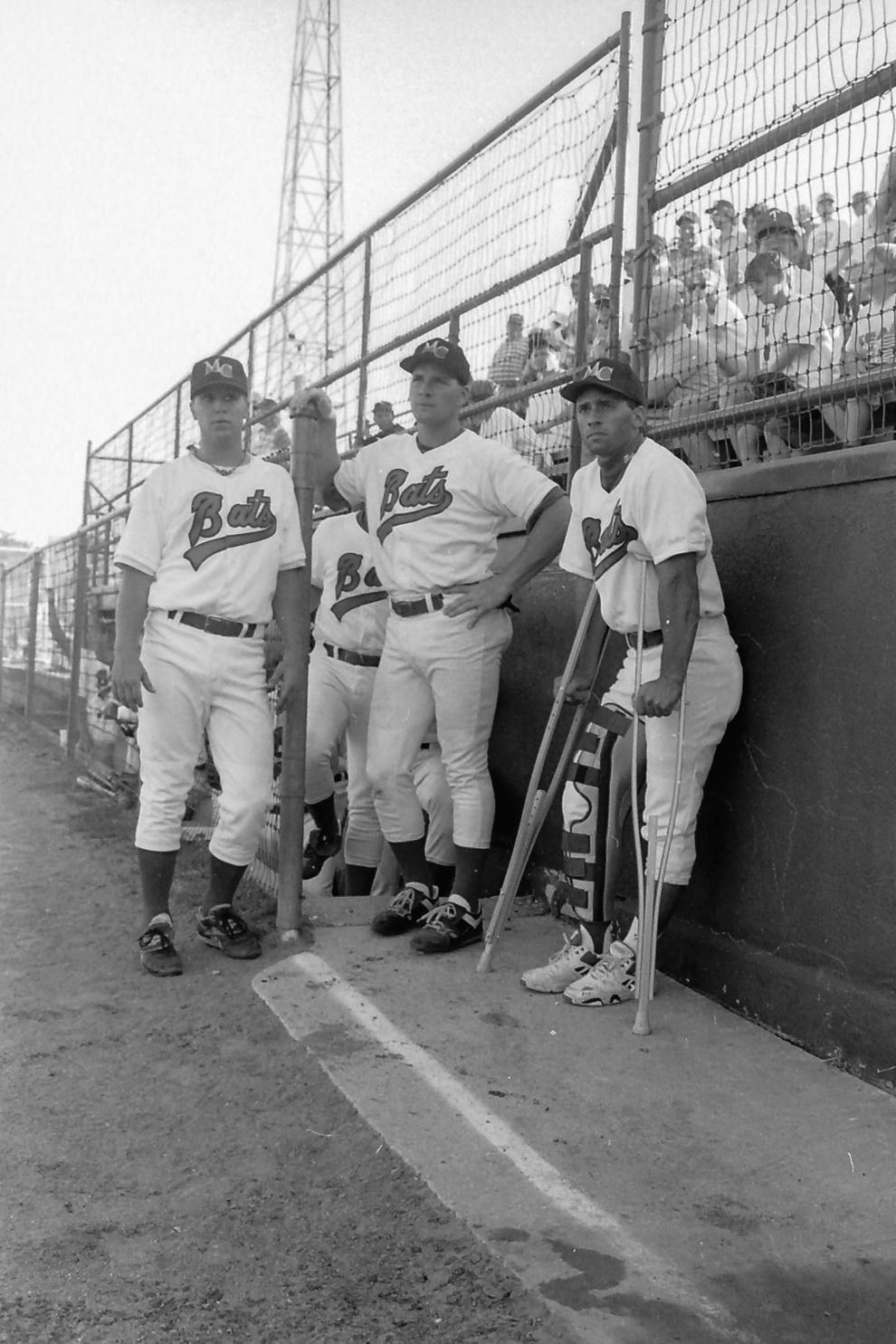 Bats Opener 7