It's not often a community turns out to celebrate a bridge, but then this is no ordinary bridge.
Sixteen feet wide and 10 feet tall with a span of 60 feet, the Wilkinson Pioneer Park Bridge is the love child of Les and Bette Graversen, formerly of Plymouth but now of Mason City.
This Sunday from 1-3 p.m., folks from all over North Iowa will head over to Rock Falls Community Center where they'll exchange memories about North Iowa's only covered bridge, and honor the Graversens, who, with absolutely no expertise whatsoever, built a bridge that people still talk about 50 years later.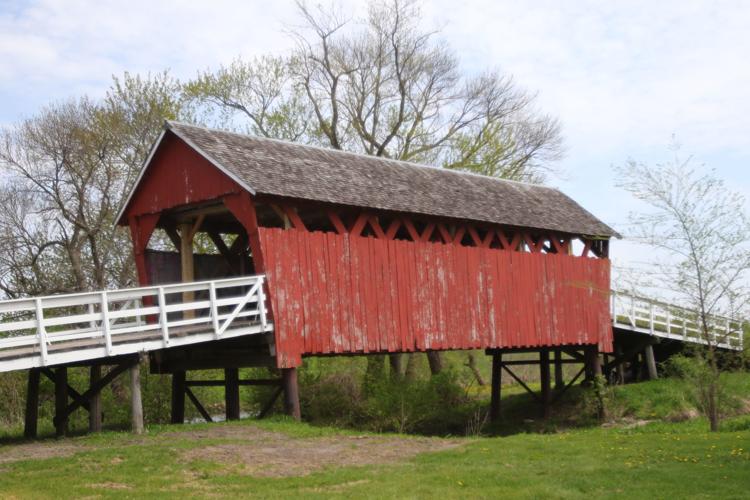 The Green Belt
Les Graversen was a plumber and an HVAC man by trade. He and Bette owned a hardware store in Plymouth, and Bette made the best fried chicken around North Iowa in her little restaurant.
Graversen was a member of the first-ever Cerro Gordo County Conservation Board back in the late '60s, when it was in the process of buying land along the Shell Rock River between Nora Springs and Rock Falls. Today, the Shell Rock River Greenbelt consists of 600 acres of land, most of it in Falls Township between 290th and 295th streets.
Square in the middle of the greenbelt and halfway between Nora Springs and Plymouth was a creek that people would need to cross to access the Greenbelt.
What to do, pondered the conservation board, which had little money.
"Well, I took a couple of engineering classes at Upper Iowa University," then-41-year-old Les told himself. "I'll just slap a covered bridge together."
Back in 1967, it wasn't such a crazy idea. And without engineers, without blueprints and without red tape, that's exactly what happened.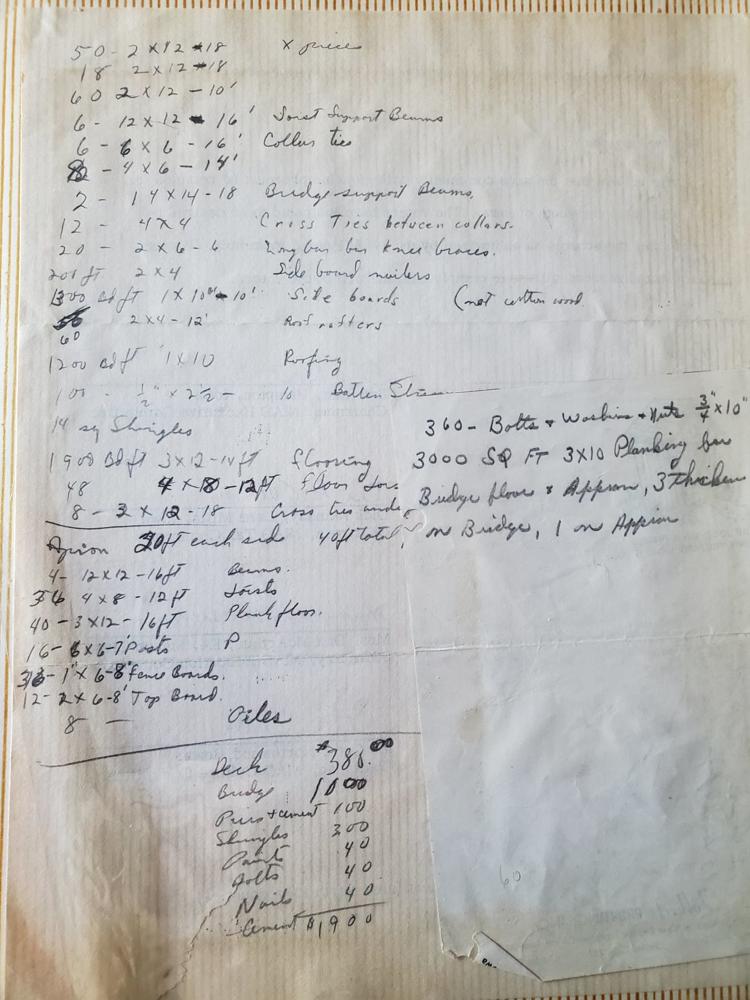 If you build it, they will come
Bette and Les had visited Winterset, Iowa, home of one of Madison County's famous covered bridges, the Cutler-Donahoe Bridge, constructed in 1870.
They decided to remake their Cerro Gordo County covered bridge as the Cutler-Donahoe, and so road-tripped to Winterset, where Les measured and made notes on what he saw.
He still has those notes, his architectural grocery list, in a photo album in his Mason City home.
"He was young and he could do anything," Bette said.
Les approached the conservation board with his idea and they were receptive. The covered bridge would go over a man-made pond with 60-foot approaches on either side. The park itself would serve as a community gathering place, with the covered bridge as the crown jewel.
You have free articles remaining.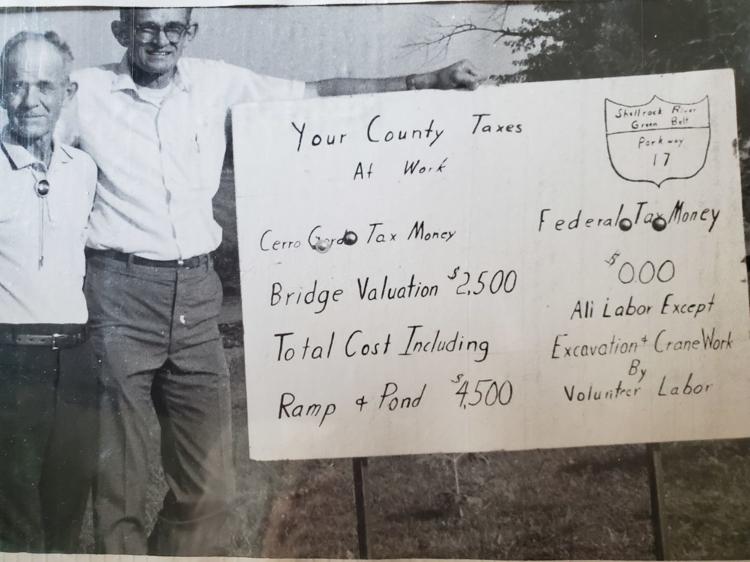 Les got to work. Twice a week, he and his employee from the hardware store, Forest Lair, would head over to the site with a group of volunteers that steadily grew to 75. Wives would follow along and provide picnic dinners for the workers.
Word spread. People began to cut down and donate trees from their land, which were then milled at the local sawmill. Over the course of two summers the 60-foot, cottonwood sidings were built by Les' local business associates and hauled to the site by local farmers on their hay wagons.
One thousand steel bolts with plates held it together.
"It was a real family thing," Bette said. "The community of Rock Falls was just really good."
"Back then, you just did what you had to to get things done," Les added.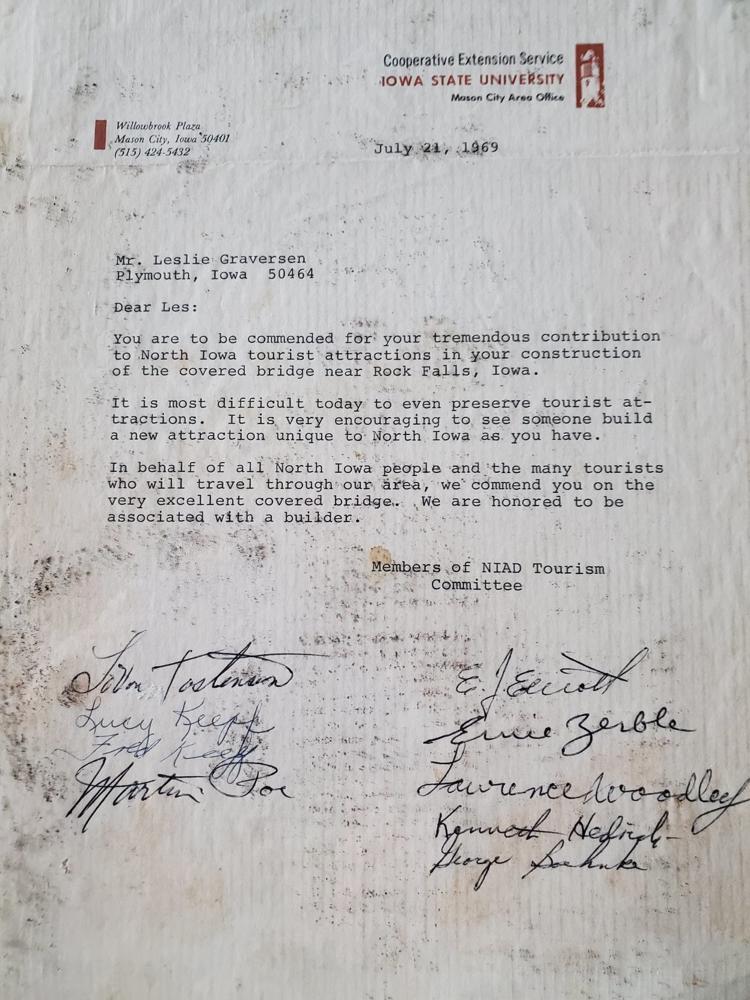 Standing the test of time
There was no formal inspection of the bridge – the county's engineer told Les if he was willing to drive a big truck across the bridge and made it across without going in the drink he was satisfied – but it opened with a picnic, music and dance.
It was a harbinger of many gatherings to come. Through the years the bridge has stood as background to engagement photos, family reunions, camping weekends and picturesque seasonal paintings.
They laughed at Les when he built the bridge so high above the water, swearing that the water would never touch it.
But then it did one year, covering the floorboards.
In 1997, the bridge burned to its foundation, and grabbing his notes, then-70-year-old Les and every original volunteer who was able went back at it again and reconstructed the red covered bridge for the second time – this time with the help of engineers and blueprints.
"We never did find out how that fire started," Les said.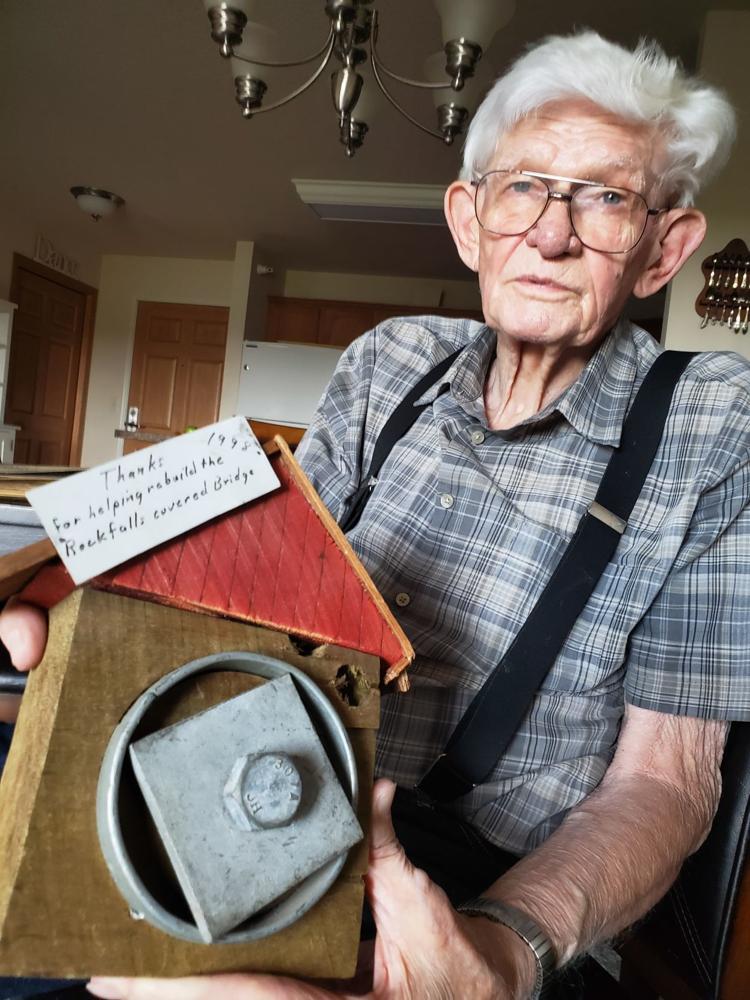 That bridge stood until 2015, when a fierce storm rendered it unsafe. Repair costs were estimated at $90,000. The Conservation Board closed it and discussion began about replacing it with a simple cement slab.
Hundreds of area residents signed a petition committing to volunteer work to maintain the surrounding park if the bridge would be repaired. Cerro Gordo County promised $35,000 and a laundry list of foundations, businesses and local residents chipped in the rest.
And North Iowa's "slapped together" covered bridge, built by a plumber and a community, was open again, and remains so today.
Lowell Johnson, Graversen's friend and the organizer of Sunday's gathering, called the bridge a treasure to North Iowa.
"We really wanted to have a party to honor Les and Bette's vision," Johnson said. "I hope people will come and bring their pictures and share their stories about our bridge." 
What a Globe Gazette News+ membership can do for you:
A deeper examination of local issues than you'll find anywhere else.
Two products in one – not everything that's in the print edition of the Globe Gazette is on our website, and not everything on our website is in the print edition.
Access to newspapers.com archives dating back two years.
The ability to carry your local news with you and receive alerts instantly as news unfolds.
Advertising that frequently gets you deals you won't find anywhere else.