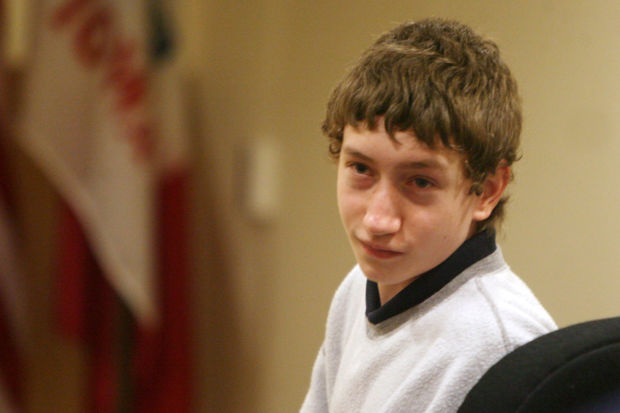 CLARION — The defense in the Noah Crooks trial began Friday afternoon by calling to the stand three school friends of the 14-year-old Osage teen accused of shooting his mother to death in March 2012.
Crooks is charged with first-degree murder and assault with intent to commit sexual abuse in the death of his mother, Gretchen, on March 24, 2012.
His trial is being held in Wright County District Court on a change of venue due to pre-trial publicity.
A 14-year-old boy from Osage said he played the video game, "Call of Duty," with Crooks over the Internet.
He testified that in 2012 Crooks would become aggressive and violent, occasionally stabbing classmates with pencils.
The boy said the incidents would happen once or twice every few weeks and then not happen again for days or even months.
Crooks threatened to kill other students and his mother, he testified.
A 14-year-old girl, also of Osage, said she and Crooks became friends in the seventh grade.
She remembered her friend talking about suicide last year.
In March 2012 his behavior changed, she said.
"He got angry quicker," she testified. "In P.E. he'd get mad at things he wouldn't usually get mad about."
The prosecution rested its case at about 3:15 p.m. Friday after calling a series of witnesses from the Iowa Division of Criminal Investigation crime laboratory in Ankeny.
Dr. Jonathan Thompson with the State Medical Examiner's Office said it is impossible to know which of the 22 gunshots Gretchen Crooks' sustained was the fatal shot.
Thompson said she suffered two wounds to the head, four to the neck and 15 to the chest.
Noah's father, William Crooks, testified Friday morning that Noah and Gretchen Crooks had a loving but sometimes stormy relationship.
William Crooks, 41, said he was at a going-away party for his boss in Mason City on March 24, 2012, when he got a text message from Noah about 7:30 p.m.
The message said, "Dad this is Noah. I killed Mom accidentally. I regret it. Come home now please."
Crooks thought his son was joking and responded, "OK. Just throw her in the grove. We'll take care of her later."
Around 7:50 p.m., Mitchell County Deputy Jeff Huftalin called and told him there had been an accident and he needed to come home.
Crooks arrived at the rural Osage home about 8:20 p.m.
Assistant Iowa Attorney General Denise Timmins asked him what he saw when he arrived.
William Crooks also talked about teaching his son how to handle guns including the alleged murder weapon, a .22 caliber Ruger semi-automatic rifle which belonged to Noah.
Gretchen Crooks purchased the gun for her son in 2010.
During his testimony, William Crooks said his wife was the disciplinarian in the family, which often led to fights between mother and son.
"They'd have their issues but then the next minute they'd play games together," Crooks said.
Crooks said Noah did once say he wanted to kill his mother.
"I guess I didn't take it as a threat at the time," he testified.
Testimony will resume at 10:30 a.m. Monday.