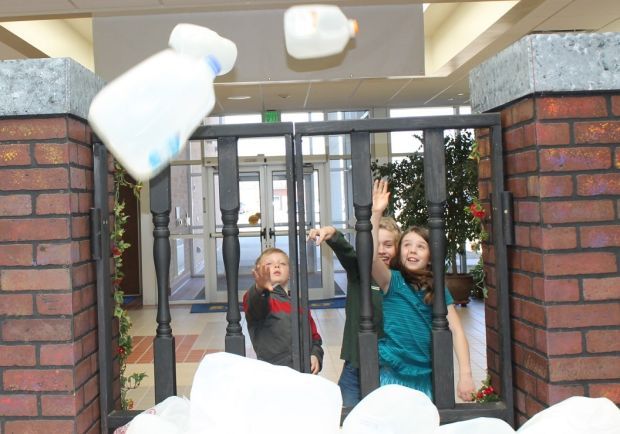 MASON CITY | Plastic containers rattled as they joined the giant mound inside Roosevelt Elementary's collection area, a spot students have dubbed the Magic Milk Jug Mountain. 
"We're finding ways to make the earth healthy and clean," explained third-grader Tabien Banks, 9, who's since brought in 16 jugs. "If we didn't recycle, the junkyard would be full, and we'd have to make more places for our trash."
Besides learning about the importance of recycling, Banks and his classmates are taking part in a unique competition this month. 
The Mason City elementary school which brings in the most milk jugs per capita by April 17 will win a bench from Plastic Recycling of Iowa Falls fashioned from recycled jugs. 
You have free articles remaining.
With a only a few days left in the contest, Roosevelt students were eager they would be the bench recipients. 
"I think we will win," said third-grader Thomas Miley, 9, who noted his school was leading the contest as of late last week. 
While third-grader Ella Turk said it would be "pretty cool" if her school gets the bench, she's also focused on recycling to keep the earth and oceans free of pollution and trash.
"It can hurt and kill animals," the 9-year-old said.
She and her friends now regularly pick up garbage in the school yard during recess. 
The winning school will be recognized at Mason City's Earth Day event on April 26.