When the Historic Warehouse in downtown Mason City had a partial parapet collapse on June 29, Mason City officials shut down the sidewalk wrapping around the front of the corner building as well as the right and left turn lanes of South Federal Avenue and Fifth Street Southeast respectively.
"They're going to remain closed until we receive word that they're safe to reopen," Mason City Chief Building Official Curt Sauve said at the time.
In the three weeks since, the orange cones and netting put up to direct traffic away from the building have stayed and Sauve has continued to say variations of "No sense of when they'll be able to open back up."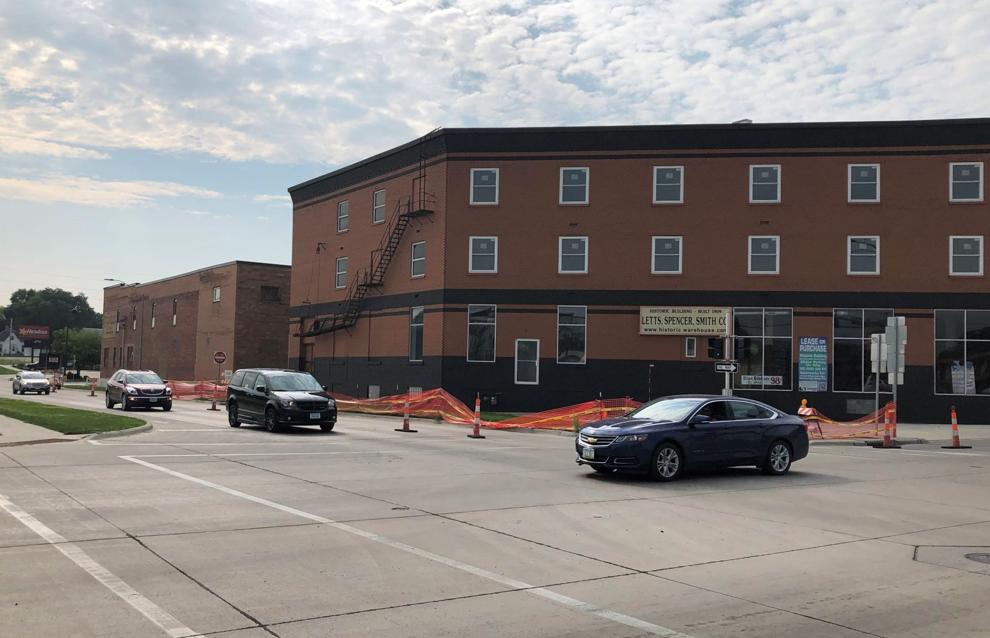 Sauve has said that a large part of that re-opening hinges on receiving word that the building has been stabilized. 
"(The) owner does have a contractor hired so they can start putting together a plan of correction," Sauve said. 
On Thursday, the building official said he didn't believe there was a threat of more of the building toppling, and that the streets and sidewalks were "protected."
On the Beacon Schneider property website, the deed holder for the Historic Warehouse at 501 S. Federal Ave., also known as the Letts, Spencer, Smith Co. building, is listed as "Highway 18 LLC." Per the OpenCorporates website, both the agent name and director for that LLC is Vance Jorgensen of Mason City. 
In a call near the end of the week of June 28, Jorgensen said that the building is not vacant, despite Sauve saying it had been sitting empty for years, and then said he would have more information following the July 4 holiday weekend.
Since then, Jorgensen has not returned any calls to his work or cell phones. When a Globe reporter visited his office to ask about any preliminary investigation results from an insurance company engineer, Jorgensen said he didn't have time to discuss the matter before closing the door and locking it. 
The day after the partial collapse happened, Sauve said that it was about 50 feet of parapet that went down. He then went on to say that his department hadn't done any recent inspections of the building.
"The fire department might do a periodic inspection but as far as the building department, we don't do annual inspections on buildings."
Following a Freedom of Information Act request on July 15, Mason City Fire Marshal Jamey Medlin wrote via email that "On 6/19/2000 the Mason City Fire Department did a 'company pre-plan' of said location." 
Per Medlin, a company pre-plan includes a fire department official visiting the site to get familiar with the location of fire protection systems, electrical and gas meters, where possible hazardous materials are used on site, what special hazards exist, and the building layout.
"A building's structural condition is not reviewed on a company pre-plan," Medlin wrote.
"The fire department would not do a structural building condition review when we do our pre-plans or fire inspections. We look for fire code violations on fire inspections and the International Fire Code does not cover parapet walls." Medlin wrote in a followup email.
Chapter seven of the 2018 International Building Code, which deals with fire and smoke protection features, spells out minimum heights for parapet walls in certain situations and that such walls should have the same fire rating as that of a "supportive wall." The word "inspection" doesn't appear anywhere in the relevant section.
"It's a property owner's responsibility to keep the building in a safe manner so we don't periodically inspect buildings to make sure they're not falling down," Mason City Director of Development Services Steven Van Steenhuyse said. 
Similar to what Medlin and Sauve said, Van Steenhuyse affirmed that there wouldn't have been any point in the past where anyone from the city would've gone into that building to inspect it and see if it was structurally sound. 
"Just so it's clear, there's no city responsibility or liability with regards to this kind of an incident," he said.
Much of the building complex was constructed in 1909, though there are dates listed in Beacon Schneider for 1970 and 1990. Despite its name, the Historic Warehouse is not listed on the National Register of Historic Places in Cerro Gordo County.
Jared McNett covers local government for the Globe Gazette. You can reach him at Jared.McNett@globegazette.com or by phone at 641-421-0527. Follow Jared on Twitter at @TwoHeadedBoy98.