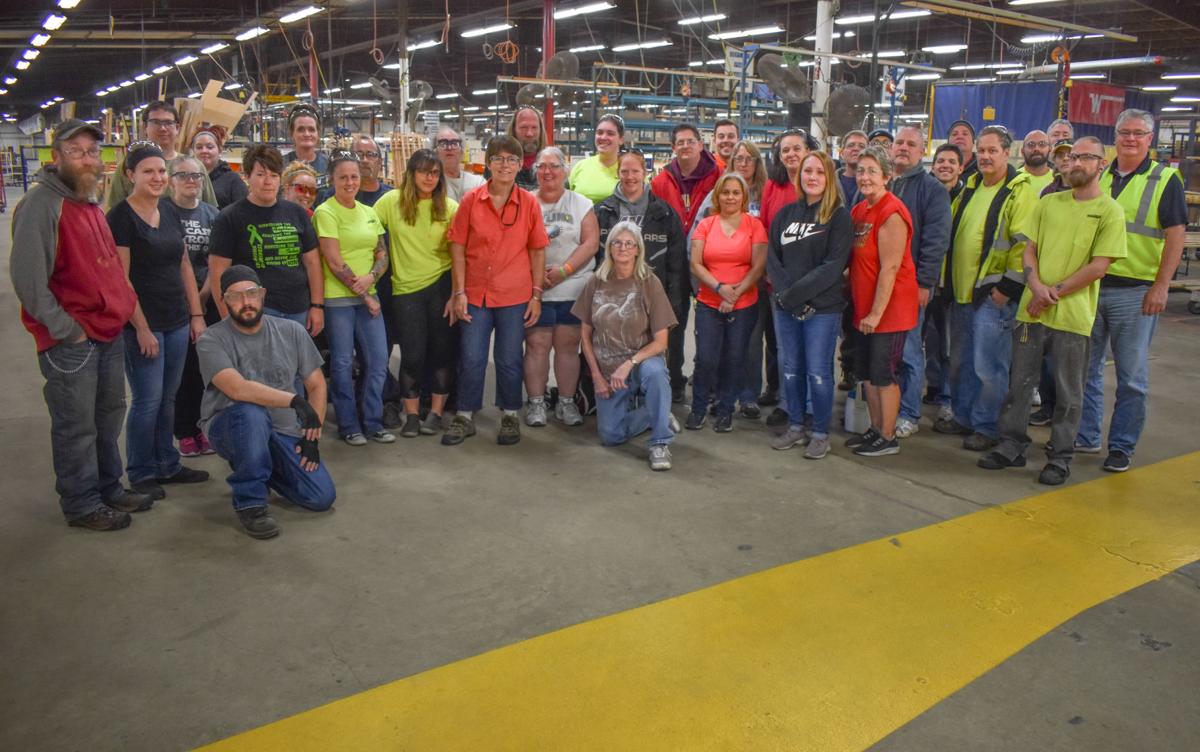 Everyone has that jar in the house where they put their spare change to save up for something. Winnebago Industries' spare change jar was used to help area elementary schools.
Belmond-Klemme, Forest City and North Iowa elementary schools each received a $400 gift card from Winnebago Industries sawmill division mid-November.
Winnebago Industries manufacturing supervisor Keith Albertson said the sawmill employees were looking for an "act of giving" they could do as a group and came up with the idea of each employee contributing all their spare change to the fundraiser jar for the fourth quarter of the fiscal year.
"They were all excited doing it, digging in the bottom of their purse or in their car, throwing their change into the jar at work, and it really added up quick," Albertson said.
After about 12 weeks, at the end of the quarter in August, the 44 employees had gathered $1,200, including some funds matching by some people – well over their goal of $300.
"It kind of got funny at times, some people would come in and go, 'Who hasn't put their money in the jar this week?'" Albertson said.
With the unexpected amount of money, Albertson said each employee wrote their hometown's elementary school on a piece of paper, put it into a hat, and he picked three schools to receive $400 each.
"We wanted to make sure it was enough that could really make an impact," he said. "We just didn't want to give everybody $100 or $200. We wanted to give them a little bit more."
Albertson said he wanted to do something as a group with the other employees.
You have free articles remaining.
"It wasn't mandatory, but everybody participated," he said. "Everybody did."
They chose to give the money to the younger children because there are some families who have hardships and the money will be dispersed by the school as it sees fit, Albertson said.
Belmond-Klemme Superintendent Dan Frazier said the money will be placed in the school's nurse's fund to buy winter clothing, socks, hats and other items the students need.
Albertson said Winnebago Industries is always doing some sort of fundraiser or drive to do something for the community.
Winnebago Industries public relations specialist Saw Jefson said the company has set a goal for every employee to participate in a "project related to giving, quality or safety" every year.
"We've seen a lot of people helping out with different projects that are community-related or giving in nature, which is really rewarding to see," he said.
Last week, the sawmill employees did the Polar Bear Plunge with a grass skirts and coconut bras theme, raising $1,055 for Toys for Tots and Make a Wish Foundation, according to Albertson.
They've also done other projects, such as cleaning yards and ditches and painting garages, as well as food drives.
"We're not only trying to collect money," Albertson said.
Other Winnebago Industries departments are actively doing similar work, with coats and clothing drives in the visitor's center and the engineering department cleaning up part of Pilot Knob State Park.
"Just wherever we see that there might be a need or where employees help out, there's been some nice movement toward that volunteering and giving," Jefson said.
Grace Zaplatynsky can be reached at 641-421-0534.