It's been nearly two weeks since Sarah Callow and Willy Schrandt brought their 8-month-old daughter home after months in the hospital.
"She's been through a lot in a short amount of time and each time it had its own little areas of concern, so the fact that things are more stable — or the most stable she'll be in her life — that's comforting," Callow said.
Karley slept in a crib beneath the soft light of a window Wednesday afternoon as tubes and wires connected her 11-pound body to machines that assisted her breathing, monitored her vital signs and administered medications.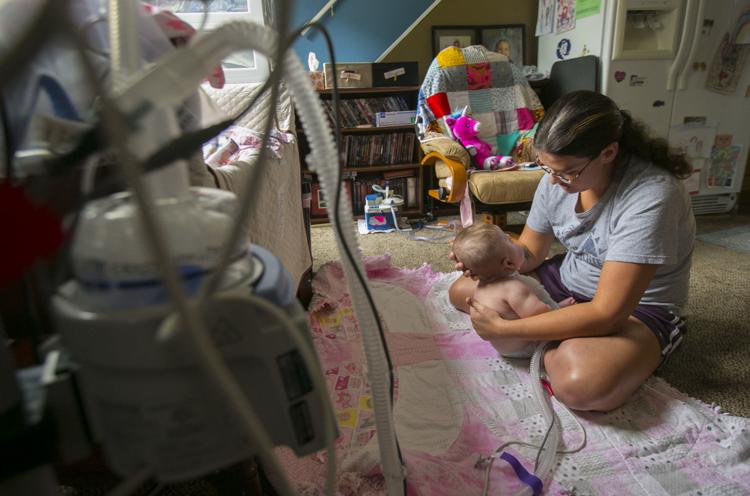 Her crib, set up in the center of Callow and Schrandt's two-story house, contains her essentials, including a pink stuffed unicorn they've placed near her face at the direction of an ophthalmologist.
"It's been quite an adjustment," Callow said.
But the adjustment has been a welcome change for the family of five that's spent most of the past eight months apart.
Callow, who is also the mother of Ava, 6, and Ivy Mae, 5, would spend days at a time in Iowa City with Karley before returning to Mason City, while her boyfriend, her daughters and her parents would visit the hospital as often as they could.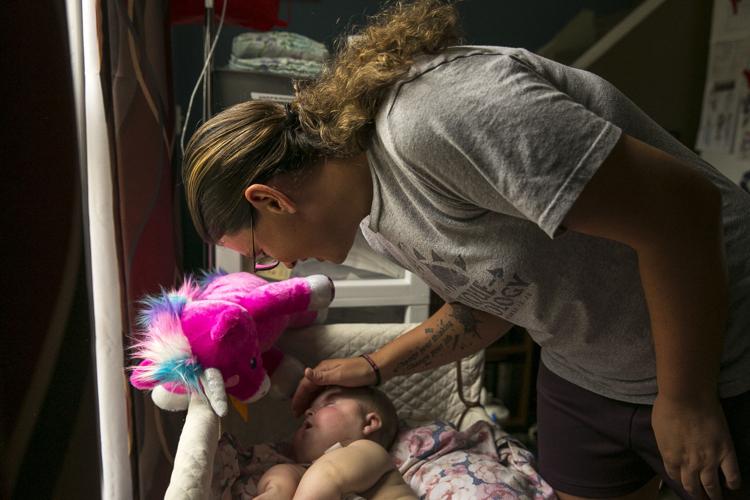 Karley was carefully monitored by a team of specialists and support staff in the newborn intensive care unit, where her condition fluctuated from good to bad with little notice, until she was discharged earlier this month.
"We kind of got to the point where everything was stabilized enough that the hospital felt comfortable sending her home, and we just decided to tweak our schedules a little bit," Callow said.
Genetic testing revealed Karley is one of nine children in the world with CHEDDA — a newly named condition that requires around-the-clock care.
Callow, who is self-employed, and Schrandt, who works second shift, are awaiting home-nursing services for Karley, but until they find someone, they're administering her medications, feedings and physical therapy.
"It's not hospital life. It's home life," Callow said.
You have free articles remaining.
Karley has appointments in Iowa City at least once a week, and because of her condition, and the accompanying health issues, she'll likely have more appointments, tests and surgeries throughout her life.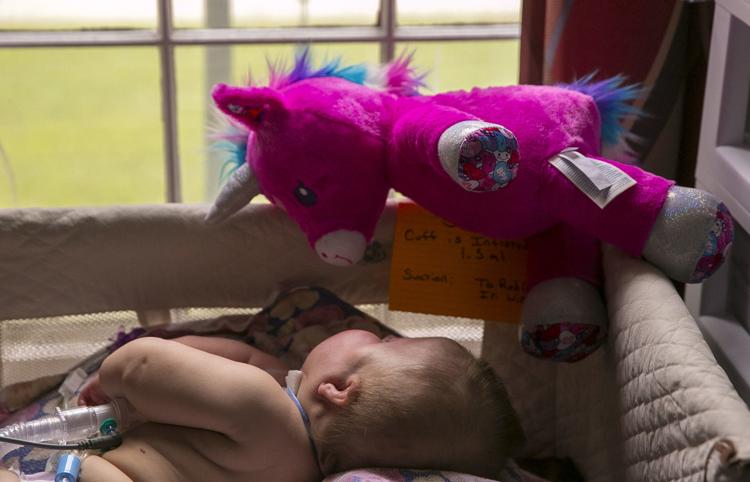 To help cover the cost of some of her medical expenses, members of Abate of Iowa District 7, an organization comprised of motorcycle enthusiasts in North Central Iowa that Callow and Schrandt are involved with, are holding a two-day fundraising event called Ridin' for Karley on Saturday and Sunday in Clear Lake.
"That's what motorcycle riders do. We help those who need help," said Pat Weydert, an Abate of Iowa District 7 member and friend of the family. "That's just something we do."
The event, Ridin' for Karley, begins at 9 a.m. Saturday with a self-guided motorcycle ride and car cruise, including stops in Hampton, West Bend and Forest City. The ride will end at the McIntosh Woods State Park shelter, where a meal will be available for a freewill donation.
It costs $10 per person to participate in the ride. Registration will take place from 9 a.m. to noon at Clear Lake State Park.
Sunday's event will be from 10 a.m. to 4 p.m. at The Bunker Veterans of Foreign Wars Post 4868, 219 Main Ave., in Clear Lake. It'll feature a bake sale, silent auction, live auction, games and vendors. Food will be available from Black Dog BBQ and entertainment will be provided by Levey the Great.
The silent auction will take place throughout the event, and a live auction will start at 3 p.m. There are more than 30 donated items between the two auctions, including gift certificates for food and services, themed baskets and jewelry.
"We're just so overwhelmed with gratitude and the fact that we have such great people that are willing to do that for us," Callow said.
For those unable to attend the events this weekend, checks may be made to Karley Schrandt Benefit Fund at Clear Lake Bank & Trust.
Photos: Karley Josephine Schrandt