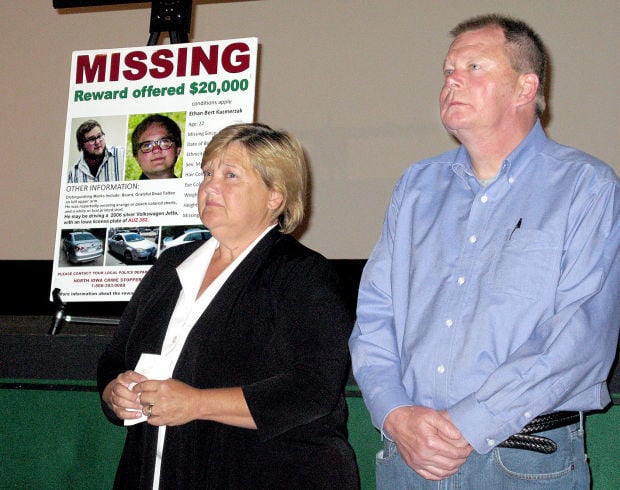 HAMPTON | The reward for information on a Hampton man missing for two years has been increased to $100,000.
Ethan Kazmerzak, 22, was last seen around midnight at a party northwest of Hampton on Sept. 15, 2013. His car, a 2006 Volkswagen Jetta TDI, also is missing.
A $20,000 reward offered last year was increased this week to $100,000 by a pool of anonymous donors, said Hampton Police Chief Robert Schaefer.
Kazmerzak was last seen near 190th Street and Nettle Avenue. There have been no verified sightings of Kazmerzak or his car since.
Police say Kazmerzak was not under investigation or known to be involved in any crime and didn't have any plans to leave the area the night he disappeared.
"It's like he just vanished into thin air," said Hampton Police Chief Robert Schaefer.
Throughout the past two years, Hampton police have tracked down reports of possible sightings of Kazmerzak and the car. Some reports aren't able to be verified, but those that can be turned out to be false leads, Schaefer said.
The department also has reached out to regional law enforcement agencies that discovered unidentified human remains. None were Kazmerzak.
Officials hope the dramatic increase in the reward will help solve the mystery of what happened to Kazmerzak, and remind people the young Hampton resident is still missing.
"Hopefully we'll get a break," Schaefer said.
Kazmerzak's mother, April Hemmes, said in a statement she hopes the attention and money will cause someone to come forward with information about Ethan's whereabouts.
The family wants to bring him home.
"It has been two long, heartbreaking years since our son has disappeared," she said via e-mail. "There is no way to describe what we go through every day."
The reward is payable for information leading to the location and/or safe return of Kazmerzak. It is not available to anyone who directly assisted or participated in Kazmerzak's disappearance, according to a statement on Hampton's municipal website. 
The reward is good until the end of the year, although the donors have the option to extend it longer. It will be limited to $10,000 to anyone who finds Kazmerzak accidentally.
At the time of his disappearance Kazmerzak was wearing a teal and white printed shirt and peach or orange shorts. He had dark blonde hair, a beard and weighed 180 pounds.
His eyes are blue, he wears glasses and has a Grateful Dead tattoo on his upper left arm.
His silver 2006 Volkswagen Jetta TDI had Iowa license plate AUZ382.
Anyone with information can call North Iowa Crime Stoppers at 800-383-0088 or Hampton police at 641-456-2529. Additional details are available at findethan.com.