BRITT | The issues of border control with Mexico, immigration, health care, agriculture and RIN waivers were just some of the topics discussed during a town hall meeting held Monday at Britt City Hall.
The town hall meeting was hosted by U.S. Rep. Steve King (R-Iowa). Approximately a dozen residents posed questions on several hot button topics.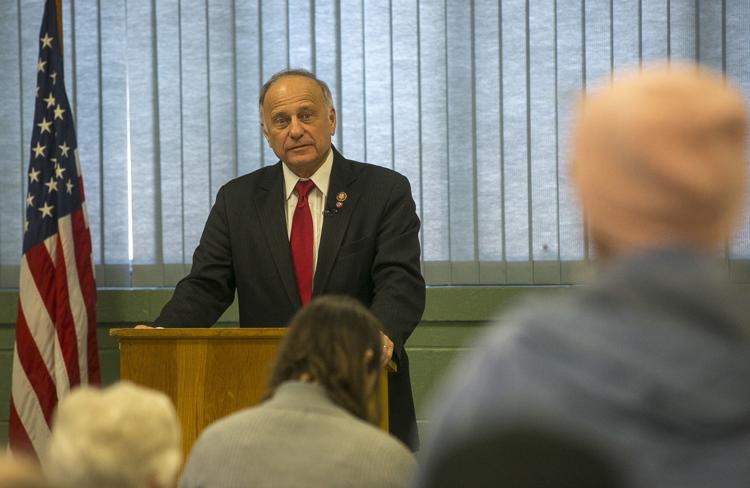 Southern border and immigration
King said he was pro-legal immigration.
"We help people who are complying with our immigration laws," he said. "I'm pro-rule of law. I am opposed to illegal immigration. I've spent a lot of time on the border. I've traveled almost every mile of that border. I've stayed down there at night and in some of the most dangerous places. I've ridden with the border patrol for as long as four days in a row.
"I mean, I do know what's going on at the southern border."
Assimilation has become a dirty word to many late-arrivals and Democrats, King said.
According to King, when he first met with Sioux City minority groups leaders after being elected to Congress 16 years ago, all the leaders had reacted with disgust to the word "assimilation."
"When I said ['assimilation'], every one of them pushed back from the table and rejected the idea of assimilation," he said. "Now, without assimilation we eventually become a divided country, not a united country.
"I want a united country, and I want to embrace American values and I want the people that come here, who are Americans by choice, to embrace American values."
King said he proposed legislation that identified five different desirable characteristics of immigrants: young, educated, earning capacity, capital and ability to assimilate.
Agriculture and RIN waivers
Local resident Mike Hejlik asked about RIN waivers, saying they help guarantee ethanol gets market share and without which ethanol will no longer need to be blended in with gasoline.
Renewable identification numbers are credits used for compliance with the federal renewable fuel standards program.  
You have free articles remaining.
"We need these RIN waivers to just guarantee that we can blend this stuff into the gas," Hejlik said.
According to King, RIN waivers took up about 2 billion gallons of ethanol, which don't have to be blended because the waivers give small refineries a pass on the requirement of the renewable fuels standard.
"I don't know what they all add up to, but we've got to keep pounding this thing back and pounding it back," King said.
"This is a real problem, and every time there's a RIN waiver that's offered, that is proposed, he just grants them out of the EPA – signs the document, they got a RIN waiver," he said. "Whatever the gallonage is that would otherwise be blended at that refinery that reduces the effect of the [Renewable Fuel Standard Program]."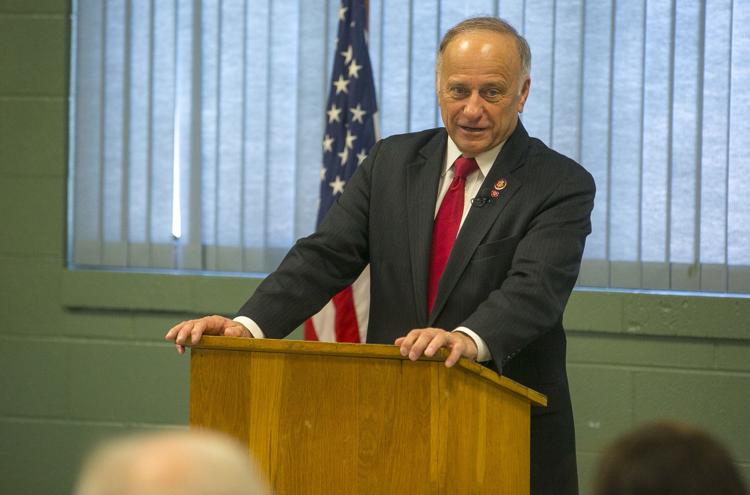 Local resident Dawn Bassett asked what the Republican Party has planned for health care reform.
King said the ability to buy and sell insurance across state lines needs to be at the federal level.
"I want the consumers to be able to define the insurance they want rather than the federal government to do that," he said. "And if the states want pre-existing conditions again and restore that, I'm all for that."
King said they are working on insurance across state lines, which includes "100 percent full deductibility for everybody's health insurance premiums," re-importing prescription drugs to create more competition and providing a health savings account that would allow account holders to double the amount that goes in each year and roll over the money in the account every year.
The health savings account, a bill King is currently working on, would benefit young people, he said.
"That health savings account, when managed, could be used to purchase a higher-deductible policy with a lower premium and maybe a higher co-payment," King said.
According to King, 20.9 million Americans were compelled to buy insurance with after-tax dollars, which took away from family farm operations, sole proprietorships and ma-and-pa operations.