MASON CITY | By 2024, the Mason City-area could see a first-of-its-kind underground transmission line for renewable wind and solar energy that would run 349 miles to the Chicago area.
That's according to Sarah Lukan, a spokeswoman for the SOO Green Renewable Rail project.
Lukan said that the $2.5 billion plan is in the development phase but SOO Green officials are hopeful about having the development, government regulations, construction and operation sewn up within the next five-plus years.
Officials from the Direct Connect Development Company (DC DevCo), which is acting as the developer on the project, bill the SOO Green Renewable Rail as a connection between "two of the largest electric power markets" in the United States.
According to the American Wind Energy Association: 36 percent of Iowa's electrical production in 2016 was powered by wind and that number is expected to hit 40 percent by 2020.
DC DevCo argues that the project would bring "clean energy from the resource rich Midwest to satisfy the growing demand in Illinois and other eastern markets."
The high voltage direct current (HVDC) transmission line would be the first long-range underground HVDC line and run along rail owned by Canadian Pacific in order to "limit impacts" to the environment and endangered species. 
You have free articles remaining.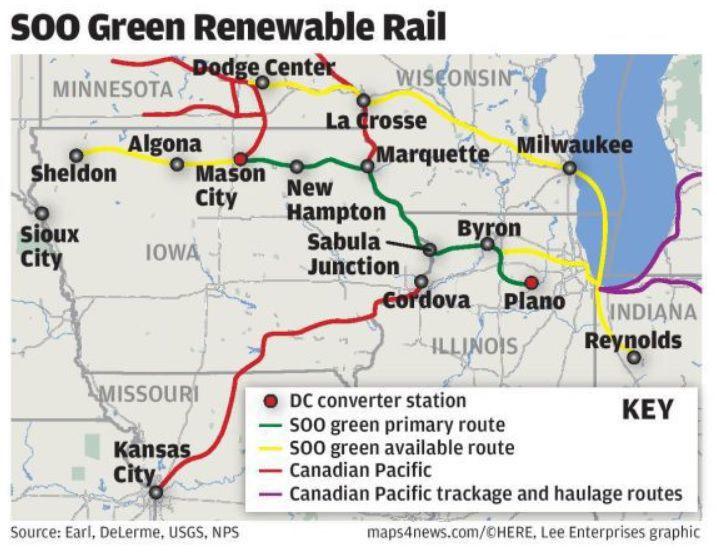 In terms of more material benefits, DC DevCo estimates that "construction of the project will directly create more than 600 temporary jobs in Iowa and Illinois" as well as "indirectly creating more than 200 permanent jobs to maintain and operate the wind farms and the transmission line post-construction."
Lukan added that counties that the line goes through will receive a payment "for each mile of line."
The DC DevCo is working on the project with investors from Copenhagen Infrastructure Partners, Jingoli Power and Siemens Financial Services.
Siemens will also be responsible for "overall system design, engineering, manufacture, civil works, installation" and helping build converter stations to power the 2,100 megawatt transmission line.
SOO Green's website states that the high voltage direct current (HVDC) line would be superior to an alternating current (AC) line because it would have lower energy costs and a smaller environmental footprint. 
But according to a 2011 piece about HVDC cables versus HVAC cables from NewEnergyUpdate, which does independent analysis of and for the renewable energy community, "costs and losses of DC converters are significantly higher than AC transformers."