FOREST CITY | Two KIOW Radio employees have been fired for making racist comments during a Forest City boys basketball game last week.
Two radio announcers, whom the station declined to name, can be heard commenting Nov. 28 about multiple players on the Eagle Grove basketball team, seemingly mocking the fact that they have Latino names. 
Dylan Albertson, 20, is a sophomore at UNI and graduated from Forest City High School in 2016. He said he used to help stream the school's sporting events via The Cube, an online streaming service for local high school sports.
The Facebook video that has been shared used that service, Albertson said. He added that typically, KIOW calls in to let broadcasters know they are on the air, and the stream is muted when they are off-air.
He confirmed that the male broadcaster was Orin Harris, a longtime sports announcer for KIOW. Harris declined to comment Monday afternoon at his Forest City home.
The other producer was identified by Forest City School District officials as Holly Jane Kusserow-Smidt. Kusserow-Smidt has been placed on administrative leave, according to a statement from the district.
According to the statement, she is a school district employee but was not "functioning in an official capacity for the district" during the basketball game.
Forest City School District Superintendent Darwin Lehmann disapproved of Kusserow-Smidt's actions in the statement.
"The communication that took place during this broadcast is inconsistent with the policies and values of Forest City Schools. We expect all staff to hold the same values that we teach in our education system every day," Lehmann said.
Lehmann told the Globe Gazette on Monday that Kusserow-Smidt is on paid administrative leave, but didn't specify the duration.
"We are working with legal council (sic) and reviewing policy to determine our next steps," he wrote in an email.
"We are not allowed to comment any further as it relates to personnel matters," Lehmann added. "Please continue to see district releases in regards to this situation."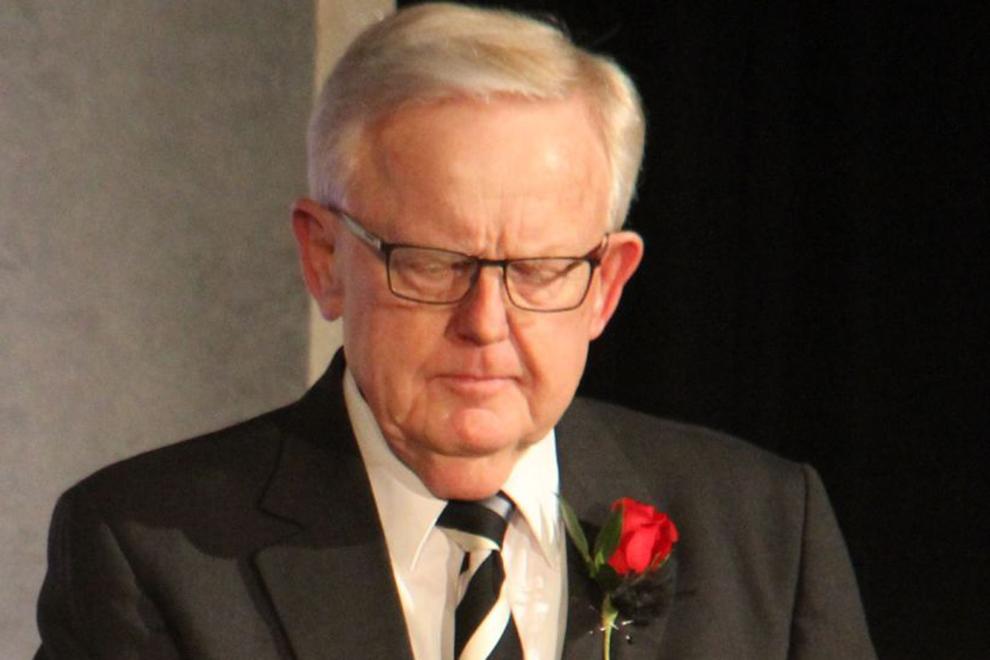 Internet searches showed KIOW had Harris on its website's staff page before Monday morning. Now, Harris is no longer listed on that page.
Albertson said he wasn't surprised about the incident itself, given ideologies that exist today regarding race relations. He also commended those supporting Eagle Grove and its students. 
"That kind of mindset shouldn't be prevalent in our society," Albertson said of the comments made by Harris and Kusserow-Smidt. "However, I feel good it's coming to light and that people are aware of it."
Harris could not be immediately reached for comment Monday.

He and Kusserow-Smidt can be heard making racial remarks throughout the video, including at the end.
"As Trump would say, go back where they came from," Harris said at the end of the video.
"Well, some would say that, yeah," Kusserow-Smidt responds. "Some days I feel like that too."
Karl Wooldridge, station manager for KIOW, told the Globe Gazette on Monday that the station would not comment outside of a statement it released on its website.
According to the statement, the comments never aired on KIOW, and the station condemned the actions of Harris and Kusserow-Smidt.
"These comments were deplorable, and the staff and management of KIOW in no way condones or supports these comments," the statement reads.
Eagle Grove Schools Superintendent Jess Toliver told the Globe Gazette on Monday the situation is "odd" since students were directly named in the broadcast.
"These kids have been here for a while," Toliver said. "They've been in sports for a while."
He added that Forest City school and KIOW have both issued apologies to Eagle Grove. 
"I would like to make it clear that Forest City did nothing wrong," he said.
Toliver added he has met with several students during the past week, and will meet with the student-athletes mentioned in the clip. He also has spoke with Lehmann and the radio station multiple times since the video was first posted Nov. 28.
Sadie Stuhr, a senior at Eagle Grove who plays softball and volleyball, told the Globe Gazette she was disappointed with Harris and Kusserow-Smidt's comments.
"It was frustrating to hear the things he had to say, especially because I grew up with these kids since elementary (school)," she wrote in a Facebook message. "Our student body sees things beyond race and ethnicity. We all treat each other with the same respect we each deserve."
ACLU of Iowa Legal Director Rita Bettis issued a statement Monday about the video, which condemned Harris and Kusserow-Smidt's actions.
"These xenophobic and racist comments are deplorable. It's disheartening to see comments like these in the public arena. It shows the racist and anti-immigrant attitudes that are pervasive in our society and state. Our heart goes out to those students who were specifically named, and to all students who feel disparaged by the remarks," the statement reads.
The video, which has been shared widely on Facebook, appears to be a livestream of KIOW's coverage of the Forest City boys basketball game.
As of Monday morning, the video itself has been viewed about 95,000 views and shared more than 1,800 times. KIOW's Facebook page has also received dozens of one-star reviews.
Albertson said that although Harris and Kusserow-Smidt's actions were awful, the two aren't affliated with Forest City.
"The school does not have any control over KIOW and the broadcast they're using is on the Cube, which is a separate entity from the Forest City School District," he said.
Editor's note: An earlier version of this story stated that Dylan Albertson said he was not surprised by Harris' comments. Albertson further clarified with the Globe Gazette that he was not trying to disrespect Harris specifically, but rather talking about the broader issue of race relations in Iowa and beyond. This story has been updated to reflect that.