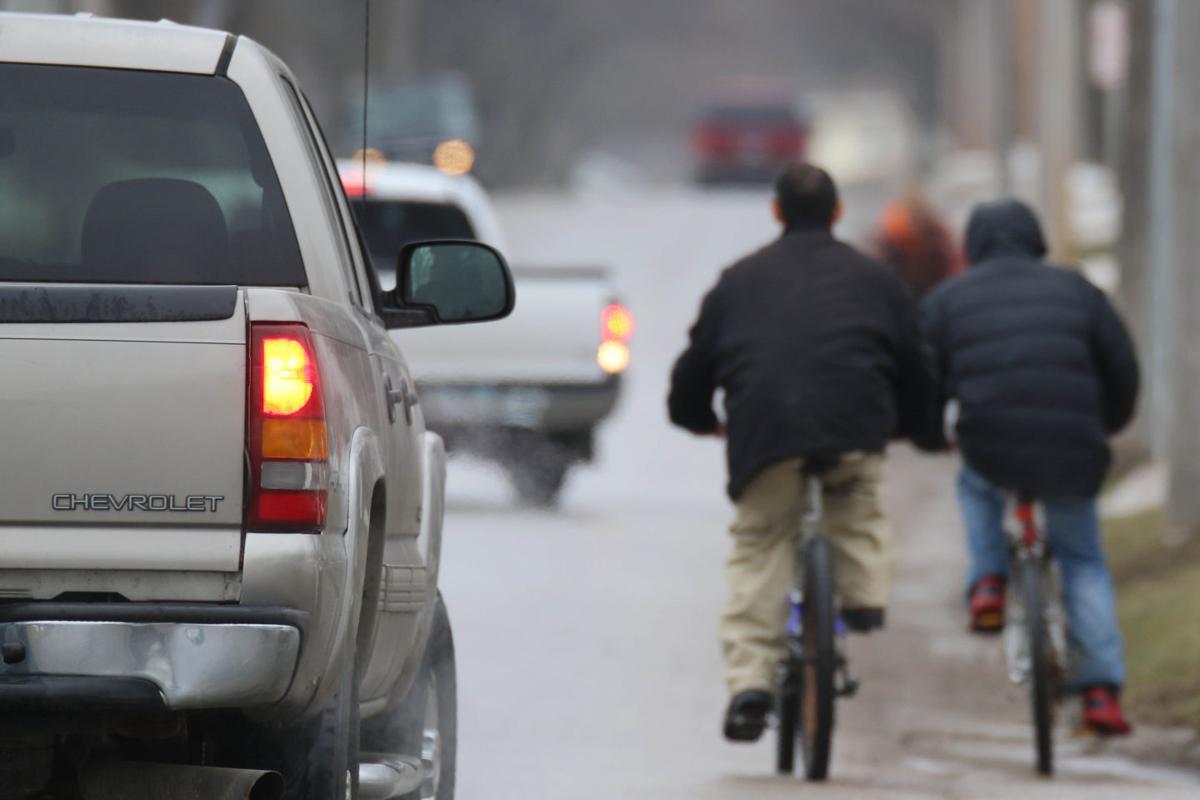 MASON CITY — Cyclist Robin Bennett successfully dodged several close calls when cars passed dangerously close to his bicycle, but he ran out of real estate while cycling one day in Clear Lake.
Bennett got drilled in the shoulder by the side mirror of a pickup truck, which rolled up beside him at the same moment another car approached from the opposite direction.
"Instead of the person braking and waiting until that car passed and going around me, they still opted to squeeze all three of us in those two lanes," said Bennett, who owns Bennett's Bike and Fitness in Mason City. "He really tried to thread the needle, and that's happened to me several times."
A legislative proposal introduced in the Iowa Senate aims to avoid incidents like the one that injured Bennett. The bill, Senate File 2224, would require motorists to move over to the opposite lane when passing a bicycle, like they would when overtaking a car.
It was advanced from the Transportation Committee, 12-0, on Wednesday.
Several North Iowa cyclists, including Bennett, say the legislation would be a welcome safety measure for cyclists who are placed in potentially deadly situations.
"Anything we can do to protect other people's lives is a good thing," said Matt Curtis, owner of Wayne's Ski & Cycle in Mason City. "Moving over one lane to give us more space is not endangering (the motorists). It just puts us in a better, safer position."
Approximately half of Iowa cyclists killed in the past 10 years have been hit during passing incidents, said Iowa Bicycle Coalition Executive Director Mark Wyatt.
The coalition, along with the Sierra Club, is in favor of the legislation.
"We want the law very crystal clear that you pass a bicycle like you would pass any other vehicle on the roadway," Wyatt said.
Senate File 2224 requires drivers approaching a cyclists to pass to the left in the next lane or opposite side of the road. It would expand the current law, which prohibits motorists from driving "unreasonably close" to cyclists.
Cyclists say caution is especially important at higher speeds: the difference between the bicycle and vehicle's speed is greater, and vehicles tend to create wind gusts that can knock a cyclist off balance.
Though high-speed crashes are less likely on Mason City's residential streets, drivers still need to be aware they are sharing the roads with bicycles, motorcycles and pedestrians, said Mason City Police Chief Jeff Brinkley.
He said the proposed legislation should be a reminder to pay attention, particularly at intersections.
"What I hope it does is it increases awareness," Brinkley said.
When it comes to sharing the roadways, a little extra room goes a long way in keeping everyone safe in case something goes wrong, said Bennett, who was hit in Clear Lake.
"Just to give us a little bit more room," he said.