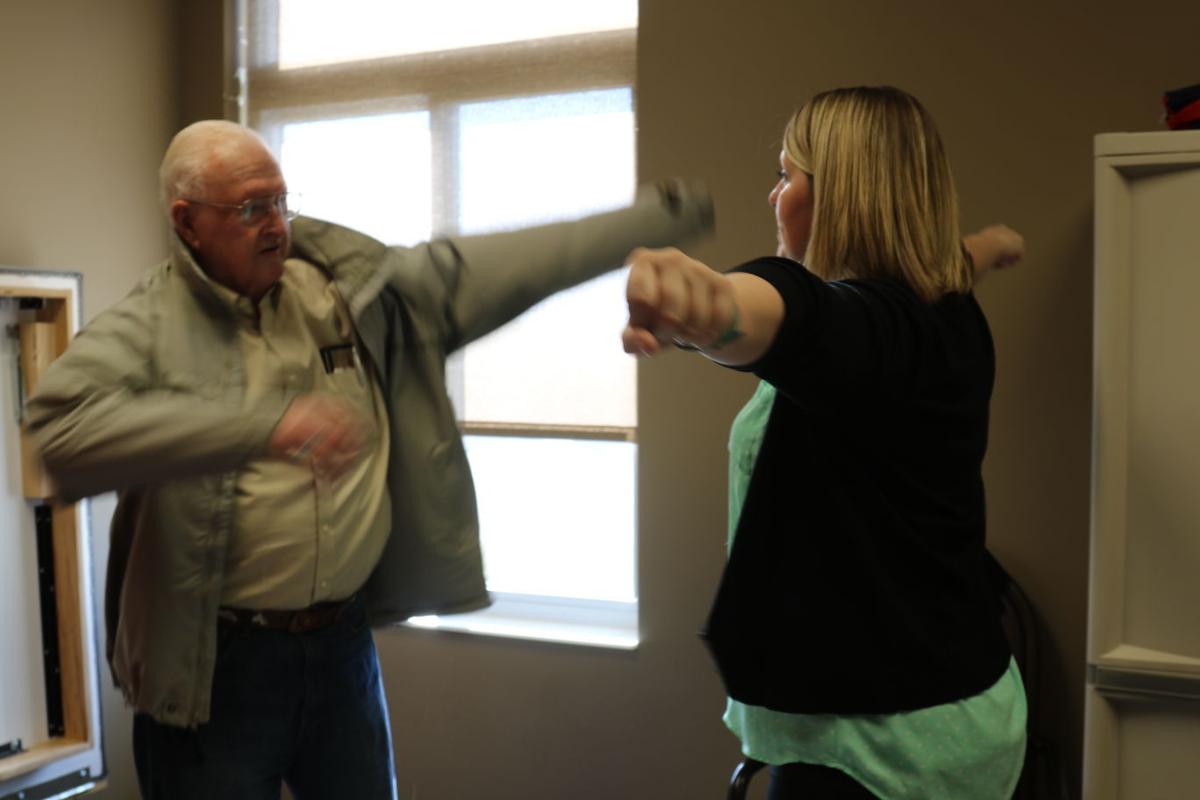 MASON CITY | In the five years since Larry Phearman was diagnosed with Parkinson's disease, he has gradually watched movements he once took for granted become more difficult.
Once an avid walker, Phearman, 82, of Mason City has seen his strides sometimes narrow to 6- and 8-inch steps and he struggles to make his way in crowds at his beloved Iowa Hawkeyes football games.
It has been scary, he said.
But a newly-introduced four-week program at IOOF Home and Community Therapy Center in Mason City is looking to give him greater freedom of motion by encouraging him to rethink how he performs everyday tasks.
The center recently introduced the Lee Silverman Voice Treatment (LSVT) BIG program there as a tool for Parkinson's patients to reclaim a small part of their lives.
The therapy encourages patients to use bigger and broader movements to practice things with less difficulty, like throwing on a coat, working on a golf swing and talking while walking across the room carrying dishes.
Patients are retraining their brains to learn new techniques they take home to perform old tasks in different ways.
"It's about independence," physical therapist Gayle Shatek said.
Since he began the program two weeks ago, Phearman has noticed he is able to walk somewhat more fluidly, a relief to his wife, Cathy.
In retirement, his diagnosis was "kind of devastating," she said. "We are quite active people. You question ... what he is going to be able to do?"
Before, one of her biggest fears was hearing the "shuffling gait" around the house that often preceded falls. Now, she hears it less and less, she said.
A similar speech program for Parkinson's patients has been in existence for about two decades.
Incorporating repeated exercise movements into a holistic physical therapy program like this is "a key therapeutic option," said Dr. Kumar Narayanan, assistant professor of neurology at the University of Iowa.
With Parkinson's, a patient's "motor program is starting to fail you," he said.
But providing a different range of motion "sort of provides the stimulus to remap" how the body approaches these movements.
"Parkinson's disease is not a life sentence," he said. "It doesn't mean your life is over. We do try to slow down the disease as much as we can."
Phearman is grateful for notable improvements and hopeful he can continue to attend Hawkeyes games as a season ticket holder.