It's a dirty muddy job, but these 35 or so paddlers are committed to doing it.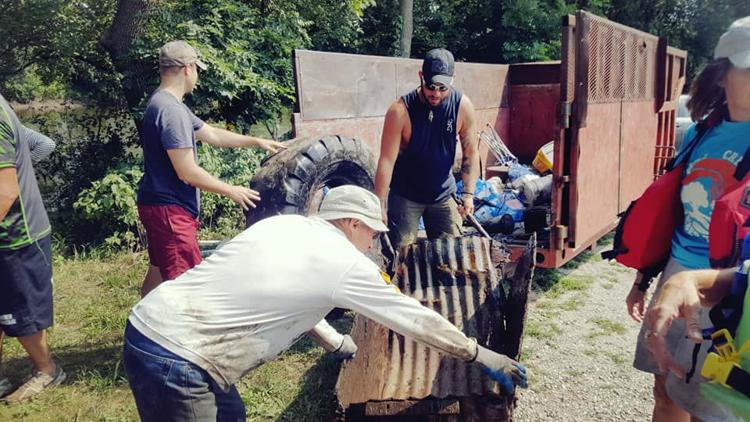 On Saturday, the group from local businesses, nonprofits and a couple of city committees, will gather at East Park, take to the water in their canoes and kayaks and load their vessels with trash from the Winnebago River.
This is the third year that the group has undertaken the morning-long float and so far, they've picked up enough trash to outweigh a sport utility vehicle.
Todd Von Ehwegen, conservation education manager at Lime Creek Nature Center, said the annual event came out of discussions among members of the city's Earth Day Committee.
"The committee does a spring cleanup every year but we talked about ways to expand that," Von Ehwegen said. "And somebody said 'How about something on the water?' We are the River City."
Von Ehwegen got in touch with Dale Mills, a long-time paddler who also owns the Cupola Inn in Nora Springs. Mills says he's known Von Ehwegen for years and has cleaned up his part of the river – from Averydale Access to Claybanks Drive – even longer, so he led the first expedition.
That year, 1,500 pounds of trash was collected. Last year, around 35-40 people collected nearly twice that – 2,800 pounds.
You have free articles remaining.
Here's how it works: The paddlers put in at East Park. Kayakers pick up little things and scout out the big stuff, according to Von Ehwegen. Those in canoes load up as much as they can. At a halfway point, they empty their loads into Dumpsters provided by Cutting Edge Tree Service, which then hauls it away. Everyone in the float refills their loads by the time they get to the takeout – Averyday Access. All of the trash is taken to the North Iowa Landfill the following Monday for sorting and processing.
Participating groups this year include Lime Creek Nature Center, Mason City's Active Living and Transportation Committee, Movement Solutions of Clear Lake, Landfill of North Iowa, Regency Subway, and the Cupola Inn Bed & Breakfast. 
Volunteers enjoy sandwiches and a little bit of river fun. Everyone who participates signs a commemorative paddle and a traveling trophy is handed out to the person who collects the strangest piece of trash.
Last year, that was a homemade wheelbarrow, Von Ehwegen said.
"Last year, right at the beginning right at East Park, we found a long plastic barrier of some sort – it looked like it was from a construction site or something – that had weights in it," Von Ehwegen said. "It was all wrapped around the bridge abutment. We had to call Cutting Edge to come out to cut it up so we could get it out of the water. And that was before we ever left East Park."
Mills says he knows every part of the Winnebago and has made it his goal to get on the water once a month every month of the year.
"I have to look at the trash all the time it's a lot nicer cleaned up," he said.