Providence in the form of an Osage city employee saved the life of Charlie Ruehlow.
Ruehlow had just finished fertilizing his lawn early in the afternoon of April 29 and was putting the equipment away when he went into cardiac arrest and collapsed in his driveway.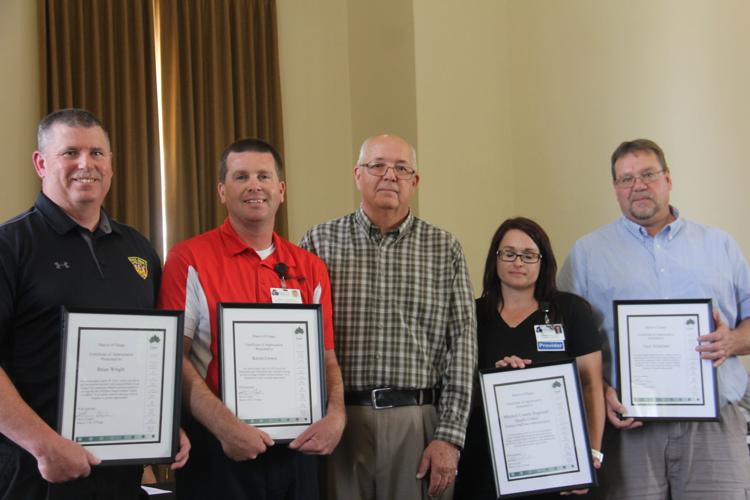 Water Superintendent Gary Schneider happened to be driving by when he saw Ruehlow's legs tangled in the spreader he was using. He got out to investigate and found the man on the ground.
He immediately began performing CPR, something he and other Osage city employees are trained to do.
Five minutes later, Police Chief Brian Wright arrived. Wright retrieved the defibrillator from his police vehicle. Together, he and Schneider gave Ruehlow initial shocks and continued CPR. 
A minute after that EMS Director Kevin Crowe arrived with the ambulance crew following seconds later. 
Schneider, Wright and Crowe, as well as the Mitchell County Regional Health Center and its ambulance department, were recognized last week for their extraordinary efforts.  
Mayor Steve Cooper presented them all certificates of appreciation during the June 3 city council meeting. Steph Taets also accepted a certificate on behalf of Mitchell County Regional Health Center. 
"This is the first time that I have given an award like this out of the mayor's office," said Cooper, who has been mayor for more than two decades. 
He said it's rare for cardiac arrest patients to survive because an extremely quick response is needed. 
Speed is what saved Ruehlow's life. He received a total of six shocks and was transported to Mitchell County Regional Health Center, where he was stabilized before being airlifted to MercyOne in Mason City. 
Ruehlow was at the meeting along with his wife, Lois, and the families of those receiving the awards. 
"Thank you for all you did for me," Ruehlow told the award recipients. 
Before presenting the awards, Cooper read aloud a letter from Ruehlow's family. 
"Please know how grateful we are for the resources of the good samaritans, public servants and highly-trained professionals that we have in Osage and Mitchell County.
"We are so fortunate to have our local hospital. Thank you to the Mitchell County Regional Health Center staff for the swift and professional care that Charlie received. The compassion expressed to our family during this difficult time was remarkable." 
"When a chief of police leads by such a great example and has high expectations, we can all be proud of that. Thanks also for having defibrillators in the police vehicles. Lives can be saved," the letter said.
Crowe was thanked for his "leadership and swift action."
Schneider "started this important race," the letter stated. "You did not disqualify us from a chance for more years with Charlie. Thank you for paying attention to your town and the people who live here. Thank you for your bravery and selfless act to save a life of someone you didn't even know until that day." 
Crowe said ambulance crew members Kristine Sorensen -- who, like Crowe, is a paramedic -- and Wes Hardy also deserve recognition for their role in saving Ruehlow's life. 
Still, "Gary was probably the real hero," Crowe said. 
If he hadn't come along and started doing CPR right away, Ruehlow probably wouldn't have survived, according to Crowe. 
He said it's rare enough to have one cardiac arrest survivor, but in Mitchell County there were two within the span of about a week. 
A Mitchell County Sheriff's Office deputy was instrumental in helping save a woman who went into cardiac arrest in early May, according to Crowe. 
The deputies, like the Osage police officers, have defibrillators in their vehicles. 
Crowe said he couldn't disclose more details because of medical privacy laws.