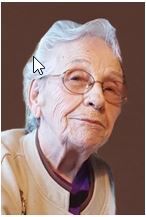 March 18, 1931-May 1, 2021
Mason City-Vera Lumm, 90, of Mason City, passed away Saturday, May 1, 2021 at the Sheffield Care Center in Sheffield, Iowa.
There will be a private family service and a celebration of Vera's life this summer.
Vera Belle Lumm was born in Pearl Rock to Harold and Martha (Bean) Baldwin on March 18, 1931. Vera married the love of her life, Earl Lumm, at the Little Brown Church on November 6, 1948. The Little Brown Church was a very special place to her as she attended Sunday school and grew up in Nashua. Vera had a love for her family, children, and her home. She was the first licensed in home daycare in Iowa. She was very proud of her plaque presented from Governor Branstad. There are several decades of children mom cherished and influenced thru the years. Vera was known for her baking abilities and there were always fresh cookies at mom's.
Left to remember mom is her husband, Earl; daughter, Brenda; sons, Doug (Sandy) Lumm of Mason City and Rod (Diane) Lumm of Sunrise Beach, Missouri; grandchildren: Julie (Brad) Pittman of Mason City, Jennifer (Paul) Johnson of Charles City, Tiffany (Kevin) Hart of Tiffin, and Ryan (Megan) Hejlik of Sheffield; 11 great-grandchildren; 6 great-great-grandchildren; brother, Gerald Baldwin of Tripoli; and many nieces and nephews.
She was preceded in death by her parents; son, Rick; daughter, Connie; siblings: Harry Nicholson, Ruby Onken, Delia Rank, Darlene Wandro, Burdette Baldwin, and Stan Baldwin.
In lieu of flowers, memorials may be directed to the Alzheimer's Association in remembrance of mom.
Hauser Weishaar Funeral Home, (641) 228-2323, 1205 South Main Street, Charles City, Iowa 50616 is in charge of local arrangements. Online condolences may be left on the Tribute Wall for the family at www.hauserfh.com.