In her last chat with the Globe Gazette from April of this year, Anita Andersen, 76, said that she still spent as many as 20 hours a week helping out at Andersen's Market on 19th Street Southwest in Mason City because she cared about her customer base and wanted to foster a sense of community. 
"I have customers, who are friends, who I've had for a long time and I like going out and helping them pick out what they want," Anita said.
Before April is over, the family will run its almost store in Mason City and do business in Clear Lake as well.
That community will now have to carry on without Anita and her husband, Chris Andersen Sr., 77, who died on Saturday, Sept. 4 near Colwell in a two-vehicle collision. With that, they leave behind not just family and friends, but years of work and service throughout an area they both loved.
"Such a wonderful couple. They will be missed. Prayers for the family," one person wrote in the comments section of the Globe Gazette Facebook post for the initial story. Another said that their passing represented a "Huge loss to Mason City and Clear Lake." A third shared a similar sentiment: "My deepest sympathies to the family!! A terrible loss to the community! Awesome people gone too soon."
From a 1965 wedding announcement in the Globe Gazette, Anita Ann Hartwig and Chris P. Andersen were wed on Sunday, June 20 of that year. She was the daughter of Mr. and Mrs. August J. Hartwig of Bradford while he, an Airman Second Class, was the son of Mr. and Mrs. Grant Andersen of Alden. 
Chris Andersen Jr. and Susan O'Connor, two of Anita and Chris Andersen Sr.'s children, recalled how their parents met, and just how important they were to each other.  
"They met at the skating rink in Iowa Falls," O'Connor recalls. "My mom's date didn't show up, and my dad took her home. 
"They were always together," O'Connor said. "They enjoyed the same things, antiques, flowers and people."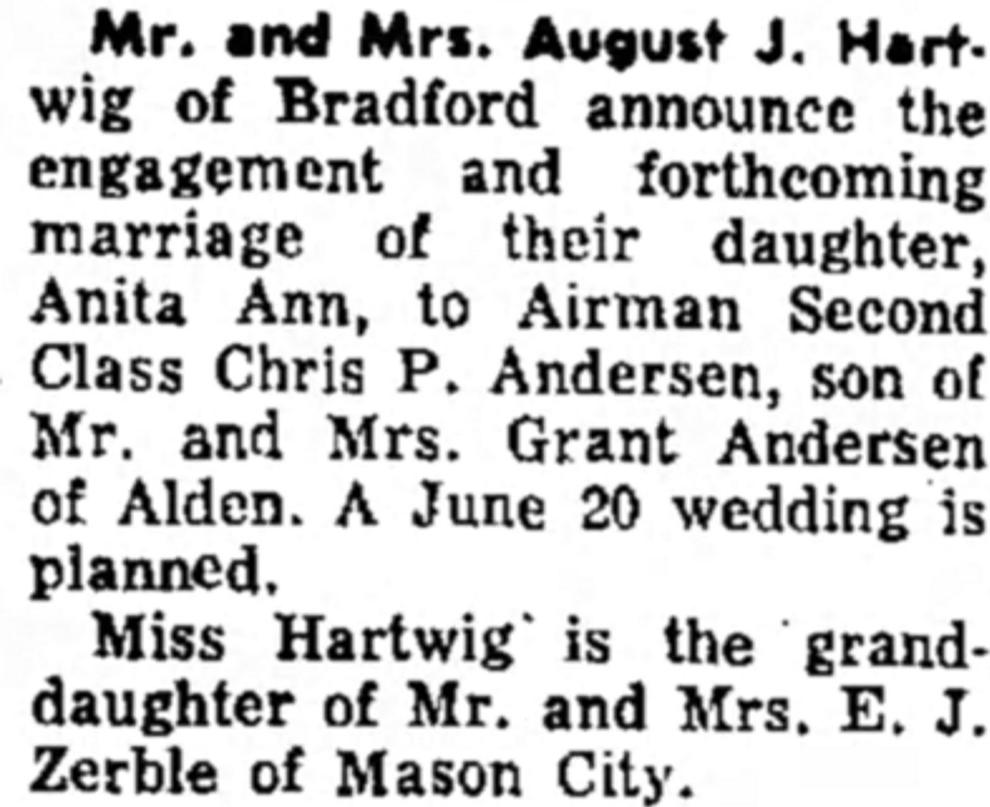 Though that short announcement piece from more than a half-century ago didn't speak much to the couple's dynamic, one in the Globe Gazette from June 2009, when they were celebrating their 44th anniversary, captured a great bit of rapport between the two during a free movie night event at East Park.
"She's a cheap date," Chris Sr. said, with a laugh, while sitting with Anita.
Five years prior, on June 21 2004, Anita and Chris Sr., with the help of their son Mike, opened up Andersen Produce and Antiques in Mason City. An article about the opening from Brian Spannagel reported that three times a week the family would travel together to the outskirts of Elma to buy between 100 and 200 pounds of produce from Amish and Mennonite communities.
Before starting the store, the Andersens actually sold produce in the Mason City Kmart parking lot, which attracted quite the crowd.
"In July, people fight over the yellow watermelon," Anita said at the time.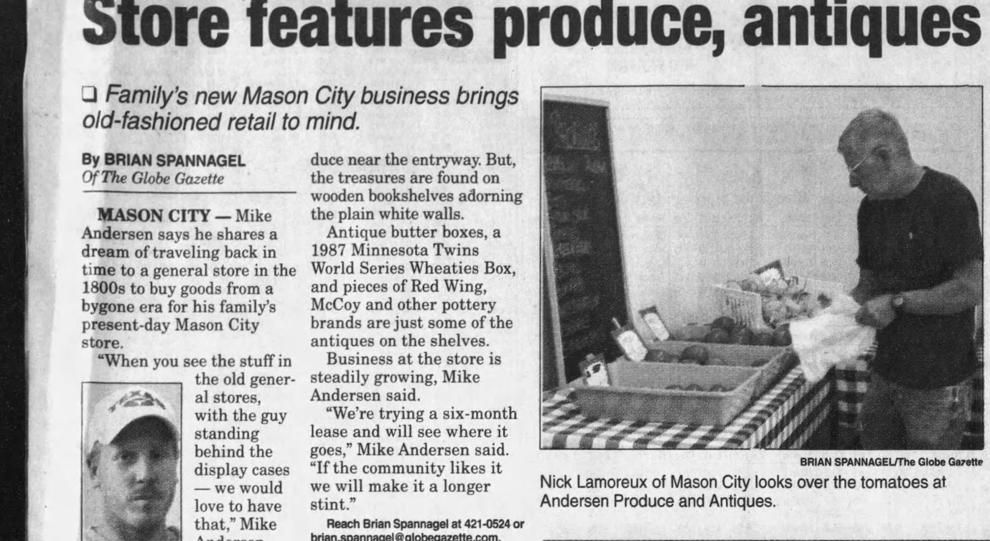 Along with the business, which expanded to Clear Lake earlier this year after a long planning process, Anita and Chris Sr. gave their time to the community. 
A 2006 article from the Globe Gazette shows that Anita worked the Clear Lake Harvest Festival and a 2008 piece reported that both Anita and Chris Sr. were recognized by the city of Mason City for their volunteer work in May of that year.
"Mom and dad touched hundreds and hundreds of people, thousands," O'Connor, said. "We're so proud that they knew and helped so many people, and so many people loved them." 
"The selfless acts they would do, that's kind of what made us who we are," Chris Jr. said. 
Chris Jr. said that the church his parents attended and where services will be held, the United Methodist Church in Mason City, which has a capacity of 550 people, might not be big enough to host the service for the two of them.
The impact the Andersen family had in Mason City was almost immediate when the family moved to the area. Chris Jr. and O'Connor remember how many people would show up at their door just to buy flowers from their mother before they opened Andersen's Market.  
"The police got after her for causing traffic jams down here," O'Connor recalls of her mother selling plants out of the house. "They realized they had to move somewhere."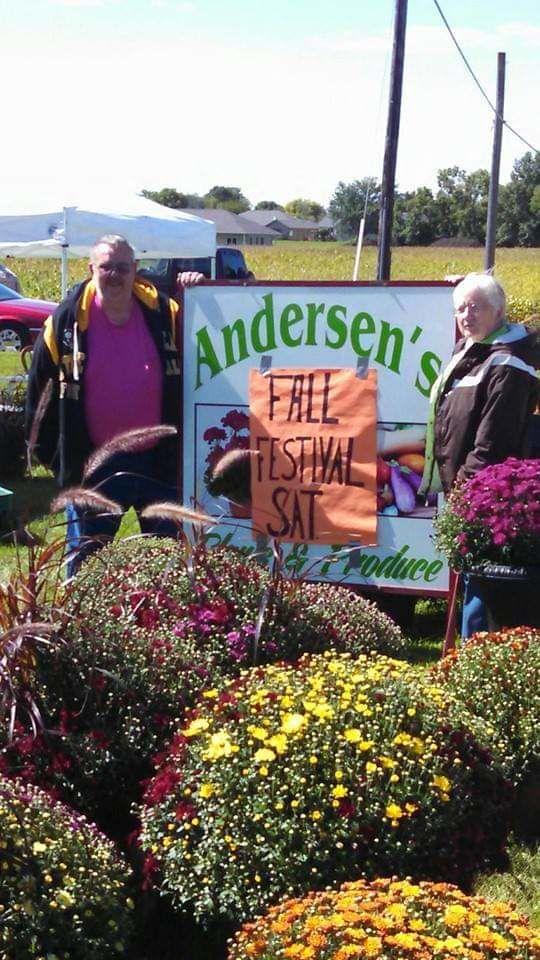 "Literally there was cars backed up to East Park," Chris Jr. said. "She had flowers in the driveway, through the backyard and into the garage." 
Anita and Chris Andersen Sr. are survived by their three children: Mike Andersen, Chris Andersen Jr. and Susan O'Connor, grandchildren Katie Anderson, Jeffrey, Anna and Blaze Andersen, and great grandchildren Hayden and Raya Kleinschmidt and Gus Anderson.
The family has yet to announce when a service will be held.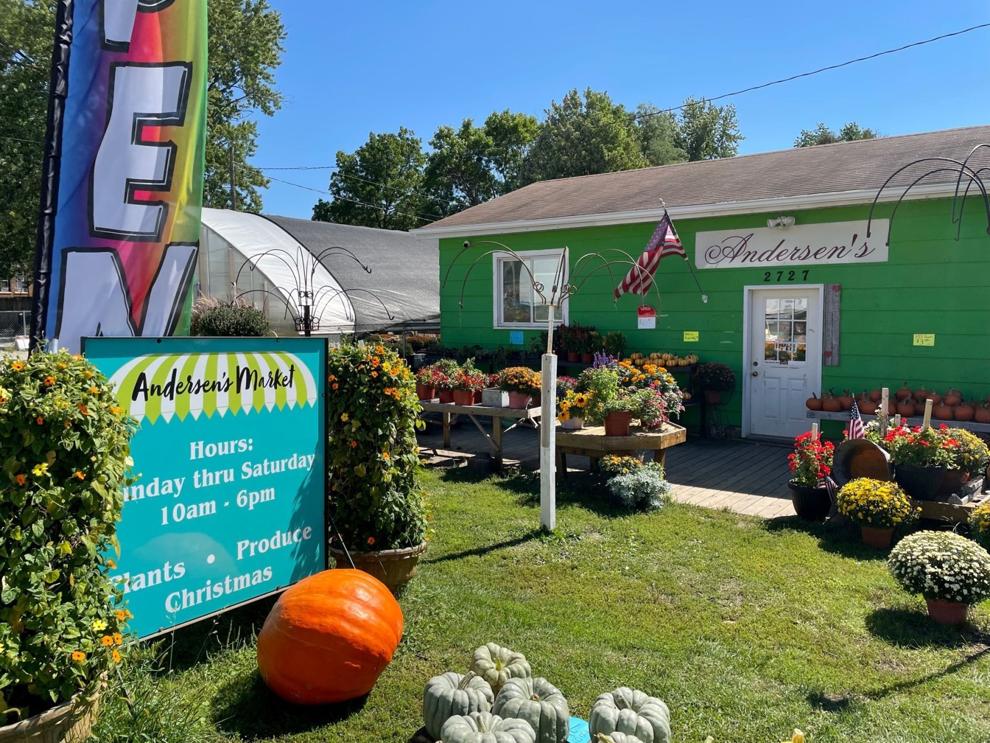 Jared McNett covers local government for the Globe Gazette. You can reach him at Jared.McNett@globegazette.com or by phone at 641-421-0527. Follow Jared on Twitter at @TwoHeadedBoy98.