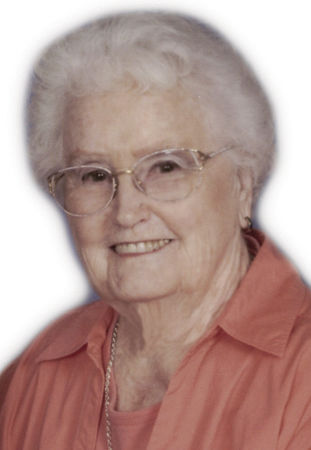 Lelia M. (Schwartz) Hansen Bates
Lelia Margaret (Schwartz) Hansen Bates, of Mason City, entered her heavenly home Monday, April 13, 2020 at MercyOne North Iowa – Hospice Inpatient Unit. A graveside service was held on April 17, 2020 at Memorial Park Cemetery, Mason City. Due to continued COVID-19 activity and restrictions, no additional services will be held.
Lelia was born February 16, 1931 to Theodore and Margaret (Cassens) Schwartz, in Cook County, South Dakota. She was the seventh of nine children. In 1934 the family moved to a farm near Clear Lake, Iowa. A year later they moved to the Plymouth area where she lived until her marriage. She graduated from Plymouth High School in 1948.
During her early working career, she worked at Montgomery Wards and United Dairy.
She was united in marriage to Alvin C. Hansen on August 14, 1949 at the Radio Chapel in Mason City.
Lelia was a true partner to Alvin in their livestock and crop operation. She took great pride in her farrowing operation which she managed for 33 years. Alvin and Lelia farmed for over 50 years on their century farm in Owen Township, Cerro Gordo County, until Alvin's passing in November 1999.
In 2002 Lelia left the farm and moved to Mason City. She filled her time with volunteering, traveling, quilting, church activities, and serving on the board of the Mason City Senior Center.
Her love of music played an important role in her life. She enjoyed singing as well as playing accordion, piano, and organ.
She was a longtime member of the First Covenant Church where she served on many boards and committees. She and Gordon were also members of the Wesley United Methodist congregation. She loved her church families.
She married Gordon M. Bates on April 14, 2005. Together, they enjoyed dancing, playing cards, gathering with friends and family, and traveling. For many years Gordon and Leila sang and played at area care centers. They loved to JAM with friends at their winter home in Mission, Texas.
Lelia became an avid fisherwoman and spent many summers on the lakes of Minnesota.
She was a very accomplished seamstress. With a large family to clothe, her sewing machine was always working. Over the years her sewing interests grew to include making beautiful gowns and coats, upholstery, and creating with pigskin leather. A highlight for her was to be able to make several western-style pigskin sports coats for country artist, Charlie Daniels.
Lelia's love for her Lord and dedication to her family was the driving force of her life.
Survivors include her husband, Gordon; her children, Vikki (Randy) Fischer, Thornton, Rosemary (Dan) Barr, Ames, Dixie (Dr. Robert) Polle, Sioux City, James (Christine Friedrich), Mason City, and Dawn (Scott Borwig) Ethofer, Polk City; grandchildren, Abby Anderson, Dr. Adam (Amy) Ostendorf, Wanda and Courtney Barr, Danielle (Eric) Woestman, John and Dr. Mark Polle, Crystal (John) Richards, Colton and Cade Hansen, and Grace Ethofer; great grandchildren, Delaney, Avery, and Colin Anderson, Cora and. Violet Ostendorf, Alexandra Wilkey, Harper Anderson, Iris and Runa Woestman, and Jack and James Richards; as well as her sister, Judith (Russell) Borchardt, Clear Lake and many nieces and nephews. Also included are Gordon's children, Todd (Sherry King) Bates, and Julia (Sterling) Bierbrodt and their families.
Lelia is preceded in death by her husband, Alvin; an infant daughter; her parents; and siblings and their spouses, Evelyn (Reuben) Bartusek, Vera (Vernon) Johnson, Eileen (LaVern) Rognes, Russell (Marguarite) Schwartz, Loretta (Willis) Koenigsburg, June Bradley, and Mavis (Clarence) Deardeuff.
Gordon and the Hansen family wish to thank their family and friends for the many acts of remembrances honoring Lelia. Your kindnesses have been overwhelming.
Hogan Bremer Moore Colonial Chapel, 126 3rd St NE, Mason City. (641)423-2372. ColonialChapels.com.
To plant a tree in memory of Lelia Bates as a living tribute, please visit Tribute Store.
Obituaries Newsletter
Sign up to get the most recent local obituaries delivered to your inbox.