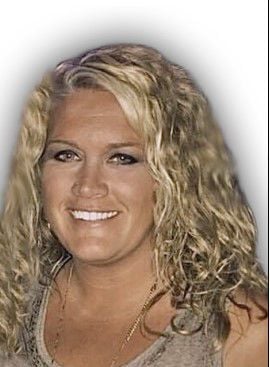 August 12, 1983-May 3, 2020
MASON CITY- Lauren M. Lee, 36, of Mason City, passed away May 3.
Memorial services will be held at 10:00 am on Tuesday, June 2, 2020 at St. James Lutheran Church, 1148 4th St. SE Mason City, with Rev. Jeni Bohls, officiating.
Visitation with public viewing will be held Monday, June 1, 2020 from 4 pm until 7 pm at Hogan Bremer Moore Colonial Chapel, 126 3rd St NE, Mason City.
Additionally, a livestream of Lauren's funeral service will be broadcasted at 10:00 am on the Hogan-Bremer-Moore Colonial Chapel Facebook page and a recording will be shared to her memorial page at ColonialChapels.com.
Lauren Michelle Lee was born August 12, 1983 at Moline, Illinois. The daughter of Greg Lee and Jennifer Dorsey-Lee. She attended Mason City schools, graduating in 2002.
She is now with The Lord in Heaven and peacefully holding her son, Everett. Our hearts are broken as she leaves her children and family behind.
Lauren will always be remembered for her amazing sense of humor, her bright, beautiful smile that followed her everywhere she went. Lauren was the most amazing mother to both Everlee (8) and Hayes (1). Lauren was always planning the next big adventure for her kids, with Nate, and Nate's children, Lilly and Owen. There had never been more hope in her heart for her own happy ending as in the years immediately preceding her passing.
Tough love but only because she would never be fake, she would always give you the truth with a smile and so much support. She made you feel like the center of the universe if you were in her circle.
Her love of life shows in every picture that has posted on Facebook, every Snapchat with Nate and her many loving friends, pictures with her brother Michael and her sister Nicole (Coley), and all of us that were able to see her love and sense of humor through those sometimes crazy, but fun posts.
She was a beautiful singer, loved music and participated in a band.
Lauren loved her Hawkeyes and Packers! She made her first trip to Lambeau field with Nate last fall. She loved to dream of travel to amazing spots throughout the world.
Lauren graduated from MCHS in 2002 where she was active in golf, softball, and music.
She attended NIACC and also Kirkwood CC.
She worked as a project manager with ACT Corp in Iowa City, IA before moving back "home" to be closer to her family.She was then employed with Good Shepherd as a HR manager, before moving on to her current position with Principal Financial along with a part time position at Rookiesevens in Clear Lake.
She is survived by her significant other Nate Kuppinger, Mason City; Mother Jennifer (Steve Shannon) Dorsey-Lee, Clear Lake; Dad, Greg (Laurie) Lee, Lakeville, MN; daughter, Everlee Louvar; Son, Hayes Kuppinger; Brother, Michael (Jessica Kane) Lee, Lonsdale, MN; Sister, Nicole Patrick, Mason City; Nate's parents, Matt and Jen Kuppinger; Nate's sisters, Katelyn Becraft and Megan Bieber; Father in Law, Bob Louvar, Solon, IA; Sister in Law, Missy(Tim Wigger) Louvar, Solon, IA; many aunts and uncles, Elizabeth and Kevin Hatle; Annie and Bill McKenna; John and Alanna Dorsey; Ricky Lee; Vicki and Steve Scholl; Bobby Snyder; Sheri Lee, Theresa and Randy Logan; Kathy and Chris Hagen; Erin and Robert Murphy.
She was preceded in death by her son Everett Louvar; grandparents, Donald Lee, Elaine (Lynn) Snyder, Robert Snyder, John and Janet Dorsey; aunt Cindy Lee; mother in law Carrie Louvar; great uncle Bob Mackin; great grandparents Harry and Louise Lee; Obert and Evelyn Quisling, John and Bunny Mackin, and Ruth Webb.
Lauren leaves behind many loving great aunts, great uncles, and cousins that were such a wonderful part of her life.
Hogan Bremer Moore Colonial Chapel, 126 3rd St NE, Mason City. (641)423-2372. ColonialChapels.com
Obituaries Newsletter
Sign up to get the most recent local obituaries delivered to your inbox.