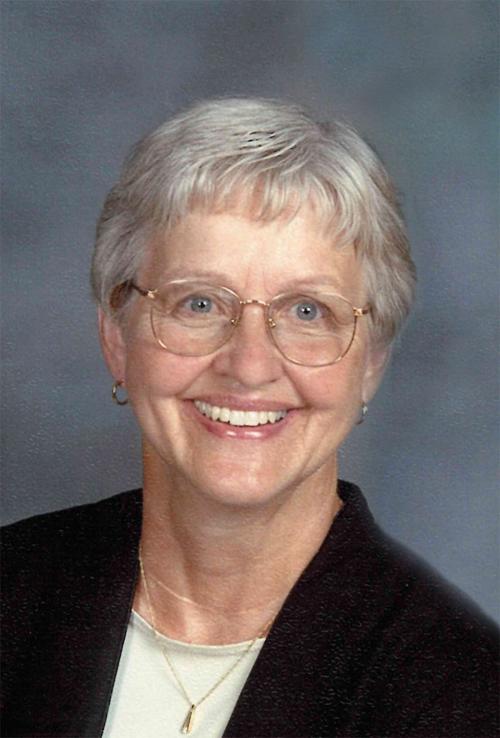 July 31, 1940 - September 6, 2019
Funeral services for Joy will be held at 1:30 PM on Saturday, 14 September 2019 at Good Hope Lutheran Church in Titonka. Visitation will be held from 4:00 to 7:00 PM on Friday, 13 September 2019 at Oakcrest Funeral Services in Titonka. Burial will be in Good Hope Lutheran Cemetery, Titonka. Online condolences may be left at www.oakcrestfuneralservices.com
Joy Tjaden was born 31 July 1940 at the Tjaden farm in rural Titonka. She was the 5th child of Stephen and Flora (Bruns) Tjaden. Joy was baptized into the Christian Faith on 15 September 1940 at Good Hope Lutheran Church and was confirmed on 03 April 1955 at Good Hope Lutheran Church.
Joy attended Ramsey Township # 7 school through 3rd grade and when that school closed, attended Titonka Consolidated School where she was involved in many school activities. She graduated from Titonka Consolidated High School in May of 1958. She then attended St. Olaf College in Northfield, Minnesota where she graduated with a BA degree in May of 1962. Upon graduation from college, she entered the teaching profession and taught in the public schools at Wapato, Washington and Portland,
Oregon. She then taught in the Department of Defense Schools in Bremerhaven and Ramstein, Germany and while in Germany, traveled extensively throughout Europe. Upon returning to the states, she taught in public schools in Wapato, Washington, Manchester & Grinnell, Iowa. While teaching, Joy became an avid skier, skiing in the mountains of the western U.S as well as in the Alps in Europe. She also became a proficient golfer.
Joy married Allan Boyken on 13 June 1968 at Good Hope Lutheran Church and they lived in Marshalltown, Iowa for about 5 years. While in Marshalltown, she joined Elim Lutheran Church. In 1973, she moved back to Titonka with her family and rejoined Good Hope Lutheran Church. To this union, 3 sons were born. Joy was a dedicated and caring mother raising her 3 sons.
Joy served 21 years on the Titonka Consolidated School School Board. She also became interested in woodcarving, organized various woodcarving classes, organized the Titonka Woodcarvers Guild and also organized the Waldorf Woodcarving Seminars which ran for 17 years. In addition, she was active in various community and church activities.
Joy was an outgoing, optimistic person. She stayed active in spite of living with Multiple Sclerosis for over 40 years. In addition, she lived with and battled Multiple Myeloma for 12 years. She died on 06 September 2019 at the Titonka Care Center after a two week stay there.
Joy is survived by her husband Allan of 51 years, her sons Aaron, Marshall (Miya) and Lucas (Sheri), her 8 grandchildren, her brother, Dr. Herbert (Alice) Tjaden, her sister Lorna (Karl) Tjaden and her sister-in-law Barbara Tjaden and by a host of nephews and nieces. She is also survived by brothers-in-law Dr. Mark (Barb) Boyken, Karl (Diane) Boyken and Quentin (Inez) Boyken and by sister-in-law Carolyn Boyken.
Joy was preceded in death by her sister Marjorie Rand, her brother William Tjaden, daughter-in-law Jennifer Boyken and brother-in-law Jeffrey Boyken.
Joy always expressed appreciation for all of the prayers and support she received from her family, community and friends and was often heard to say during her illness that she could feel the power of prayer. She was also appreciative of the wonderful care she received from Mayo Clinic over the years.
She expressed the wish that any memorials be given to the Titonka Care Center Generator Fund, Good Hope Lutheran Church in Titonka, The Gift of Life Transplant House in Rochester, Minnesota or the Mayo Clinic in Rochester, Minnesota.
The family would like to thank you for your many acts of kindness and expressions of sympathy and invite you to a time of fellowship following the church service.
To plant a tree in memory of Joy Boyken as a living tribute, please visit Tribute Store.
Obituaries Newsletter
Sign up to get the most recent local obituaries delievered to your inbox.