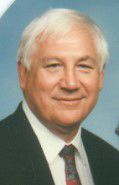 March 15, 1931-December 29, 2019
It is with great sadness that wife Nancy Reuber of Eden Prairie, MN, son Mark Reuber of Ames, IA, daughters Linda Reuber of Minneapolis, MN and Lisa Garberg of Chanhassen, MN, grandchildren Alexa and Nick Garberg and son-in-law Pete Garberg of Chanhassen, MN share news of the passing of John Henry Reuber. Beloved husband, father, grandfather and father-in-law, John died peacefully at home with his family by his side. He passed away December 29, 2019. He was 88 years old.
Born March 15, 1931 in Mason City, John was the son of the late Dr. Roy Nelson and Gladys Reuber who instilled in him two important values that remained with him until his death: a strong work ethic and the importance of treating other with respect and kindness. Similarly, his generous nature and characteristic sense of humor defined him throughout his life.
John was especially proud of being born in Mason City's North End and would frequently share stories of eating 'sugar sandwiches' and having 'sling shot fights' with his friends in the alley there. A standout full back on the football team and an elite wrestler, John graduated from Mason City High School as senior class president in 1949 and was subsequently inducted into the high school's hall of fame in 2018 for his wrestling achievements. He then attended Iowa State University and was a member of Alpha Zeta, a national honorary agriculture fraternity, Phi Eta Sigma, a national scholastic fraternity, and Phi Kappa Psi social fraternity graduating with a degree in agriculture business in 1953. Yet it was his attraction to Nancy Parr, who lived in the sorority next door, that most defined these college years. They were married in 1954. John's subsequent interest in law prompted their move to Des Moines while attending Drake University Law School. There he graduated in 1958 and received the prestigious "Order of the Coif" for graduating second in his class and was given the Juris Doctor Degree with Distinction. John and Nancy then returned to Mason City to start his law practice. For 55 years, he practiced probate and real estate law there. His love for people, service and his community led him to participate and volunteer in many local organizations. Most dear to him were Lion's Club, the Easter Seal Drive, Junior Chamber of Commerce, the YMCA and the Cerro Gordo County Bar Association. His Mason City years were also characterized by his love of the water, namely sailing, boating and fishing trips to Canada. John and Nancy eventually moved to Clear Lake in 1999 after spending many summers there over the years. It was a cherished gathering spot and place where John loved to entertain his family and friends. Growing up, John spent summers and weekends on his family farm. He continued this love by taking his children and grandchildren there to plant trees, pick sweet corn and especially feed the farm animals. In addition to time at the lake and the farm, John loved watching his kids and ISU sporting events and attending the Drake Relays. In 1991 he decided to re-enter competitive sports for fun and participated in the Iowa Games in shot put, discus and free throw events. Their final move was to Summit Place in Eden Prairie, Minnesota in 2015.
Despite many milestones and memories, however, it was John's family that brought him the most happiness and joy. Throughout sixty-five years of marriage, his soulmate, Nancy, was a constant by his side. His love and pride for his three children was unending and his two grandchildren brought him pleasure beyond words. John truly felt most blessed when all his family was together.
I may not always be with you
Remember you will be with me
A private family funeral is planned in Eden Prairie, MN. Interment will be at a future date at Elmwood-St. Joseph Cemetery in Mason City, IA. Online condolences can be shared on: www.washburn-mcreavy.com. In lieu of flowers, memorials may be made to any local hospice or Alzheimer's Association in John's memory. Written condolances can be sent to: Mrs. John Reuber, 8505 Flying Cloud Drive, #241, Eden Prairie, MN, 55344. The family would especially appreciate friends sharing memories of their times with John.
Obituaries Newsletter
Sign up to get the most recent local obituaries delivered to your inbox.