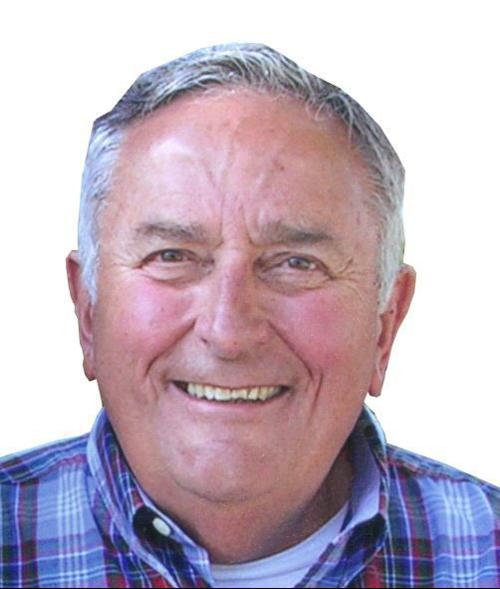 July 26, 1933 - September 8, 2019
Jimmy John Fountas, 86, of Mason City, IA died Sunday (September 8, 2019) at Good Shepherd Health Center, surrounded by his loving family.
Funeral services will be held at 10:00 am, Wednesday (September 11, 2019) at Holy Transfiguration Greek Orthodox Church, 1311 2nd St SW Mason City, with Rev. Joseph Mirowski officiating. Burial will follow in Elmwood St. Joseph Cemetery in Mason City, IA.
Visitation will be held from 4:00 pm until 6:00 pm on Tuesday (September 10, 2019) at Hogan Bremer Moore Colonial Chapel, 126 3rd Street NE, Mason City, with a Trisagion service beginning at 6PM.
Expressions of sympathy may be directed to the Jim Fountas Memorial Fund.
Jim was born in Mason City, IA on July 26th 1933 to John and Cynthia (Schick) Fountas. He graduated from Mason City High School and NIACC. Jim enlisted in the United States Army in 1953, serving in Korea as a Mess Sergeant until his honorable discharge in 1955. He worked at Lehigh Cement Company until 1964, then joined the Mason City Police Department, serving 30 years until his retirement in 1994 as a Lieutenant Shift Commander. During his career as a police officer, he also worked part-time at S&H Green Stamps as well as Damon's Department Store. After his retirement from the police department, he was a security officer at Mercy One Hospital until the year 2000.
He married Geraldine Prather in 1956, living happily together for 41 years until her passing in 1997. Jim later married Joyce Whalen in 2001, celebrating their 18th anniversary in February of this year. Jim was a lovingly devoted husband, father, grandfather and great grandfather. He enjoyed hunting, fishing and spending time with his family. He also enjoyed playing 500 and was always ready for a card game. His love for Greek cuisine was evident at family gatherings.
Left to cherish his memory are his wife, Joyce Fountas of Mason City; children, George (Cindy) Fountas, Laurie (Tim) Lichman of Mason City, Staci (Greysen) West, Brad (Jen) Whalen of Arizona, Trent Whalen of Waterloo; grandchildren, Sara (Tom) Deja of Oregon, Jared Lichman of Iowa City, Mia Whalen, Brandon Adair and Ashleigh Adair of Arizona, Garrett (Ashley) West of Clear Lake, Jason (Jessica) VanHeel of Mason City, Susan (Ryan) Carroll of Minnesota, Matt (Vicki) VanHeel of Mason City, and 5 great grandchildren. He's also survived by his siblings, Stella Rodemeyer of Texas, Florence Larson of Clear Lake, and Thomas (Bev) Fountas of Wisconsin; brothers-in-law, Jim Hennigar of Fort Madison, Jim (Joetta) Kelley of Evansdale, Jerry (Connie) Kelley of Nora Springs, Jeff (Lisa) Kelley of Rockford; as well as sisters-in-law, Darlene Fountas of North Liberty, Janice Turnbull of Mason City, Bernadine (Ken) Rodemeyer of Mason City, Rosemary (Gaylen) Dick of Milford; plus many nieces and nephews.
Jim was preceded in death by his parents; first wife, Geraldine; George and Barb Fountas, Stan and Kelli Fountas, Nick Fountas, Mona Hennigar, Bob Larson, Dalton Rodemeyer, Phyllis and Roy Henaman, Patricia and Ray McCarville and Jack and Bonnie Prather.
Hogan Bremer Moore Colonial Chapel, 126 3rd St NE, Mason City. (641)423-2372.
To plant a tree in memory of Jimmy Fountas as a living tribute, please visit Tribute Store.
Obituaries Newsletter
Sign up to get the most recent local obituaries delivered to your inbox.