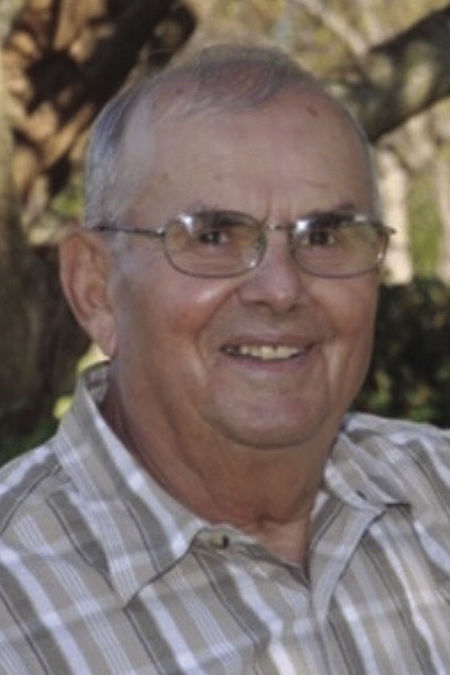 MASON CITY – Duane Thomas Rohrer, 89, of Mason City, died Wednesday, July 15, 2020, at the IOOF Home in Mason City.
A private family Mass of Christian Burial will be held on Friday, July 31, 2020, at Epiphany Parish St. Joseph Catholic Church, Mason City. A private family burial will be at Elmwood-St. Joseph Cemetery in Mason City.
Visitation with a public viewing will be held from 4:00-6:00 p.m. Thursday, July 30, 2020, at the funeral home in Mason City, where a Fourth Degree Knights of Columbus Rosary will be said at 5:45 p.m. Due to the COVID-19 pandemic, attendees are asked to wear face masks and practice social distancing.
In lieu of customary remembrances, the family suggests memorial contributions be made to the Parkinson's Foundation in memory of Duane Rohrer. www.parkinson.org.
Duane was born September 30, 1930, the son of Harold and Della (Hillpiper) Rohrer in Woolstock, IA. He married Carol (Olson) on April 23, 1952, in Clarion, IA.
A graduate of Clarion High School, Duane enlisted in the United States Army Signal Corps and served during the Korean Conflict. Following an honorable discharge, he worked for Northwestern Bell Telephone Company as a repairman and installer. After 40 years, he retired from AT&T in 1992.
Duane was a member of Epiphany Parish St. Joseph Catholic Church in Mason City, Columbia Club (Knights of Columbus) where he served as Grand Knight, District Deputy, Faithful Navigator and managed the local council in Mason City. He also helped establish Little League Baseball with the Knights of Columbus, and continued his involvement for 28 years. Duane coached one of the first two teams in 1962 and with his and numerous others involvement, by 1990 there were 1,000 boys and 85 teams involved! Tuffy enjoyed many trips with his family "up North".
Always being patient when he would take his, not quite so experienced, daughters and grandkids out, making sure they got to a crappie hole as he baited hooks, took off the fish and told stories all while smiling and whistling away. Tuff also went on many guy trips with his son, brothers and friends to Arkansas along with memorable ice fishing excursions. He was always eager to get out on that frozen lake and is known to be one of the first to drive out each year on the fresh ice to get the fish! Tuff was actively involved with running and managing several community drives and fundraisers throughout Mason City. Those included fish fry's, watermelon feeds, chili feeds and many meals prepared and served through the Community Kitchen. Tuff loved watching his grandkids' sporting events! He and Carol rarely missed a local game. You could find him in the stands cheering proudly while wearing their high school pins, hats and t-shirts!
Duane "Tuffy" Rohrer touched many lives, but mostly he was a beloved and wonderful Husband, Father, Grandpa, Great Grandpa, Brother, Uncle, friend and servant to others.
Duane is survived by his loving wife of 68 years, Carol; five children, Mike (Traci) Rohrer of Mason City, Mickey (Bob) Roderick of Mason City, Lori (Tom) Wynn of Naples, FL, Mona (Mitch) Hoy of Mason City and Lynn Reiners of Orono, MN; grandchildren, Sara Rohrer Cox, Erin Sanderson, Breanna Johnson, Rachel Lange, Jeri Sberal, Jake Roderick, Katie Roderick, Kari Roderick, Kelli Davis, Roger Carlson, Amy Hogg, Rhea Anderson, Ryan Mix, Taylor Ott, Anisa Hoy, Justina Abimanyu, Jordan Hoy, Tanner Hoy, Sydney Reiners, Grace Reiners and Justus Reiners; 27 great grandchildren; and siblings, Edward (Fritz) Rohrer, Caryl John Rohrer and Diane (Gary) Dahlgren.
He was preceded in death by his parents; sister, Mary Lois Hagen; brothers, Francis Rohrer and Gary Rohrer.
Tuff's family would like to thank the IOOF Home and MercyOne North Iowa Hospice, both in Mason City, for their wonderful care and love shown to him.
Hogan-Bremer-Moore Colonial Chapel, 126 3rd St. NE, Mason City. 641-423-2372. ColonialChapels.com.
To plant a tree in memory of Duane Rohrer as a living tribute, please visit Tribute Store.
Obituaries Newsletter
Sign up to get the most recent local obituaries delivered to your inbox.