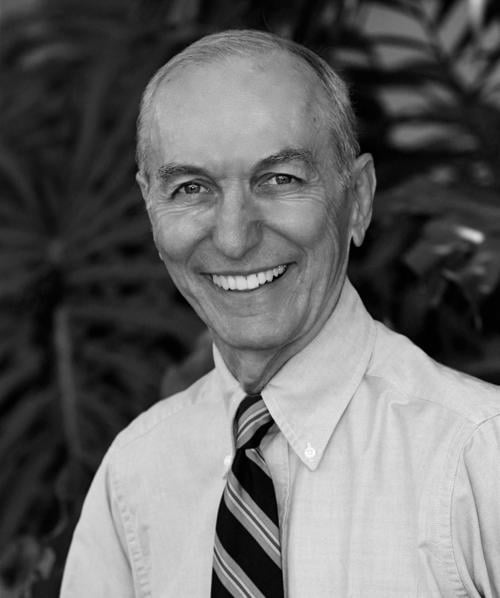 April 5, 1945 - July 13, 2019
"What do I know? I'm just a boy from Iowa," became a common refrain Dr. Michael J. Masters usually delivered with a grin – sometimes punctuated with a laugh - when he learned something new. A consummate chiropractor and healer, Dr. Masters delighted in learning a few new things every day. Arguably, he now knows everything.
Dr. Masters, 74, died surrounded by the love of his wife Judy and daughters Kate and Coco on the afternoon of July 13, 2019, in Honolulu, Hawaii, where he had practiced chiropractic for 33 years.
The youngest of four sons, Michael J. Masters was born in Carroll, Iowa, on April 5, 1945, to the late Mary Jane and Dr. Ronald Ommen Masters, Sr., patriarch of his family of chiropractors.
A boy for all seasons, comics and robots, 6-year-old Masters jumped from a swing to attempt flight. He broke his arm in the fall but walked away buoyantly unafraid of the impossible. (Sixty-eight years later, doctors bestowed him with that elusive moniker: "Superman".)
After high school graduation, a summer spent motorcycling Europe, followed by a double-major B.A. in Religion and Psychology from the University of Iowa, Dr. Mike enlisted in the U.S. Coast Guard in 1967, deferring his acceptance to graduate school.
You have free articles remaining.
Stationed as a Coast Guard Quarter Master in Honolulu in 1968, he met Lahaina-born Judy Ai Imamoto. After years of courtship and a return to Iowa, they married on July 31, 1971, adorned with haku and maile lei under the oak trees of his older brother Dr. Lance's property in Mason City.
In 1974, Dr. Mike was bestowed the degree of Doctor of Chiropractic summa cum laude from the Palmer College of Chiropractic, and eventually took over his father's practice in The Masters Chiropractic Clinic, where he worked alongside his brothers, Dr. Lance Masters (deceased) and Dr. Ron Masters.
In 1986, Dr. Mike returned to Honolulu with his family's tradition of chiropractic, wife, Judy and two daughters Kate and Coco. The community welcomed him. He served his patients, first in the Masters Back & Neck Pain Relief Center on South Beretania St., then he moved to the Medical Arts Building on King Street in 1997.
Dr. Mike practiced for 45 years with a passion and integrity of care unrivaled by his peers, adjusting many thousands of patients and becoming a respected, central figure in Honolulu's healthcare community.
He found problem-solving at the core of his profession "fascinating", enthralled by how to tackle subluxation and the resilience of the human body. Intense curiosity combined with his voracious reading habits, Dr. Mike drew from various chiropractic methods, techniques and research to apply them to his practice.
He was a member of the American Chiropractic Association, Hawaii State Chiropractic Association, and the American Public Health Association. But a pinnacle experience for Dr. Mike was his first official recognition as an outstanding member of Hawaii's health community in 2006 when he won The Honolulu Advertiser's "The Best of the Best" People's Choice Awards for Chiropractor. Beaming and proudly telling his wife, "Well, you always wanted me to be the best."
In 2016, he was diagnosed with Waldenstrom's macroglobulinemia, a rare cancer he termed "a disease old white guys get". Putting aside his plan to reach centenarian status, he rested four months while undergoing chemotherapy and switched to part-time at the office, allowing parity with his associate, Dr. Elliott Hirai, and himself more time at home to enjoy with Judy and their miniature schnauzer Zoe, and overseas visiting their daughter Coco.
Dr. Mike Masters is survived by his wife Judy, two daughters Kate Masters and Coco Masters, Honolulu, Hawaii, Brother Dr. Ron Masters and wife Pat, Mason City, Iowa, Sister-in-law Linda Masters, Phoenix, Arizona, and eight nieces, and nephews. He was preceded in death by his parents Dr. R.O. Masters Sr. and Mary Jane Masters, brothers Dexter D.Masters, and Dr. Lance Masters, and sisters-in-law Nancy Masters and Lily Imamoto. Condolences may be sent to, The Masters family, 1010 King Street, Suite #213, Honolulu, HI 96814.
A service to celebrate the life of Dr. Michael Masters will be held Saturday, August 3, 2019 at 10:00 a.m. at the Central Union Church Windward 38 Kaneohe Bay Dr. Kailua, HI 96734
To plant a tree in memory of Michael Masters as a living tribute, please visit Tribute Store.