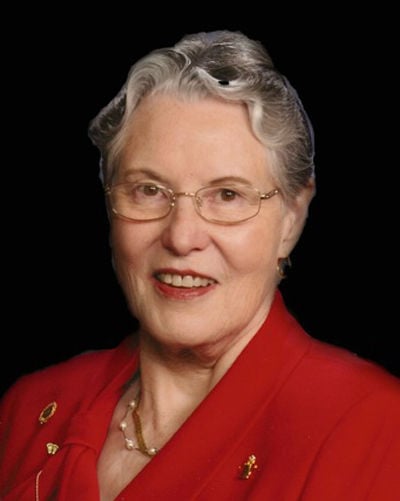 GARNER | Donna Lou Young Rayhons, 78, of Garner died Friday, Aug. 8, 2014, at the Rehabilitation Center of Hampton.
Funeral services will be held 10:30 a.m. Tuesday, Aug. 12, at St. Boniface Catholic Church in Garner with Fr. Dennis Miller officiating. Burial will be in St. Boniface Catholic Cemetery.
Visitation will be held from 4 to 7 p.m. Monday at the Cataldo Funeral Chapel, 160 E. Fourth St. in Garner, with a rosary at 3:45 p.m. and a Scriptural wake service at 7 p.m. Visitation will continue one hour prior to services at the church.
Memorial contributions may be made to St. Boniface Catholic Church or Hospice of North Iowa.
Donna, the daughter of Otto and Maria (Heinichen) Lehmann, was born Aug. 12, 1935, in Mason City. Her parents owned and operated the Garner Bakery where she worked alongside her father. Donna graduated from Garner High School in 1953.
On June 3, 1953, she was married to Leonard (Slim) Young at St. Boniface Catholic Church in Garner, and together they raised three daughters. After their wedding they lived in Roswell, New Mexico, until Slim was discharged from the US Air Force in 1956. They returned to Garner, where they farmed west of town. In 1988, they moved to Klemme.
Donna tested milk for the Farmers Co-op Creamery Association in Garner and worked as a secretary at the Garner-Hayfield High School. She worked with the Youth for Understanding student exchange program and, over the years, she and Slim hosted three foreign exchange students. They also delivered motor homes for Winnebago and shared a cabin in Canada where they had many wonderful summers. Donna and Slim were avid beekeepers; keeping bees and selling honey, an interest she continued until a few years ago.
Donna was an active member of St. Boniface Catholic Church and, for many years, taught both catechism and confirmation classes. She was also a member of the church choir for over 30 years.
In June 2000, following their three years of training, she and Slim became Ecclesiastical ministers and actively ministered to those in need. For several years, Donna planned and presided over Scriptural wake services in the Hancock County Catholic parishes.
Donna was a Master Gardener, enjoyed her family, cooking, travel, reading and baking. Donna shared her gift of baking by baking bread and delivering to friends and shut-ins several times a week.
After 48 years of marriage, Slim passed away on October 17, 2001.
On December 15, 2007, Donna married Henry Rayhons from Garner. Donna enjoyed spending time with Henry and being part of his family. She supported Henry as a State Representative and enjoyed her years at the Capitol and attending political functions with him.
Those left to cherish her memory are her husband, Henry Rayhons of Garner; three daughters, Patricia and her husband, Dennis Wright, of Grimes and their three children, Andrew (Carissa), Thomas (Monica) and Rachel, Linda Dunshee and her husband, Phil, of Urbandale and her two sons, Daniel and Adam Hoeft, and Suzan Brunes and her husband, Kevin, of Klemme and their two children, Kristine (Heath) Anderson and Jesse; four great grandchildren, Alaina Hoeft, Levi Anderson, William Wright, and Elizabeth Wright; a sister, Norlanda (Lindy) Lehmann Dilges, of Cincinnati, Ohio; sisters-in-law, Nancy Young of Garner and Betty (Bill) Lein of Kimberling City, Missouri; many nieces, nephews; four stepchildren, Carol (Mark) Juhl, Dale (Kelly) Rayhons, Sara (Doug) Abbas and Gary (Michelle) Rayhons; 10 stepgrandchildren; three stepgreat-grandchildren; and other relatives.
Donna was preceded in death by her parents, Otto and Maria Lehmann; husband, Leonard; brother and sister-in-law, Otto Jr. and Patsy Lehmann; parents-in-law, Verner and Gertrude Young; and two brothers-in-law, Henry Dilges and Bill Young.
To plant a tree in memory of Donna Rayhons as a living tribute, please visit Tribute Store.
Obituaries Newsletter
Sign up to get the most recent local obituaries delivered to your inbox.